Our exclusive professional "Silicone Baking Mats" are used by many Goumets & Pastry Chefs!
The rubber like non stick baking mat can go from the freezer to the oven (-40 degree's F to 480 F / 250 C. ). This mat can be rolled for easy storage. Also, great to keep under a cutting board. These will help you save time with clean up!
Chefs Note: These sheets are the perfect choice for lining cookie sheets and cake pans, baking cake rolls, delicate sponge cakes, tuiles, chocolate work, sugar, candies and more! Just like the famous brand liners. Two Sizes are available, half sheet pan size (11 5/8 in. x 16 1/2 in. for standard ovens) and full sheet pan size (18 in. x 26 in. for commercial ovens). Use & Care of Silicone Baking Mats.

Non Stick Jelly Roll Pans / Cookie Sheet / Sheet Pans feature tough Non stick coating, durability, and superior heat conductivity, designed for baking cookies and sponge cakes. Also great for most baking applications. 17 1/4 in. L x 11 1/2 in. W, x 1 in. Deep. Heavy duty rolled sides and corners for strength and durability. This pan fits all standard size ovens. Dishwasher safe. You can also use a "Silicone Baking Mat" with these, see below.

1 Non Stick Jelly Roll Pans / Cookie Sheet / Sheet Pan


3 Non Stick Jelly Roll Pans / Cookie Sheet / Sheet Pans @ 9.99 ea. Portable Kitchen Islands! Made in the USA!

---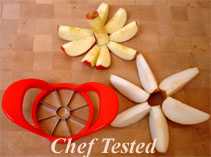 Product # CD2009-5108-APPLE-CUTTER
Retail $12.99 and up
Promo Sale $4.99
This is a high quality Apple Cutter. The sharp stainless steel blades will easily cut and core most any size apples or pears! Easy and safer to use. Durable and comfortable design. Now made in white with raised ergo comfort rubber handles. Measures 4 in. Diameter and 7 in. across the handles. Chefs Note: Works great on apples and crisp pears.

Butcher Blocks used by Chefs & Butchers! Made in USA!
---

Product # CDSTSD-140-FLEXIBLE-SS-SPATULA
Retail $15.00 and up
On Sale $2.99

Our stainless steel flexible turner great for burgers and cookies! Used by bakers around the world, this tool is nice for removing cookies and hot baked goods from cookie sheets. Nice tool fo flipping burgers.
Other Spatulas are here.
Click Here for the best Vanilla Extract you can buy!
---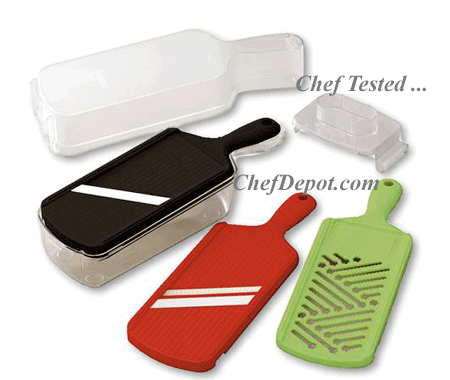 Product # CDCSN500-SET-KYOCERA-JULIENNE-GRATER-SLICER-SET
Retail $80.00 and up
Sale Price 46.95
This is the new Ceramic Blade Slicer, Julienne, Grater Set. Now you can effortlessly slice, julienne and grate fruits and vegetables fast and easy! The ceramic blades mean no browning or discoloring of the food! The set nest together in a durable carry case. It maintains its razor-sharp edge for many years and much longer than metal blades. Our Kyocera slicer set comes with a newly designed ergonomic hand guard for safety. BONUS; Free wine opener with the set.
Chef Notes: Great gift for the serious gourmet and Chef. These slicers are a great choice for tossing together salad garnishes and fast coleslaw! Our new set is great for sushi, carrots, radishes, birds nests, fast slices, ginger, garlic and zucchini squash baskets. We use the cutting safety glove, see below. More Garnishing Tools are located here: Chefs Garnishing Tools We test all our products you will love this product!
Ceramic Blade Slicer, Julienne, Grater Set
Click Here for John Boos Kitchen Islands! Simply the best!
---

Product # CDRA02-GRV-BOOS20x15W/GROOVE
List Price $199.00 and up
On Sale , add to the cart

Ships fast
Our new 20 x 15 x 2.25 in. Groove Cutting Board is perfect for the backyard BBQ or carving a small roast. This is the cutting board of choice for all the Chefs here at Chef Depot and many other famous Chefs! John Boos custom makes these exclusive cutting boards for us from first quality Solid Rock Maple, 20 inches by 15 inches and 2.25 inches thick. This reversible board (flat on other side) is NSF certified and will not dull your knife! With proper care, this Maple board can last for life! Oiling it with mystery oil or board cream, will keep it looking new (available below). Function and style, a great all around choice. Did you know that maple cutting boards naturally kill bacteria?

Add 3 pack of Boos Board Cream (3 pc. 5 oz. tubes)
Sale Price $34.95

Add 12 pack of Boos Board Cream (12 pc. 5 oz. tubes)
Sale Price $129.95
New Kitchen Center Islands! Custom sizes are available...

Click here for Taller Chef tables / Bar Tables / Bistro Tables!

---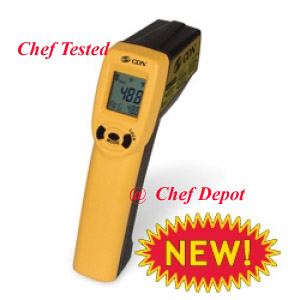 Product # CD-CDN-IN1022-LASER-THERMOMETER
Retail $99.99 and up
On Sale $75.59

Our new laser therm has 1 button operation. Reads from -76 to 1022 f. or 60 to 550 C. One second response with pinpoint accuracy, without contact of food. Backlit display measures 7/8 in. x 1 in., making it easy to see in any condition. Constructed of shatterproof ABS. Ideal for measuring surface temperatures of food and anything else. Great tool for checking temperatures of food being served or stored in refrigerator or freezer, 1 year limited warranty; 2 AAA Batteries incl. Point the Digital Infrared Laser Thermometer at item, press the trigger, and within a second the unit provides the accurate temperature reading. Bright color makes it easy to locate in your drawer, toolbox or shop. Video is here!



Click Here for Chef Tables!
---


Product # CDMPNS-12-HDSTEEL-MUFFIN-PAN
Retail Price $12.00 and up
On Sale $6.50 and up, call us for quantiy prices
These professional Muffin Pans are made from high quality extra thick carbon steel. The thick and rounded reinforced sides of each muffin cup and durable non stick coating make our 12 muffin pan a great choice for quantity muffin baking. Holds aprox. 4 oz. to make nice size muffins. Size is aprox. 14 in. x 11 in. x 1 1/8 in. Large quantity discounts, call us.
Chefs Note; These pans are very nice. Our favorites are Chocolate, Blueberry, Strawberry Banana and Vanilla Brownie muffins. Scoops are above on this page.
We use real pure Vanilla Extract in all of our muffin recipes!
Electric Pepper Mills!

---
Product # CDHI-030-FOUR-TIER-COOLING-RACK
Retail $89.00 and up
Sale Price - add to cart
This is the new 4 tier cooling rack! Easily cool or rack raw foods or baked goods on pans or trays. Half Pan and bread not included! A great choice for Bakers and Gourmet Cooks! Perfect for muffins, cookies, focaccia or cooling off sheet cakes and more.
Do you have a nice Kitchen Island? Check it out
---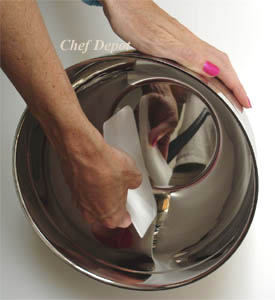 Product # CD2006WHITEBOWLSCRAPER
Retail $5.00 and up
On Sale $1.00

Our flexible plastic mixing bowl scraper is perfect for getting it all out! Used by bakers around the world, this tool is perfect for working with dough and scraping off your work table too. Measures 5 1/2 in. x 3 1/2 in. with a beveled edge on 1 side.
Some cooks like to use it for scooping up chopped peppers, onions and even sliced chicken.
Click Here for more Mixing Bowls!
Click Here for the best Vanilla Extract you can buy!
---

These are new Heavy Duty Hotel Pans
Made of heavy Stainless Steel, very durability, superior heat conductivity, this commercial-weight pan is designed for holding hot or cold foods. These measure 13 in. wide x 21 in. long. Often used for prepared foods (hot or cold) and holding foods in steam tables. It also makes a great drip pan for automotive and manufacturing uses. Perfect for restaurants and bakeries! Minimum order of 2 pans. Choose from standard gauge or heavy duty 22 gauge below!
Chefs Note: Why Buy Here ? Better Customer Service. High Quality & Low Prices! Choose from several sizes below. Large Quantity Discounts, Smaller sizes available by phone.
On Sale $9.95 and up