A Chef Instructor shows you an easy salmon appetizer recipe. Click Here for handmade Japanese Chef Knives!
Some of the items used in the kitchen are New Razor Sharp Chef Knives! Notice, the knife is very sharp and cuts very easily. A sharp knife is required by every Chef and Gourmet cook. These cuts will take you practice to master. Chef is using one of his favorite NSF Maple Cutting Boards!
---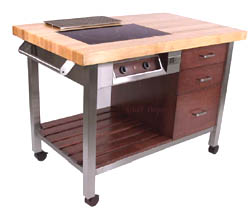 Product # CDFXCT5030S2IB-CH-MASTERCHEFTABLE
Free Shipping & Great Customer Service!

Master Chefs Table Professional Culinary Cook Top Cart measures 50 x 30 x 2 1/4 in. Hard Rock Maple Butcher Block Top with food service grade type 304 stainless steel framework. Call for prices. Features a beautiful Mosshaim commercial series double burner built-in cook top. Latest infrared technology with two incredibly reliable, powerful ribbon burners with patented heat containment design. Significantly reduces heat on outer housing, only the pan gets hot! Operates on 120 Volts. Cooks like gas burners, but much safer, no open flames or fumes. Perfect for patios and balconies.
We can ship your new Chef cart in aprox. 4 weeks!

Features: Right side - Two drawers 2- D. x 13- W. x 21 L. One Drawer 8- D. x 13- W. x 21 L. Left side - Slatted shelf - 20 W. x 21 L. Includes the locking casters and stainless steel towel bar. Other options available.
Made in the USA Sale - Call us or email us for your best price! Call or email questions!
This cart is perfect for cooking on high rise balconies!

---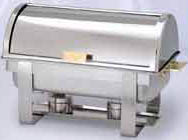 Product # CD4830000-CHAFERROLLTOPSS
Retail Price $349.99 and up
On Sale $189.99

This 8 quart full size stainless steel chafer features heavy elegant styled welded legs and brass handles. This chafer is the choice of most upscale hotels. It comes complete with 2-1/2" food pan, dripless water pan, heavy duty frame, and two fuel holders. Click Here for Extra Hotel Pans!


1 Roll Top Chafer


2 Roll Top Chafers $369.98
4 Roll Top Chafers $745.00 These Chafing Dishes will add a new level of entertaining to your next party. Food is ready, sit back and relax with a drink! Wow, many more Chafer Styles, click here!

---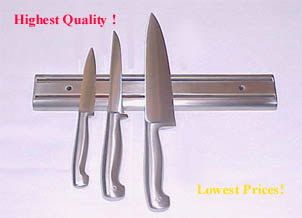 Product # CDSSKNIFEHOLDER14IN
Retail $49.00 and up
On Sale $23.99

Our stainless steel magnetic knife rack is a great magnetic holder! It is made in Germany from solid stainless steel. The powerful magnets grip the blade firmly for safe and convenient visible storage! This holder helps to free up precious drawer and counter space. The magnet bar easily attaches to any wall or cabinet for safe knife storage. We use several magnet bars in our kitchens! Measures 14 in. x 2 1/2 in., mounting screws included.


Click for a test drive! Type 301 Cutlery by F.A. Porsche!
Click Here for Knife Sets and more Storage Ideas!
---
Receive a bottle of our 4 Star Vanilla Extract for Free with any $200.00 purchase ($200.00 or more)! Our vanilla extract is made from sun ripened hand picked Bourbon Vanilla Beans! This superior extract enhances flavors in cookies, cakes, ice cream and other foods! Up to a $20.00 value! Place your order today, limited time offer!
Click the button below to add these to your shopping cart! Another Chef Depot Exclusive!

Free Bottle of Vanilla Extract
---
Product # CDBOOSQCLCULICART
Free Shipping & Great Customer Service!
$1198.00

The Culinary Cart is solid rock maple, it stands 36 in. x 24 in. x 1 1/2 in. thick, allowing for easy food preparation. The 12 in. Drop Leaf extends length to 48 in. overall. The 15 in. Wood Utensil Drawer is beautiful and functional. The Electric Outlet Strip makes it convenient for mixers, blenders, microwave, food processors and toasters. We love the convenience of the built in wood knife holder! This cart comes with two towel pegs and a slatted lower shelf! This table has a FDA approved food safe natural finish. The butcher block top requires rubbing with Mystery Oil or Wood Cream, every few months to keep it looking new. When you are busy this maple cart saves time! It Stands 36 in. High and features Heavy Duty Casters. Weight aprox. 100 lbs.
We can ship your new table in aprox. 3 - 4 weeks! Free Shipping & Great Customer Service! Free Shipping is available in most areas of the continental USA only.

Culinary Cart Made in the USA Sale - Call us or email us for your deal! Call to order or email questions!


Add 3 pack of Boos Board Cream (3 pc. 5 oz. tubes)
Sale Price $34.95

Add 12 pack of Boos Board Cream (12 pc. 5 oz. tubes)
Sale Price $129.95

We have all the Cool Stuff for your kitchen!

---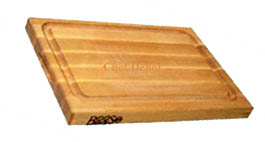 Product # CD18x12BOOSAUJUSMINI
List Price $79.95 and up, On Sale $88.95 ... In Stock!
Great for BBQ Turkey, Roasts and is reversible, free shipping over $99.00 in Cont. USA

Our new Mini Aujus Cuttingboard is perfect for the backyard BBQ or carving a small roast. This is the cutting board of choice for all the Chefs here at Chef Depot and many other famous Chefs! John Boos custom makes these exclusive cutting boards for us from first quality Solid Rock Maple, 18 inches by 12 inches and over 1 1/2 inches thick. This reversible board is NSF certified and will not dull your knife! More Sizes & New Models of Cutting Boards, click here! With proper care, this Maple board can last for life! Oiling it with Board Cream will keep it looking new (available below). This board is the perfect size for smaller counter tops. Did you know that maple cutting boards naturally kill bacteria?


Add 3 pack of Boos Board Cream (3 pc. 5 oz. tubes)
Sale Price $34.95
New Cutting Boards! More sizes are available!

---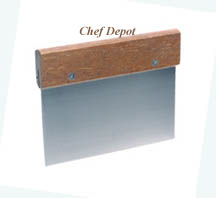 Product # CDDGHS6DOUGHBENCHSCRAPER
Retail Price $12.00 and up
Clearance Sale $6.75

Our Wood Dough Bench Scraper is perfect for working with pastry, bread and pizza doughs! Every baker needs a good scraper! This scraper features a 6 in x 3 in. stainless steel blade and a riveted solid wood handle for years of performance!
Chefs Note: I like to use mine for cutting portions of pizza dough and scraping down the flour on my butcher block. Also a great tool for scraping clean your hardwood cuttingboards!


Type 301 Cutlery
F.A. Porsche!
Click the green arrow on the right for more Maple Blocks, Carts & Tables!


John Boos:
Page1 |
Page2 |
Page3 |
Page4 |
Page5 |
Page6 |
Page7 |
Page8 |
Page9 |
Page10 |
Page11 |
Page12 |
Page13 |
Page14 |
Page15 |
Page16 |
---

Copyright 1999 - 2021 Chef Depot Inc.
All Rights Reserved.
Legal Notice and Copyright
Customer Service - E-mail us or phone:(630) 739-5200



Customer Feedback : John Boos Factory Outlet Sale Free Shipping Kitchen Designers Prep Island Table Bar Specialists