---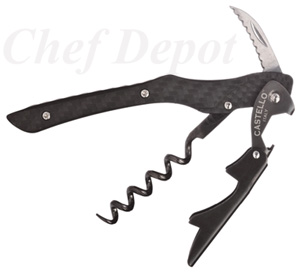 Product # CDFR3148-CASTELLO-CARBON-FIBER-CORKSCREW
Retail $189.99 and up
On Sale $124.95
The Carbon Fiber Handle Castello Two-Step Waiters Corkscrews are handcrafted in Italy. Metal parts are of stainless steel. All the Castello Waiters Corkscrews are made in the cutlery capital of Italy. Castello Waiters Corkscrew-Italian Olive Wood Handle in gift box. Opener measures aprox. 4.75 in long. Metal Laser etching on lever handle avail. for 36 or more pieces, call us: Imprint area (on boot lever): 1 in. X 5/16 in.
Castello Carbon Fiber Corkscrew in Silver Gift Box


Castello Carbon Fiber Corkscrew in Wood Box with Leather Pouch $149.95
More Castello Openers - Click Here!
Stainless Steel Pub Tables - Click Here!

---

Product # CDH03-HAIKUSMALLCHEF
Retail $81.00 and up
On Sale $63.95
Summer Sale, now only $47.95
This Haiku 5 1/2 in. Chef Knife is very high quality. Handmade in Japan, it is used by more Sushi Chefs in Japan and Europe than any other! It is handcrafted in the Japanese tradition from alloy layered steel and iron. The knives are so strong that they come with a lifetime warranty with free replacement! Each piece comes in a beautiful gift box. Click here - for more HAIKU! These do save time.
Chefs Note: This knife is very nice. The overall size is 10 in. and it has a nice feel. Great for small dicing. The blade is sharp and with a few light strokes on a whetstone, it is easily resharpened. You will love this knife! Lifetime Warranty.



Click here - for Diamond Sharpening Stones! These do save time.
---
Product # CDW5689MINISPATULA
Retail $18.00 and up
On Sale $9.50

This is the Mini Spatula, perfect for Tira Misu and serving desserts. A nice choice for serving many different soft and delicate desserts. The handle is very comfortable and the blade is made from flexible stainless steel. Lifetime warranty!
Chefs Note: We have been using this little tool for many years and it still looks like new.

Our products are used by Master Chefs, Chefs and pro Cooks!
---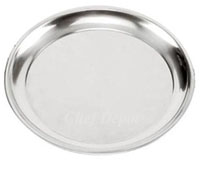 Product # CDNP5673-SS-PIZZA-PAN-16IN
Sold Out

This solid Stainless Steel Pizza Pan measures 16 in. dia. It has a heavy rolled edge around the top and with care will last you for decades. This is the ideal size pan for our 16 in. pizza stone, making you a perfect thin crust pizza!
Click Here for more Pizza Pans & Pizza Trays!
Click Here for Chefs blocks!

---
Product # CDFK180BK-KYOCERAREVOLUTION
Retail $109.95 and up

Sale Price $79.95
Temporary Sale Price Reduction $75.95 with FREE bonus Cutting Board
This is the new 7 in. Kyocera Revolution Ceramic Professional Chef Knife, it holds an edge without sharpening. The Revolution series feature an extra hefty black handle and a perfect balance. This is a great ceramic knife, it's very comfortable and easy to use. The weight is about half of steel knives making it comfortable for extended use. The ultra sharp ceramic blade cuts with precision and accuracy every time maintaining a razor-sharp edge for many years. These knives are made of an advanced, high-tech ceramic, second in hardness only to diamond, it was originally developed for industrial applications where metal components failed.
Chef Notes: These knives are a great choice for Chefs and Gourmet Cooks! We will choose for you a free cutting board. Colors will vary, while supplies last. Each one of our Revolution knives comes in a beautiful presentation box. We tested several brands of ceramic knives - Here's the results! Kyocera was the only knife sharp enough to meet our demands, the others were too dull or the blades were too thin and brittle. Only Kyocera scored very high in sharpness, quality, workmanship, material and warranty. These knives are a great choice for Chefs and Gourmet Cooks! Ceramics are perfect for slicing, dicing, chopping and mincing meats, garlic, carrots, onions, celery, fruits and more
Click Here for More Ceramic Knives!
Click Here for Pure Vanilla Extracts!
---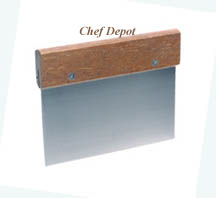 Product # CDDGHS6DOUGHBENCHSCRAPER
Retail Price $12.00 and up
Clearance Sale $6.75
Our Wood Dough Bench Scraper is perfect for working with pastry, bread and pizza doughs! Every baker needs a good scraper! This scraper features a 6 in x 3 in. stainless steel blade and a riveted solid wood handle for years of performance!
Chefs Note: I like to use mine for cutting portions of pizza dough and scraping down the flour on my butcher block. Also a great tool for scraping clean your hardwood cuttingboards!

Stainless Steel Cookware - Click Here!
---
Product # CD46500NORDIC-DEEPPIZZAPAN-14x1.75
Retail $18.99 and up
On Sale $16.75

This straight sided deep dish pizza pan / cake pan measures 14 in. dia. x 1.75 in. deep, it's USA made from pure 14 ga. aluminum. It has a heavy rolled edge around the top. This is the ideal size pan for several servings of deep dish pizza. Made in USA !
It is perfect for making a deep dish pizzas, wedding cakes and tortes.
Click Here for more Pizza Pans & Pizza Trays!
1 Deep Dish Pan $16.75

2 Deep Dish Pans $32.75 Click Here for more Pizza Pans & Pizza Trays!

---
Product # CDPIZZAPAN-PT16
Retail $8.99 and up
On Sale $5.40

This 16 in. diameter pizza pan is made from pure 14 ga. aluminum. It has a wide rim with a slight upward flare around the border. It is perfect for making a crispy thin crust as well as serving finished pizza. We make our pizzas on these and then slide them onto the pizza stone for the last few minutes to get the crust extra crispy!
Click Here for more Pizza Pans & Pizza Trays!
1 Thin Crust Pizza Pan, 16 in.

2 Thin Crust Pizza Pans, 16 in. $10.25 Click Here for more Pizza Pans & Pizza Trays!

---
Product # CDMUND5628-16-TWOHANDLE-CHEESEKNIFE
Retail $60.00 and up
On Sale $32.99

This is the new Two Handle Cheese Knife! It has a 16 in. stainless steel blade made from alloy steel. It measures 26 in. long and it's very durable and well made. The handles are nonslip and it is ideal for cutting large blocks of cheese or pizza.
Chefs Note: WOW - An amazing knife for the price!
Diamond Sharpening Steels!
---
---
Product # CDROYCS12CHEESESHAKER12OZ
Retail $13.99
On Sale $8.95

Our 12 ounce cheese shaker is made with a solid stainless steel shaker top. It is perfect for parmesan cheese, crushed pepper or spices.
Chef Notes: We use one for grated parmesan cheese. We use another for Crushed Red Pepper and our Italian Spice blend! Restaurant and pizza parlor customers love these!

Click Here for Fish & Game Recipes!
---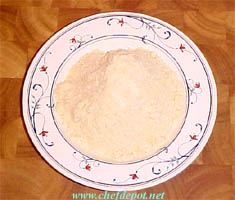 Product # CD07004GRATEDPARMESAN
Retail $9.99 and up
On Sale $7.99
Our classic grated Parmesan Cheese is aged for over 10 months. It has a perfect nutty taste and a more coarse texture than the lower grades found in most grocery stores. This cheese is aged for over 10 months. Our shelf stable packaging means no refrigeration is needed until it's opened! 12 oz. resealable container.
Chefs Note: One taste and you will know Italian quality. Crusty garlic cheese bread, sprinkled on pasta, pizza and salads, We love it on most everything!

Click Here For Rock Maple Kitchen Carts!
---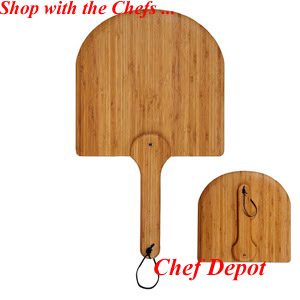 Product # CD6055100-BAMBOO-FOLDING-PIZZA-PEEL
Sold Out

Pizza Peels are ideal for removing pizzas from hot pizza stones and this one has the added feature of a rotating handle so it is easy to store. Solid wood handle rotates and stays tightly secured in position either folded for storage or extended for use. Bamboo Pizza Peel, this renewable wood source is environmentally friendly. Its large 13 in. by 14 in. size accomodates most pizzas. The long handle extends to 22 in. which makes it easy to slide the pizza in or out of your hot oven. Simple storage, hang it up or fold and store in or above cabinets, grill or oven. Using a peel keeps hands away from heat source!

Chef Tested High Quality Knife Sets!

---
Product # CDUP-SKWO-10-OVAL-STAINLESS-STEEL-SKEWERS-12PCS
Retail $30.00 and up
On Sale $10.95

Our new Stainless Steel Skewers are perfect for kabobs or grilled shrimp! Set of 12 high quality 18/10 stainless steel, each one measures 10 inches and they feature a ring for easy turning. Each one has a flattened tip and oval shaped shaft, this allows easy penetration into foods and reduces items falling off!
Chefs Note: Ideal for summertime BBQ and for marinating meats and vegetables. High quality, these last. You will love them. Grilled Kabob Video : Click here!


Click Here for amazing Smoked Hungarian Paprika & Hot Curry Spices!

Click Here for amazing SouthWest Chiles and Habanero Powder!

---

Click on the picture to check out our new butcher blocks
---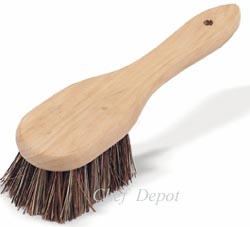 Product # CD3620-POT-SCRUBBER-BRUSH
Retail $16.99 and up
On Sale $7.99

This Medium Bristle Pot Scrubbing Brush is the professional choice. It features a hardwood handle and durable bristles!
Chef Notes: This is a good one. We use one for scrubbing the pots and pans and another one for brushing off the pizza stone.

Click Here for High Heat Colored Rubber Spatulas! More Wisks too!
---
Product # CDAE-PS01-2010PIZZADOUGH-ROLLER
List Price $7996.00 and up
On Sale $5598.00

This is the best electric pizza dough roller we have seen! Let us help you with your restaurant operations efficiency. Our dough roller will help you and your staff save time and training costs. Within seconds employees can make uniform products without tossing, slapping or rolling the dough by hand. Ergonomic design saves space. Small size fits easily on a cart or stainless steel prep table, measures 32 in. x 28 in. x 32 in. The handle is solid stainless steel rollers are made for years of daily use. This is a 1 hp. 115 volt gear driven machine. Up to 700 pieces per hour. Push botton controls offer 1 touch convenience. Simple 2 pass system. Drop dough in top, slides into tray, comes out at bottom. NSF, ETL, CSA, CE approved. Weight 360 lbs. Call us for options. 1 Year Parts Warranty, plus extra 90 days labor. Free shipping to most of the USA.

Click Here for Stainless Steel Prep Tables!
---


Product # CDUNIVEX-SSPZ40-01-PIZZA-SPINNER
List Price $ 9990.00 and up
Sale, call us

Finally a simple system for spinning pizza dough. This machine reproduces the manual dexterity of the pizza maker as closely as possible by imitating his unequalled delicateness. The original protected micro rolling system makes the pizza base without heating, simultaneously with the same kind of result as would be obtained by a skilful pizza maker, without any alteration of the dough up to 16 in. NSF, UL Approved, Std. Voltage: 115 / 60 / 1 One year limited warranty. Made in USA. Free Shipping is available in most areas of the continental USA only!
Call us for prices !
Sharpen your knives, easily!

---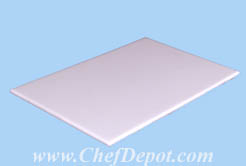 This 24 in. x 36 in. x 1 in. thick Poly Cutting Board weighs over 29 lbs! Used in many Pizza prep areas. Click here for sizes and prices . This is the cutting board of choice for all the Chefs here at Chef Depot and many other famous Chefs! John Boos custom makes these Poly boards for us, allow 1-2 weeks for shipping! These Poly Cutting Boards are restaurant quality and can last for over 10 years (if used every day).
We use these poly boards for pizza, meats, poultry and fish, they reduce odor transfer. Dishwasher safe. NSF certified for safety. These 1 in. thick boards are cut from large sheets of pure white poly (aprox. 10 day lead time). Actual shipping applies on these oversizes poly tops. Large cutting boards can not be shipped outside the USA. Choose from several sizes below!
Our products are used by Master Chefs, Chefs and pro Cooks!

---
Product # CD1149PIZZAKNIFE-WOODHANDLE
Retail $79.99 and up
On Sale $49.95

This pizza knife features a riveted double handle is made from select hardwood or a durable copolymer for long life. The size of the extra wide blade is 18 in. long. With proper care, this cutter will last for years of daily use.
Wood Handle Pizza Knife

Poly Handle Pizza Knife Our products are used by Master Chefs, Chefs and pro Cooks!

---
Product # CD5022-7MESSERCLEAVER7IN
Retail $86.95 and up
Sale Price $65.50

This is the new 7 inch blade Messermeister Heavy Cleaver! The cleaver is made from the highest quality German alloy steel in Solingen Germany. Weight is 1.25 lbs. Lifetime Warranty. This cleaver features a comfortable black rubber handle. If you want high quality and a cleaver to pass through generations, you found it.
Chef Notes: This German made cleaver is perfect for splitting bones and cutting through chickens. Perfectly balanced and made to last! It is the strongest sharp edge we have ever found in any cleaver.
More Cleavers on sale! Click Here!
Butcher Blocks are on sale! Click Here!
Chef Tested High Quality Knife Sets!
---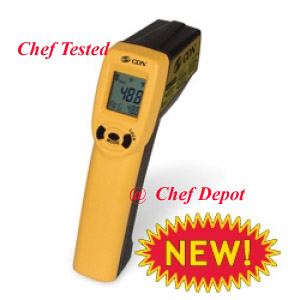 Product # CD-CDN-IN1022-LASER-THERMOMETER
Retail $99.99 and up
On Sale $75.59

Our new laser therm has 1 button operation. Reads from -76 to 1022 f. or 60 to 550 C. One second response with pinpoint accuracy, without contact of food. Backlit display measures 7/8 in. x 1 in., making it easy to see in any condition. Constructed of shatterproof ABS. Ideal for measuring surface temperatures of food and anything else. Great tool for checking temperatures of food being served or stored in refrigerator or freezer, 1 year limited warranty; 2 AAA Batteries incl. Point the Digital Infrared Laser Thermometer at item, press the trigger, and within a second the unit provides the accurate temperature reading. Bright color makes it easy to locate in your drawer, toolbox or shop. Video is here!



Click Here for Chef Tables!
Italian Pizza Spices! Simply add these to Tomato Sauce, S & P, sugar and build your perfect pizza!
---
Our Premium Dough Mixers are made in the USA! We have the best prices and longest warranty, including repairs for several years. Click Here for our Premium Dough Mixers! We test them and we use them.

---
# 1 Pizza Seasonings - Great pizza begins with the crust, then the sauce with herbs and spices, topped with cheese! Slide the pizza into your wood fired oven and wow, thats Amore! A great pizza seasoning blend passed on to us by Chef Giovanni's great grandmother!
Chefs Note: Pizza, if it tastes good, it must be good for you! This secret seasoning will add a new level of flavor to your pizza! To get your Pizza Spices, click here and ADD TO CART.
---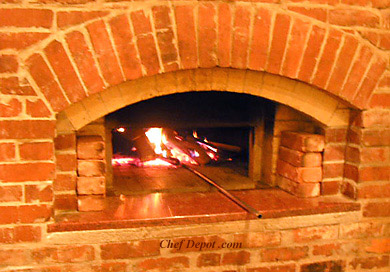 You can build your own wood fired oven! Watch our Pizza Oven Build, click here
All of our products are Chef tested for quality and value!
Click hyperlinks below to view more products!

---

Product # CD301PORSCHEP18CHEF
Retail $135.00 and up
On Sale $145.95
Spring Promo Sale, only $117.95 each
This is the new 8 in. Chef knife, Chroma Type 301 designed by F.A. Porsche. These knives have the perfect shape, balance and weight for a lifetime of use. These knives are beautiful, functional and easy to clean. We guarantee it will fit your hand perfectly and you will love the balance of this award winning knife. We gift box each piece of this fine cutlery. Each one comes with a Lifetime Warranty! The Porsche knives are easy to use and hold an edge longer than most other knives. Great gift idea! Buy 2 or more and save $
Click here to read some of our Chefs Comments!
8 in. Chef knife, Chroma Type 301

TWO 8 in. Chef knife, Chroma Type 301 $105.95
Click here for more PORSCHE Type 301 Knives!
---
Product # CDROCKY-BTG1-SS-PORTABLE-GRILL
Retail $1900.00 and up
On Sale $1399.95 (FREE Shipping to most areas of cont. USA)
These heavy duty grills are made from heavy gauge thick stainless steel, here in the USA. Affordable & Portable Ideal for serious BBQ folks, caterers and tailgaters. Fold and Go design. 3ft. x 2ft. , it folds into a two wheel dolly for easy transportation. Stainless Steel Construction ~ Two Cooking sizes in one unit. Unique Vent/Ash pan burns hotter with less fuel. Makes Cleaning it out quick and easy. Charcoal or hardwood (we use both). Easy Adjust Height Controls. Easy to move, simple one man operation. Made in the USA ! We will give you Free Freight in Cont. USA (48 States only). Ship weight 130 lbs. We guarantee the best prices. Works great for burgers, steaks, ribs, chicken breasts and more!
Chefs Note: I moved it and set it up in 2 minutes. Hot fire with hardwood and charcoal 20 minutes later. It was a great BBQ. Great for catering, tailgating and BBQ, we love them all!
More Grill Tools are here!
Bistro & Bar Tables made in USA.
---
Product # CDMUND56108BCHEF
Retail $29.99 and up
On Sale $19.99

This is a 8 inch Chef knife, it is used for most cutting and chopping work. The handle is comfortable and it has a 8 inch long German alloy steel blade. NSF certified for safety and sanitation. A very good quality knife for food preparation. Lifetime Warranty!
Click Here for more Chef Knives!


Click the green arrows below to view more products!


Pizza Supplies:
Page1 |
Page2 |
Page3 |
Page4 |
Page5 |
Page6 |
Page7 |
Page8 |
Page8 |
Page9 |
Page10 |
---

Copyright 1999 - 2021 Chef Depot Inc.
All Rights Reserved.
Legal Notice and Copyright
Customer Service - E-mail us or phone:(630) 739-5200



Customer Feedback : Best quality pizza making tools, cutters, rollers, docker, pizza peels, delivery bags