Orders M - F : (630)739-5200
9:00am - 5:00pm CST

HOME| PRODUCTS| PRODUCTS II| COOKING TIPS| RECIPES| GOURMET| CUTLERY| SHARPENERS| SPORTSMANS CORNER| CONTACT US| LINKS
Mundial Scissors and Shears...On Sale!
Mundial Scissors and Shears are made from high quality Alloy Steel!
The Mundial Warranty - all Mundial products will be free from defects in materials & workmanship, during normal use, as long as you own them.
Mundial Scissors and Shears are guaranteed for life.
These Mundial scissors and shears are used by quilters, tailors and hair stylists around the world!
We stock the complete line of Mundial scissors and shears at the low prices!
Check it out ...Electric Scissor Sharpeners!
For Scissor Storage Idea's Click Here! Quantity Discounts are Available, Please Email Us!
---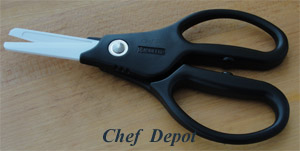 Product # CDCH350WH-KYOCERA-SCISSORS
Retail $60.00 and up
Sale Price $39.95

These are the new 2.7 in. blade Ceramic Scissors. Very comfortable, razor sharp and easy to use. The ultra sharp ceramic blades cut with precision and accuracy every time maintaining a razor-sharp edge for many years. Perfect for fabric cutting, paper or cardboard, kevlar or carbon fiber, even high moisture use, these scissors will never rust. These are also safe for light duty electrical use (small wires). Also used in medical facilities. These scissors are made of an advanced, high-tech ceramic, second in hardness only to diamond, it was originally developed for industrial applications where metal components failed.
Chef Notes: These scissors are amazing. Pick a pair up and they are hard to put down. More comfortable and lighter than traditional scissors. Call for quantity discounts. See FREE Bonus Offer Below, Add it to Your Cart!
Click Here for John Boos Maple Cutting Boards! Simply the best!
---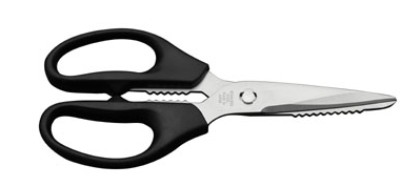 Product # CDDC9002-KASUMI-SHEARS
Retail $69.95 and up
On Sale $41.95

This is a new New Kasumi kitchen shears. A new kitchen shears with sharp Molybdenum Vandium Steel Blades. Made in Japan. In stock.
Chefs Note: These kitchen shears are super comfortable and the blades stays sharp! Comfortable, lightweight and perfectly balanced. Full length 20cm, Weight 100g. Each is carefully finished by the hands of skilled craftsmen. You will love these shears! Mfr. Limited Lifetime Warranty! Free Shipping over 99.00 in Cont. USA!


Kasumi Shears
Click here for Chef Tables & Chop Blocks!
Click Here for John Boos Maple Cutting Boards! Simply the best!
Click here for Large Butcher Blocks, Tables, Carts made in USA!
---
Product # CDMUNDSMQUILTSCISSOR-PINK-1854-1
Retail $20.00 and up
On Sale $9.55 (lowest price on the net)

These Mundial Cushion Soft Fine Quilter Scissors are ideal for many tasks! New stock, sealed hanging packaging. They have pink handles with cushion soft finger linings and sharp alloy steel blades. They are ambidextrous and quite comfortable, very easy to use. 5 1/2 in. Quilters Shears are good for thread and general quilt working scissors. These also make good craft and hobby scissors.
Click the Green Arrows and Mundial page links below to view more mundial products!

Click Here for Maple Kitchen Carts!
---

Product # CDR1812x1.75-BOOS-CUTTING-BOARD
Sale , add to the cart
New Models! Great for Turkey, Roasts, BBQ and reversible... Free Shipping over $99.00 (cont. USA only)

New from John Boos, a thicker cutting board that is perfect for carving a roast, turkey or the backyard BBQ. This is the cutting board of choice for all the Chefs here at Chef Depot and many other famous Chefs! John Boos custom makes these cutting boards for us from first quality Solid Rock Maple, 1 3/4 inches thick Choose from 3 sizes below (11 lbs, 15 lbs, 21 lbs.). This reversible board is NSF certified and will not dull your knife! With proper care, this Maple board will last for life! Oiling it with mystery oil, will keep it looking new (available below). This board is the perfect size for smaller counter tops!
John Boos Maple Kitchen Islands are on sale - Click Here! Did you know that maple cutting boards naturally kill bacteria? Find a lower price? Call us for a free gift.
18 inches by 12 inches x 1 3/4
Great Global Chef Knife Sets ! Click Here!
---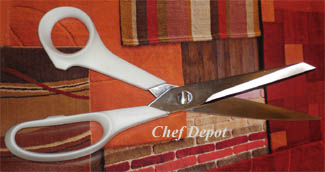 Product # CD5560MUNDIAL-BLACK-2PC-TAKE-APART-SHEARS
Retail $20.95 and up
On Sale

These are Mundial Multi Purpose 2 pc. Take Apart Shears, now with black handles! They are razor sharp, made to last and quite comfortable to use. These easily cut through most tough stuff. Two piece take apart.
These shears are 8.5 in. overall length with 5 in. blades! Lifetime Warranty. Hurry, at this price these will sell out fast!



If you like great chocolate, click strawberries!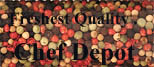 Click Here for Maple Kitchen Carts!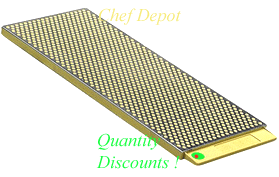 Are Your Knives Very Sharp ? Click on the Diamond Stone for more info.

---
Product # CDMUND570-TITANIUM-ALL-PURPOSE-SCISSORS
Retail $25.00 and up
Sale Price $9.45

These are the new Titanium All Purpose Scissors. Very sharp and lightweight, the 7 in. long titanium blades cut through fabrics easier than regular stainless blades. These come with a Lifetime Guarantee! Click Here for more Titanium Scissors.
Chefs Note: One of the local Quilt Making Guilds found these titanium beauties to be amazing.

Click Here for Pro Chef Blocks! As used by Sports Bars, Bennigans, TGIF and Marriott Hotels.
---
Product # CDMUND407-BLH-462-7.50PINKING-SCISSORS
List Price 77.00 and up
Sale Price $47.99
These are true 7 1/2 in. heavy duty forged Pinking Shears. They have a zig zag cut (VVVVVV) with a 5 mm wide x 2 mm deep cut. They can be used with either hand. These shears have Black Handles. They have forged alloy steel blades (the strongest made today) to insure a smooth and easy cutting action. Click Here for more sewing shears. These scissors are perfect for dress makers, tailors, fabric cutting

Click Here for Kitchen Butcher Block Islands.
---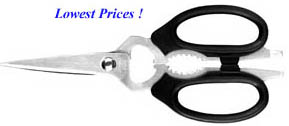 Product # CDDN2070MESSER2PCSHEARS
Retail $30.00 and up
Sale Price $14.95

Messermesiter 2 pc. Shears are rated #1 by several gourmet magazines. Functions include a screw driver, nut cracker, jar lid opener and gripper, bottle opener, bone and twig cutter. It separates for hygienic cleaning, and dishwasher safe! From pie crusts to poultry. Great for cutting carpeting or anything in between! From the finest thread to the thickest cloths, for grooming, sewing or food preparation.
Chef Notes: Great Quality Shears! What a deal. The two piece take apart feature makes these easy to clean. Lifetime Warranty!
Click Here for more Knife Storage Ideas!

Click the green arrow on the right for more scissors!



Scissors:
Page1 |
Page2 |
Page3 |
Page4 |
Page5 |
Page6 |
Page7 |
Page8 |
Page9 |
Page10 |
---

Copyright 1999 - 2022 Chef Depot Inc.
All Rights Reserved.
Legal Notice and Copyright
Customer Service - E-mail us or phone:(630) 739-5200



Customer Feedback ; Best Rated Kitchen Shears, Small scissors, Cooks Shears, Ceramic Scissors, Poultry Shears, Craft Scissors, Utility Shears