---

Product # CDLYPTUS-CUTTINGBOARD-12X18X1.5IN
List Price $289.95 and up
On Sale ADD TO CART

Our Commercial Lyptus Cutting Boards are made to last. The edge grain butcher block construction is amazing! Lyptus is farm raised and looks like Cherry Wood or Mahogany. Lyptus is as hard and heavy as Maple wood. Perfect for daily meal preparation and serving cheese & holiday appetizers! A full 1 1/2 in. thick, these will last for years of daily use. Oiling it with the special blend of oil below, will keep it looking new for many years! Available in 3 sizes below! We love the eco friendly heavy dark red wood! We stock these cutting boards for fast shipping. Free Shipping over $99.00 (most areas).

20 in. x 15 x 1.5 in. Lyptus Cutting Board


24 in. x 18 x 1.5 in. Lyptus Cutting Board, with juice groove
Click here for 400 lb. Butcher Blocks!

---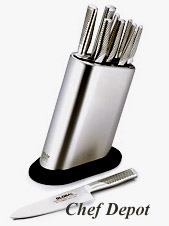 Product # CDG-835/WS-GLOBAL-6PC-SET

This is the new 6 Piece Global Knife Set in stainless steel block. It includes a 4 in Paring Knife, 5 in. Utility Knife, 7.5 in. Chef Knife, 8.25 in. Carving Knife, 8.75 in Bread Knife, 11 slot block. Global knives; G-4, G-3 G-9, GS-3, G-7! Each handmade knife is forged from super high quality Japanese alloy steel. Each one is very sharp. Lifetime Warranty.
Chefs Note: Sweet Knife Set, cool handles, razor sharp, super thin edge, perfectly balanced and amazing CROMOVA steel blade. If you want a high quality knife set to pass through generations, you found it. Bonus: Free Offers, Click on More Global Knives Below!
Chef Notes: We like the feel of this beauty and the extra sharp thin blade. Global knives are made from the finest high carbon stainless steel available for producing professional quality kitchen knives. Yoshikin uses its own proprietary stainless steel which it calls CROMOVA 18 Stainless Steel. This steel is hard enough for Global knives to keep their edge for a long time, but soft enough so that it is not too difficult to sharpen the knives. The CRO in CROMOVA 18 stands for chromium and the 18 is the percentage of chromium in the steel. This high percentage of chromium contributes to Global's good stain resistance. The MO and VA in CROMOVA 18 stand for molybdenum and vanadium. More Global Knives! Click Here!

---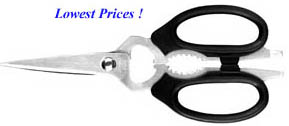 Product # CDDN2070MESSER2PCSHEARS
Retail $26.00 and up
Sale Price ADD TO CART

Messermesiter 2 pc. Shears are finally here! From pie crusts to poultry bones. Great for cutting fish, carpeting ar anything in between! From the finest thread to the thickest cloths, for grooming, sewing or food preparation. There is a task for every scissor and with Messermeister, a scissor for every task.
Chef Notes: Great Shears! What a deal! The two piece take apart feature makes these easy to clean.
Click Here for Safron, Dried Ginger, Pizza Seasonings!
---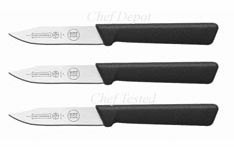 Product # CDMUNDSC0548-3PACK-PARING-KNIVES
Retail $20.00 and up
Clearance Sale ADD TO CART

This is the Mundial Paring Knife with a 3 in. German alloy steel blade! It is also called a clip point style paring knife.
Perfect for small fruits and vegetables. This knife is also great for cooks and culinary students.

Click here for Butcher Supplies!
---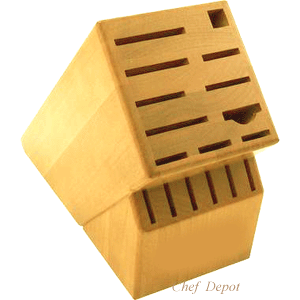 Product # CDWST17-KNIFE-BLOCK
Sold Out & Discontinued
This is our Wusthof 17 slot knife block! Made to hold 17 pieces of cutlery!
Chefs Note: This is a great knife block for the price! Solid Hardwood. Wusthof vs. More Knife Blocks are Available! Click Here!What is the best Chef Knife Store? Click Here!

---
This Haiku 7 1/2 in. Santoku Knife is very high quality. Handmade in Japan, it is used by more Sushi Chefs in Japan and Europe than any other! It is handcrafted in the Japanese tradition from alloy layered steel and iron. The knives are so strong that they come with a lifetime warranty with free replacement! Each piece comes in a beautiful gift box.
Chefs Note: This knife is very nice. The overall size is 11 3/4 in. and it has a nice feel. Great for slicing, dicing, chopping and general food preparation. This knife is perfectly balanced like a Falcon! The blade is sharp and with a few light strokes on a whetstone, it is easily resharpened. You will love this knife! Lifetime Warranty.

Product # CDH05-HAIKUSANTOKU
Retail $132.00 and up
On Sale ADD TO CART

Click here - for more Haiku knives...
Click Here - Chef Thermometers!
---
Product # CDKTB3-7.75KASUMIFILET
Retail $187.95 and up
Promo Sale ADD TO CART

This is a new Kasumi Titanium Filet & Carving Knife, with a 7 3/4 in. blade, it's the sharpest and slickest blade made. The edge that it holds is hair splitting and remains throughout heavy use. The non slip ergo poly handle is very comfortable and virtually indestructible, perfect for every serious Chef. We could not believe how sharp these knives were until we tried each one. It simply glides through most any food. The outstanding Kasumi Titanium coated blade has been achieved by combining the best of advanced modern manufacturing. Keeps a sharper edge longer than other knives.
Chefs Note: Slicker than oil on water! Possibly our favorite knife. Cuts through sushi rolls like butter. Comfortable, lightweight and perfectly balanced. Each knife is carefully finished by the hands of skilled craftsmen. You will love this knife! Mfr. Limited Lifetime Warranty. Click here for more Titanium Knives! Free Shipping in Cont. USA!


Kasumi Filet / Carving Knife
Click here for Chef Tables & Chop Blocks!
---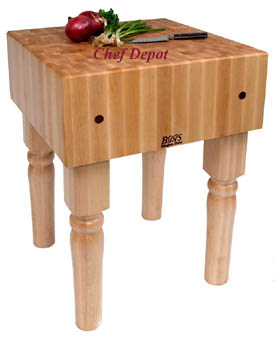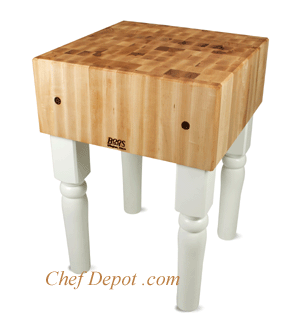 Chef Depot Exclusive Block Colors! Free Shipping & Great Customer Service!

---
Product # CD-DMTDSS-THREE-STONE-SET
Retail $165.00 and up
On Sale ADD TO CART

This is our exclusive DMT diamond sharpening set! It is precision manufactured to our exact specifications, right here in the USA. Each set features a Coarse 325 grit diamond stone (Blue), a Fine 600 grit diamond stone (Red) and a Extra Fine 1200 grit diamond stone (Green) each one is aprox. 6 in. x 2 in. in a hardwood box. The Monocrystalline diamonds will not break apart during use. These diamond sharpeners outlast all the competition!
Chef Notes: A perfect gift for someone who has almost everything. This diamond sharpening set will quickly produce a fine razor sharp edge on any good knife, garnishing tools and chisels with four six to six strokes. Add the clips below and get those knives ~ sharper than new! Why not buy the best?

Portable Chef Tables! Click Here!
---
Product # CDST-G-SHARPENING-GUIDES
Retail $15.00 and up
On Sale $9.95

Our exclusive knife guides fit onto most any knife and work with any stone to give you a fast precise 15 degree sharpening angle.
Set of 2, large and small.
Chefs Note: These little clips are plastic lined stainless steel and they will help you sharpen correctly. Made in Japan!

Click here for Portable Butcher Blocks!
---
Featured Video ...
Chef is sharpening a high quality Tamahagane Chef knife. These Tamahagane Chef knives are handmade in Japan!
Chef is using one of his favorite DMT sharpening stones on a NSF Stainless Steel Bistro Tables! Made in USA. NSF Cutting Boards are here! Made in USA. Knife clips are above!
More Japanese knives! Click Here!

---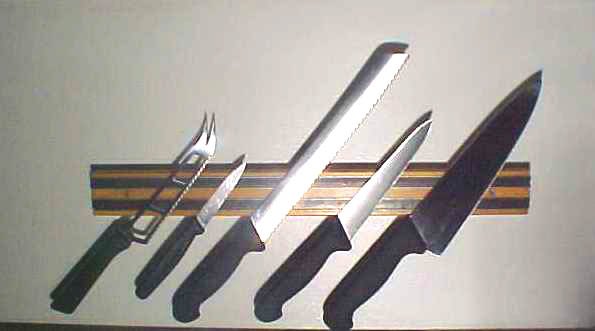 On Sale $19.49 and up
This "Hardwood Magnetic Knife Rack" has strong double magnets that will hold knives and more safely on the wall, in or under a cabinet (Includes Brass Screws). We like ours under the cabinet to hold items that will not fit in the knife block (pictured is the 18 in size).
This magnetic holder has a medium brown finish. These racks measure 2 in. wide and 1 in. deep! There are cheaper racks on the market, that look similar, but not as strong (they use weaker and thinner magnets). We have tested them all, you do not want your knives and tools to fall off the holder! Order one today, we guarantee you will love it! More feedback in the notes below.
18 in. Hardwood Magnet - On Sale
12 in. Hardwood Magnet - On Sale
24 in. Hardwood Magnet - On Sale


Chef Notes: Customers are telling us of other websites with similar looking racks that have weaker magnets, not strong enough to securely hold your knives! Trust the Chefs. These are the best quality. We supply NASA, Goverment, Military, Schools, Cooks, Chefs, Gourments and DIY Builders. Need razor sharp Pro Chef Steak knives? Click image.

Click Here for John Boos Prep Tables, Bars, Blocks, Maple Islands!
---
Featured Video ...
A Chef shows you the knife holster in action. Always have your knife at your side. Never loose your knife! Perfect gift for anyone in the kitchen or Culinary School. Click Here for the featured Pro Chef Knives!
Chef is using one of his NSF Maple Cutting Boards! Ours are #MadeinUSA
---


Product # CD20x15BOOSMAPLEBOARD
List Price $149.95 and up
On Sale plus Free Oil Treatment

In Stock, order now for fast delivery... Free Shipping over $99.00 (cont. USA only)

These are the Solid Maple Cutting Boards used by Emeril & other Chefs on TV! These cutting boards are the choice for all the Chefs here at Chef Depot, Bobby Flay, Charlie Trotter, Paul Kahn, Mary Sue Milliken, Susan Feninger, Mario Batali and many other Chefs! John Boos custom makes these cutting boards for us from first quality Solid Rock Maple, 20 inches by 15 inches and over 1 1/2 inches thick (12 lbs) or 2 1/4 thick (18 lbs). Available in two thicknesses below! These reversible boards are NSF certified and will not dull your knife! With proper care, these Maple boards can last for life! Oiling it with mystery oil, available below, will keep it looking new (available below). These boards are a good size for most counter tops. Did you know that maple cutting boards naturally kill bacteria?

20 x 15 x 1 1/2 Maple Cutting Board ....
Click here for more sizes Cutting Boards!

---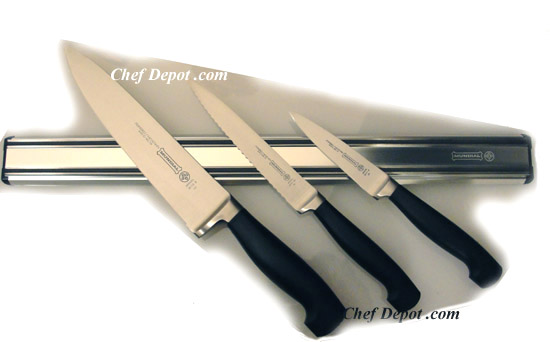 SALE
Our new Aluminum Magnetic Knife racks look great in modern kitchens. They are made from durable high strength polished aluminum with two large heavy duty magnets. They are very powerful and easily hold knives, shears, melon ballers, garnishing tools, cake spatulas and more. They match chrome and stainless steel appliances. These very powerful magnets will help you organize drawer space and display your kitchen tools.
12 in. Aluminum Magnetic Knife rack (On Sale)

18 in. Aluminum Magnetic Knife rack (On Sale)24 in. Aluminum Magnetic Knife rack (On Sale)


Click Here for Maple Knife Storage Blocks!
---

Type 301 Cutlery
F.A. Porsche!
Click the green arrow on the right for more Jk Adams Products!


JK ADAMS:
Page1 |
Page2 |
Page3 |
Page4 |
Page5 |
Page6 |
---

Copyright 1999 - 2022 Chef Depot Inc.
All Rights Reserved.
Legal Notice and Copyright
Customer Service - E-mail us or phone:(630) 739-5200



Customer Feedback : Knife Storage , Kitchen Knife Safety , Storage Solutions Best Rated Kitchen Knife Racks