Aged hickory wine trees
Portable Kitchen Work Tables!
More Wine Storage and Supplies!
---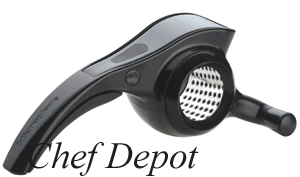 Product # CD39008-MICROPLANE-ROTARY-GRATER
Retail $33.00 and up
On Sale $18.95

The new Microplane rotary grater is the perfect tool for easily grating Parmesan Cheese. It combines a razor-sharp blade with the ease and portability of a rotary grater. The ergo rubber poly handle is designed to last and makes a better fit in the contour of your hand.
Chefs Note: We like this grater for reggiano cheese. We keep ours loaded with a chunk of parmesano reggiano in the refrigerator! Dishwasher safe.

Click Here for Maple Cutting Boards!
---
Product # CD44000-LEFTOVERS-COLANDER-MEDIUM-OVAL-RED
Retail $14.99 and up
Sale Price $8.95
Our new Leftovers Medium size Colanders are the thickest and strongest that we have ever seen (2 qt). These are wide and tapered for easy use. Aprox. 9 in. x 6.5 in. x 4.5 in. deep. Features: Wide bowl for comfortable mixing, Easy grip handle aids pouring, Made with 100% recycled food safe plastic, Dishwasher safe, Made in USA!
Chefs Note: very thick and durable, the colors are vivid and you will enjoy using these colanders! Strong enough to stand on. This medium size red oval colander is perfect for washing grapes and other fruits!
Red Colander
More Colors Recycled Colanders! Used by Chefs around the world!
---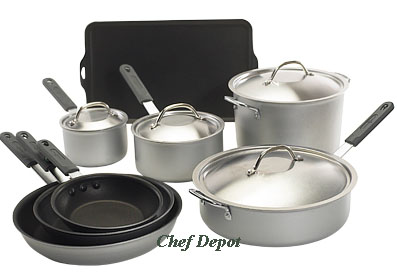 Product # CD12PC-NORDICWARE-USA-MADE-COOKWARE
List Price $659.99 and up
On Sale $369.00

Our new exclusive NSF Professional Cookware is on sale.
The 12 piece set of USA made Professional Cookware is made out of high grade aluminum with steel handles and several layers of very tough xtra thick non stick coating. NSF certification demonstrates Nordic Wares product standing as a leading brand of high quality cookware and bakeware. In becoming listed with NSF, Nordic Ware is recognized as having met the highest standards for materials and design, and for safety and easy cleaning. Every product is thoroughly reviewed to meet exacting NSF requirements that go beyond FDA food safety guidelines. This cookware set includes: 8qt stock pot, Lid for 8qt stock pot, 10 in. saute pan, 6qt jumbo fryer, Lid for 6qt jumbo fryer, 12 in. saute pan, 3qt saucepan, Lid for 3qt saucepan, 1.5qt saucepan, Lid for 1.5qt saucepan, 8 in. saute pan, 10 in. saute pan, 12 in. saute pan and two burner HD griddle. It works great with gas, electric, solid plate, halogen and ceramic glass cooktops. Professional Grade Extra heavy 6 gauge aluminum for superior heating. Tempered 3004 aluminum alloy for extra strength plus dent and corrosion resistance. Oven safe riveted chrome steel handles with removable silicone grips. 22 degree tapered sidewalls on skillets for food flipping, Nonstick coated rivets, Concave bottoms eliminate warping, Polished stainless steel lids NSF certified, Dishwasher safe, hand wash recommended Oven safe to 450 degrees (remove silicone grips). Made in the U.S.A
The manufacturer offers a free Lifetime Warranty with replacement under normal use.
You will love this Cookware Set!

Calphalon is no match for this cookware!
Add a Chef Table to your new kitchen!

Click Here for Messermeister Cutlery - #1 in Germany!
---


Product # CD20x15BOOSMAPLEBOARD
List Price $79.99 and up
On Sale $69.95

These are the Solid Maple Cutting Boards used by Bobby Flay & other Chefs on TV!
These cutting boards are the choice for all the Chefs here at Chef Depot,
Charlie Trotter, Paul Kahn, Mary Sue Milliken, Susan Feninger, Mario Batali and many other Chefs!
John Boos custom makes these cutting boards for us from first quality Solid Rock Maple, 20 inches by 15 inches and over 1 1/2 inches thick (12 lbs) or 2 1/4 thick (18 lbs). Available in two thickesses below! These reversible boards are NSF certified and will not dull your knife! With proper care, these Maple boards will last for life! Oiling it with mystery oil, available below, will keep it looking new (available below). These boards are a good size for most counter tops (it will not slide while cutting).
Did you know that maple cutting boards naturally kill bacteria?

20 x 15 x 1 1/2 Maple Cutting Board


20 x 15 x 2 1/4 Maple Cutting Board $94.95
Click here for White Poly Cutting Boards!

---

Product # CDFK140WH-KYOCERAREVOLUTION
Retail $79.95 and up
Sale Price $48.95

This is the new 5.5 in. Kyocera Revolution Ceramic Santoku Knife, it holds an edge without sharpening. The Revolution series feature an extra hefty black handle and a perfect balance. This is a great ceramic knife, it's very comfortable and easy to use. The weight is about half of steel knives making it comfortable for extended use. The ultra sharp ceramic blade cuts with precision and accuracy every time maintaining a razor-sharp edge for many years. These knives are made of an advanced, high-tech ceramic, second in hardness only to diamond, it was originally developed for industrial applications where metal components failed.
Chef Notes: These knives are a great choice for Chefs and Gourmet Cooks!
Each one of our Revolution knives comes in a beautiful presentation box.
We tested several brands of ceramic knives - Here's the results!
Kyocera was the only knife sharp enough to meet our demands, the others were too dull or the blades were too thin and brittle. Only Kyocera scored very high in sharpness, quality, workmanship, material and warranty. Click here for more Kyocera Knives & Tools! These knives are a great choice for Chefs and Gourmet Cooks! Ceramics are perfect for slicing, dicing, chopping and mincing meats, garlic, carrots, onions, celery, fruits and more.

Click the green arrow on the right for more copperware!


More Cookware:
Page1 |
Page2 |
Page3 |
Page4 |
Page5 |
Page6 |
Page7 |
Page8 |
Page9 |
Page10 |
Page11 |
Page12 |
Page13 |
---

Copyright 1999 - 2016 Chef Depot Inc.
All Rights Reserved.
Legal Notice and Copyright
Customer Service - E-mail us or phone:(630) 739-5200



Customer Feedback