Candy Making Recipes
Candy Molds
Smoothies & Shakes & Blender Drinks
Do you have a question about a specific product, looking for a preparation tip, searching for suggestions? Our Chefs are here to help you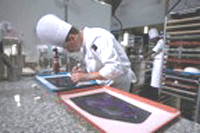 Our Mandolines will produce these cuts quickly and easily!

Make your own Sushi at home!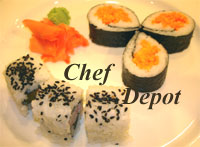 Handmade Sushi Knives!

Pro Grilling Tools!


Steak Knives!



Today's Date & Time is:


Featured Recipes ~ "Fresh Fruit Cup with Vanilla"

"Gnocchi & Wild Mushrooms"

"Vegetable Soup"

"Shrimp & Almond Salad"

"Shrimp Macadamia Pesto"

"Gourmet Pizza at Home"

"Ginger Soy Grilled Chicken"

"Coconut Macaroons"

"Flourless Chocolate Cake"

"Fast Nutty Fudge"

"Chocolate Truffles"

"Chefs Cashew Turtles"
Click Here to make these chewy treats!

These Chocolate Desserts were created using our super rich and pure gourmet Swiss Chocolate! We use lots of Pure vanilla in our chocolate desserts. Our guests loved the presentation and taste! We never get enough chocolate! Click on pictures!

Here's a few of the Chefs' personal favorites!





Featured Videos ...


Roasted Garlic recipe is so easy. Enjoy fresh roasted garlic with your next meal. Click Here for the featured Kyocera Ceramic Knife!

Notice the Chef is using one of our NSF Maple Cutting Boards!

---

One of the Chef shows you a fast recipe for Pico De Gallo. Great with chips or on grilled fish or chicken. Notice, the knife is very sharp and cuts very easily. A sharp knife is required by every Chef and Gourmet cook. For the featured ceramic knife in many colors - click here! All the Chefs love these knives. Chef is using a high heat rubber spatula with a heavy duty mixing bowl, and one of his NSF Maple Cutting Boards!
Fire up the BBQ and check out the must have new gadgets, Grilling Tool Sets, BBQ Carts, Colored Tongs and more! The cutting edge knives and kitchen tools found in the Products section will take your kitchen to a new level. Highest rated Cutlery Sets, Butcher Blocks and Specialty Tools! We have the "Perfect Gift for every Chef and Cook"! Choose from Global, Messermeister, Kasumi or Porsche Type 301 Cutlery Sets, Knife Sharpeners, Japanese Whetstones, Mundial Scissors, Chef Gadgets & Tools, Digital Scales, Meat Slicers, Thermometers, Knife Storage Ideas, Electric Sharpeners, Cleavers, Garnishing Tools and more! Click here for more Chef Recipes! Please visit often and bookmark this site for your new Cooking Supplies! Tell Your Friends! Also take a look at the biggest plump and juicy Vanilla Beans you can buy, Porcini & Morel Mushrooms and our Kosher Organic Spices, these will enhance your food and nourish your soul! Our archives contain millions of recipes. We are typing fast! Visit often! Millions of other recipes are available on our links page!


Click here for Maple Tables & Kitchen Carts! Made in the USA! All the best Chefs & Cooks use our butcher blocks.
As Chefs, we only buy the best foods and tools! If there is something you need for your kitchen and you do not see it, likely we have it in stock, please call us!
---