This is a heavy duty solid stainless steel flatware tray. It is designed to be the most sanitary way to organize and store your flatware. It measures 13 1/2 in. long x 11 1/2 in. wide x 2 1/4 in tall. Dishwasher safe this tray weighs over 3 lbs and it will not slide around in your drawer. Made to last with a 5 Year warranty. Designed to fit into a standard kitchen drawer, it also looks great in one of our Maple Kitchen Carts!
This item will be sold out soon!

Click Here for Butcher Blocks!

---
Product # CDR5130-4EREDSTEAKSET
Retail $110.00 and up
On Sale $79.95
The set contains 4 Red Pointed Tip Fully Forged 4 Inch Steak Knives. Set a new trend in your neighborhood!
Chefs Note: Why not buy 2 sets? The serrated blades will stay sharp for years, easy to resharpen. Lifetime Warranty!
Click Here for more Red Cutlery!


Click Here for more red knives!

---
Receive a bottle of our 4 Star Vanilla Extract for Free with any $200.00 purchase ($200.00 or more)! Our vanilla extract is made from sun ripened hand picked Bourbon Vanilla Beans! This superior extract enhances flavors in cookies, cakes, ice cream and other foods! Up to a $20.00 value! Place your order today, limited time offer!
Click the button below to add these to your shopping cart! Another Chef Depot Exclusive!


Free Bottle of Vanilla Extract
---

Product # CDJ08-CHROMAJAPANCHEF-STEAK
Retail $31.95 and up
On Sale $19.95
This is the 4.75 in. Steak knife (12.2 cm) by Chroma. The knife has a wide thin blade with large curve. These knives have a great shape, balance and weight for a lifetime of use. These forged knives are beautiful, functional and easy to clean. We guarantee it will fit your hand perfectly and you will love the balance of this award winning knife. Each one is hand sharpened and finished by the hands of a master knife maker.
We gift box each piece of this fine cutlery. Lifetime Warranty!
Chefs Note: A great buy on a very sharp forged steak knife. Buy more and save. Ice Hardened Molybdenum Vandium Japanese Steel with the 15 degree V edge.

1 Steak Knife

2 Steak Knives $38.50 4 Steak Knives $75.95 8 Steak Knives $149.95 Best Garnishing Tools Made!

---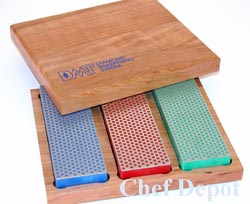 Product # CD-DMTDSS-THREE-STONE-SET
Retail $165.00 and up
On Sale $89.95
This is our exclusive DMT diamond sharpening set! It is precision manufactured to our exact specifications, right here in the USA. Each set features a Coarse 325 grit diamond stone (Blue), a Fine 600 grit diamond stone (Red) and a Extra Fine 1200 grit diamond stone (Green) each one is aprox. 6 in. x 2 in. in a hardwood box. The Monocrystalline diamonds will not break apart during use. These diamond sharpeners last!
Chef Notes: A perfect gift for someone who has almost everything. This diamond sharpening set will quickly produce a fine razor sharp edge on any good knife, garnishing tools and chisels with four six to six strokes. Why not buy the best?



Portable Chef Tables! Click Here!

---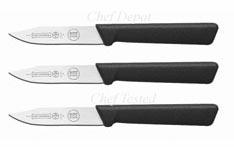 Product # CDMUNDSC0548-3PACK-PARING-KNIVES
Retail $20.00 and up
On Sale $11.99
This is the Mundial Paring Knife with a 3 in. German alloy steel blade! It is also called a clip point style paring knife.
Perfect for small fruits and vegetables. This knife is also great for cooks and culinary students.


Click here for Butcher Supplies!

---
Product # CDDYNAMIC-MX0500MINIPRO
Retail $370.00 and up
On Sale $239.00
The new MiniPro is perfect for shakes and smoothies, pureeing small soups, sauces, fruit coulis, meringues, whipped creams specialty desserts and more! A truly professional mixer for small preparations! Light and user friendly (990 gr.), quick and efficient (13.000 R.P.M.), equipped with a special 4-blade knife set, robust (dual cooling turbine), easily detachable shaft, practical (flexible cable), graduated bowl 1 L.
Chefs Note: We have all used Robot Coupes in the past. This unit is not only easier to use and faster, it is dishwasher safe and stronger than the competition. The mixers meet all NSF standards for safety and sanitation. We have the best prices!

MiniPro with Detachable Shaft

Extra Graduated Cup, 1 L. w/cover $59.00 Stainless Steel Bowl, 3 L. w/cover $99.00 Click Here for more Hand Immersion Blenders!

---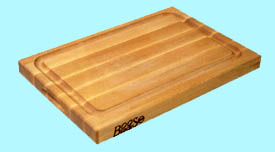 Product # CD18x12BOOSBBQBD
List Price $69.00 and up
On Sale $57.95


Finally a cutting board that is perfect for carving a roast, turkey or the backyard BBQ. This is the cutting board of choice for all the Chefs here at Chef Depot,
Emeril, Charlie Trotter, Paul Kahn and many other famous Chefs!
John Boos custom makes these cutting boards for us from first quality Solid Rock Maple, 18 inches by 12 inches and over 1 1/2 inches thick. This reversible board is NSF certified and will not dull your knife! With proper care, this Maple board will last for life! Oiling it with mystery oil, will keep it looking new (available below). This board is the perfect size for smaller counter tops!
Our Maple Carving Board With Spikes - Click Here!
Did you know that maple cutting boards naturally kill bacteria?
Receive our exclusive John Boos Mystery Oil for Free with any John Boos Cuttingboard purchase (see free offer below).

New Kitchen Center Islands! Custom sizes are available!

---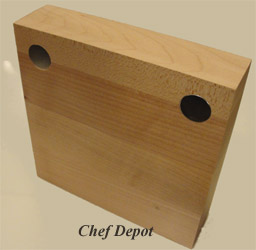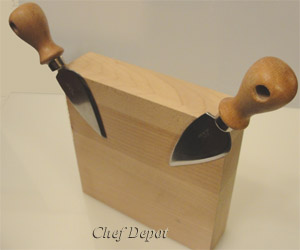 Product # CD2012-MINI-MAGNETIC-BLOCK-MAPLE
Retail $55.00 and up
On Sale $29.95
Our new mini magnetic knife block makes a great gift. Original design will compliment your holiday entertaining. True butcher block maple cutting board measures 6 in. X 6 in. X 1 1/2 in. thick. Super powerful magnets permanently pressed into the wood will easily hold most smaller knives and cheese tools. It displays 2 cheese knives at any angle. The other side is perfect for slicing and serving cheese! Exclusively manufactured for us! Made in USA. Choose with or without cheese knives below.


Maple mini magnetic knife block $29.95


Maple mini magnetic knife block with 2 Cheeese Knives $39.95
Click Here for more knife storage ideas!

Click here, Fat Juicy Vanilla Beans, Extracts & Paste! Holiday Baking is around the corner!