This is the new 5 1/2 in. Kyocera Ceramic Santoku Knife and 3 in. Paring Knife Gift Set. These knives holds an edge without sharpening. This set comes in an attractive gift box. This is a great ceramic knife set, very comfortable and easy to use. The ultra sharp ceramic blades cut with precision and accuracy every time maintaining a razor-sharp edge for many years. These knives are made of an advanced, high-tech ceramic, second in hardness only to diamond, it was originally developed for industrial applications where metal components failed.
Chef Notes: Makes a perfect gift! We tested several brands of ceramic knives - Here's the results!
Kyocera was the only knife sharp enough to meet our demands, the others were too dull or the blades were too thin and brittle. Only Kyocera Knives scored very high in sharpness, quality, workmanship, material and warranty. These knives are a great choice for Chefs and Gourmet Cooks! Ceramics are perfect for slicing, dicing, chopping and mincing meats, garlic, carrots, onions, celery, fruits and more!
---

Product # CD5010-7K-MESSERSANTOKU
Retail $39.99 and up
Sale Price $22.50
This is the new 7 inch granton blade Messermeister Santoku Knife!
The knife is crafted from the highest quality German alloy steel in Solingen Germany. Lifetime Warranty.
Chef Notes: A beautiful Santoku for the price, the stamped blade in nice and thin. This is a great knife for fruit and vegetables, chicken and meats! the small blade combined with the medium sized handle make a very comfortable knife. Our Chefs have used every German knife made - we conclude these are the best you can buy.
Click Here for Diamond Knife Sharpeners!
---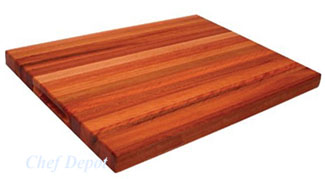 Product # CDLYPTUS-CUTTINGBOARD-12X18X1.5IN
List Price $89.95 and up
On Sale $44.95


Our Commercial Lyptus Cutting Boards are made to last. The edge grain butcher block construction is amazing! Lyptus is farm raised and looks just like Cherry Wood or Mahogany. Lyptus is as hard and heavy as Maple wood. Perfect for daily meal preparation and serving cheese & holiday appetizers! A full 1 1/2 in. thick, these will last for years of daily use. Oiling it with Mystery Oil or Wood Cream, every few months to keep it looking new. will keep it looking new for many years! Available in 3 sizes below! Free Shipping over $99.00 in cont. USA.

18 in. x 12 x 1.5 in. Lyptus Cutting Board $44.95


20 in. x 15 x 1.5 in. Lyptus Cutting Board $74.95
24 in. x 18 x 1.5 in. Lyptus Cutting Board $89.95
Click here for 400 lb. Butcher Blocks!

---