This is the new Kyocera Limited Series Chef Knife, the 7 inch blade holds an edge without sharpening. For precision chopping, dicing and prep, this knife is ideal for every Cook and Chef. Perfectly balanced, this knife will be used daily, quickly becoming a favorite in the kitchen. Lightweight and perfectly balanced, Kyocera knives are ideal for everyday slicing of boneless meats, fruits and vegetables. A great tool for any Chef. This is a great ceramic knife, its very comfortable and easy to use. The ultra sharp ceramic blade cuts with precision and accuracy every time maintaining a razor-sharp edge for many years. These knives are made of an advanced, high-tech ceramic, second in hardness only to diamond, it was originally developed for industrial applications where metal components failed. Unrelenting Sharpness: razor-sharp blade stays sharper longer. Kyocera advanced ceramic blades offer superior edge retention, holding their edge at least 10 times longer than other professional cutlery, including high carbon steel. Zirconia 206: Kyocera proprietary advanced ceramic. This translates to a stronger, denser blade that holds an edge longer than other ceramic knives. Lifetime Warranty: Kyocera advanced ceramic cutlery and kitchen tools are fully warranted to be free of defects in material and/or craftsmanship. If purchased from us and the product is found defective, we will repair or replace it. Lifetime Complimentary Sharpening: Kyocera will sharpen your knives back to a factory new edge. $10 for shipping and handling to sharpen as many Kyocera knives as you own.
Chef Notes: Will never brown foods. No metallic ions to transfer will not alter the taste, smell or appearance of food. Will never rust. Ultra Lightweight. Perfectly balanced and light, reduces fatigue during repetitive cutting tasks. More ltd. series knives (with riveted handle) are on sale, click here! This knife is a great choice for Chefs and Gourmet Cooks! Ceramics are perfect for slicing, dicing, chopping and mincing meats, garlic, carrots, onions, celery, fruits and more.
Roasted Garlic recipe is so easy. Enjoy fresh roasted garlic with your next meal. Click Here for the featured Kyocera Ceramic Knife! Notice the Chef is using one of our NSF Maple Cutting Boards!
---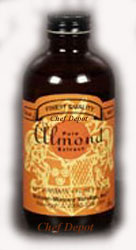 Product # CD83004-MASSEY-ALMOND-EXTRACT
Retail Price $14.99 and up
On Sale $8.95

Pure Almond Extract blends well with a host of foods and flavors, including vanilla, chocolate, caramel, apples, coconut, cherries, cream, strawberries, french toast, raisins and more. Use Pure Almond Extract to add the warm, mellow, nutty flavor of almonds to baked good favorites such as pies and pastries. Add it to confections, frostings and fillings for a fabulous finishing touch.
Chefs Note: Amazing in cakes, pies and cookies! World class Pastry Chefs choose our extracts.

Pure Almond Extract
Click here for Bulk Vanilla Beans and more!