This is a reversible Silicone Cutting Board Counter Protector! It does many thing for you, first it adds an extra level of safety by keeping your cutting board in place while in use. Second, it keeps a thin air gap between your counter and the cutting board, this helps keep the board from warping and protects expensive counters from possible scratches. Move the cutting board to cool off a Roast Turkey or sheets of cookies! This item is heat proof to aprox. 675 degrees F., Measures 11.5 in. x 11.5 in.

Click Here for Black Knife Guards....
---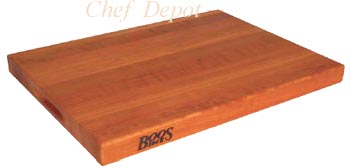 Product # CDCHYR01-CHERRYCUTTINGBOARD-12X18X1.5IN
List Price $99.95 and up
On Sale $81.95

Our John Boos Commercial Cherry Cutting Boards are made to last. The edge grain butcher block construction is amazing! Cherry Wood has a beautiful rich color. Perfect for daily meal preparation and serving cheese & holiday appetizers! A full 1 1/2 in. thick, these will last for years of daily use. Oiling it with the special blend of oil below, will keep it looking new for many years! Available in 3 sizes below! These boards are in stock, ready to ship.

18 in. x 12 x 1.5 in. Cherry Cutting Board $84.95


20 in. x 15 x 1.5 in. Cherry Cutting Board $97.95
24 in. x 18 x 1.5 in. Cherry Cutting Board $135.95 ***Bonus 16 oz. Wood Treatment***
Add 3 pack of Boos Board Cream (3 pc. 5 oz. tubes)
Sale Price $29.95

Click here for 400 lb. Butcher Blocks!

---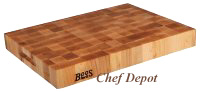 Product # CDJBCCB2015-225-20x15x2.25IN
Sale Price $134.95 and up, Free Shipping in cont. USA

Low prices, Free Shipping & Great Customer Service!
The John Boos End Grain Chopping Blocks are made of hard rock maple and features 3 in. thick end grain construction, made for a lifetime of chopping pleasure. Our square and rectangle Chinese chopping blocks come with a natural oil finish. Available in several sizes listed below. Weight 21 lbs., 22 lbs., 27 lbs.
Chefs Note: Rock Maple is the ideal surface for cutting and chopping foods, it will not dull your knife and naturally kills bacteria! These blocks have many applications! Perfect for kitchen islands, next to the stove top or portable cart, cabin, camper or boat.
Receive our exclusive John Boos Mystery Oil for Free with any John Boos Cuttingboard purchase (You must ADD TO CART, see free offer below).
20 in. x 15 in. x 2.25 in. End Grain Maple Block

18 in. x 18 in. x 2.25 in. End Grain Maple Block $139.95 24 in. x 18 in. x 2.25 in. End Grain Maple Block $249.95 Click Here for Chef Knife Sets.

---



On Sale $29.50
Product # CD46600PREMIUMCHINESECLEAVER
This is our Premium Chinese cleaver, it is prefered by many of our Chefs! It is made by a famous knife manufacturer in south China. The wide blade is finely polished high carbon steel and it is 8 in. long and 3 1/2 in. wide at the heel (it tapers slightly toward the front). The handle is solid hardwood with a nice stained laquer finish and brass bolster. This cleaver is excellent for quickly chopping, cutting and slicing vegetables. It is a good choice for cutting meats, fish, poultry and vegetables! Click here for more cleavers!

Click Here for Stainless Steel Butcher Gloves!
---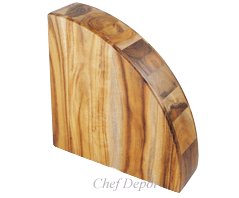 Product # CDMKB-10-AC-MAGNETICBLOCK-ACACIA
Retail $200.00 and up
On Sale $112.95

Our new solid Acacia Hardwood Magnetic Knife Block Holder is amazing. The very powerful magnets are built into the inside of the block. It is made with totally sealed solid magnets and hardwood! The block suggests to place 5 knives on each side, however you might fit more. When you get within an inch, the powerful magnets pull the knife firmly to the block. It weighs over 8 lbs. and measures 10 in. x 10 in. x 3 in.
Chefs Note: The block looks so good it reminds many of a sculpture. It has non slip rubber feet. Made to our exact specifications. Gift boxed!
FREE SHIPPING on ORDERS OVER $99.00 (cont. USA). Video Below!

Click here - big maple and walnut kitchen blocks!
---
Featured Video ...