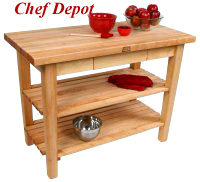 Fresh Cinnamon m Nutmeg, Vanilla, spices and herbs from A - Z!
---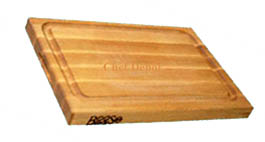 Product # CD18x12BOOSAUJUSMINI
List Price $79.95 and up, On Sale $63.95 ... In Stock!
Great for BBQ Turkey, Roasts and is reversible, free shipping over $99.00 in Cont. USA

Our new mini Aujus Cuttingboard is perfect for the backyard BBQ or carving a small roast. This is the cutting board of choice for all the Chefs here at Chef Depot and many other famous Chefs! John Boos custom makes these exclusive cutting boards for us from first quality Solid Rock Maple, 18 inches by 12 inches and over 1 1/2 inches thick. This reversible board is NSF certified and will not dull your knife! More Sizes & New Models of Cutting Boards, click here! With proper care, this Maple board can last for life! Oiling it with Board Cream will keep it looking new (available below). This board is the perfect size for smaller counter tops. Did you know that maple cutting boards naturally kill bacteria?


Add 3 pack of Boos Board Cream (3 pc. 5 oz. tubes)
Sale Price $29.95
New Cutting Boards! More sizes are available!

---
Product # CDDGHS6DOUGHBENCHSCRAPER
Retail Price $12.00 and up
Clearance Sale $6.75

Our Wood Dough Bench Scraper is perfect for working with pastry, bread and pizza doughs! Every baker needs a good scraper! This scraper features a 6 in x 3 in. stainless steel blade and a riveted solid wood handle for years of performance!
Chefs Note: I like to use mine for cutting portions of pizza dough and scraping down the flour on my butcher block. Also a great tool for scraping clean your hardwood cuttingboards!


Type 301 Cutlery
F.A. Porsche!
Click the green arrow on the right for more Maple Blocks, Carts & Tables!


John Boos:
Page1 |
Page2 |
Page3 |
Page4 |
Page5 |
Page6 |
Page7 |
Page8 |
Page9 |
Page10 |
Page11 |
Page12 |
Page13 |
Page14 |
Page15 |
Page16 |
---

Copyright 1999 - 2015 Chef Depot Inc.
All Rights Reserved.
Legal Notice and Copyright
Customer Service - E-mail us or phone:(630) 739-5200



Customer Feedback