The Microplane Coarse grater will quickly cut any vegetable, excellent for shredded carrots in salad and cabbage for coleslaw. Microplane graters are dishwasher safe and feature surgical grade stainless steel blades available in five unique blade styles, clear plastic frames and ergonomic handles. Cover included. Dimensions: 10 3/4 in. x 3 3/8 in. x 3/4 in., Weight: 4 oz. Materials: Blade made of surgical grade stainless steel. Plastic handle. Care & Cleaning, Dishwasher safe. We recommend rinsing your grater in warm water immediately after each use. Remove trapped particles from the non sharp side whenever possible. To remove trapped particles on the front, first soak the tool in warm water and then use a cleaning brush to stroke in the same direction as the teeth. Store with blade covered when not in use!
Chefs Note: Ahhh grated Swiss Chocolate...nothing is better on top of espresso or an ice cream sundae! Perfect for grated garnishes and fast coleslaws. This grater is unique since it shreds quickly in both directions!
The cut resistant braided stainless steel glove below will save your fingers and allow you to grate faster and safer!

Watch our Chef Demo a Microplane Coarse grater will quickly cut any vegetable, excellent for zest, grating hard cheeses, shred carrots for salad and more. In Stock! We have low prices!
---


Product # CD800-95OLOCKINGTONGSSILICONETIP9IN-ORANGE
Retail $13.99 and up
On Sale $11.75

Our new Orange Silicone tipped heavy duty locking stainless steel tongs are amazing. These are perfect for non stick cookware, BBQ grilling and make turning hot and juicy food an easy task. The high heat silicone is made to withstand 600 degrees F.!
Chefs note: The handles are inlaid with heavy duty non slip rubber and the black locking ring makes it easy to hang them or lock them closed for storage! The bright flower-like colors are visually pleasing. Longer ones and more colors, click link below!
9 in. Orange Silicone Locking Tongs
Click Here for More Colored Tongs!
---
Product # CDFK110WH+CP09RD-KYOCERA-2PCSET-RED
Retail $69.95 and up
Temporary Sale Price Reduction $26.95
This is the new red handles 4.5 in. Kyocera Revolution Ceramic Utility Knife & Ceramic Peeler Gift Set. These hold an edge for years, without sharpening. The Revolution series feature an extra hefty black handle and a perfect balance. This is a great ceramic knife, it's very comfortable and easy to use. The weight is about half of steel knives making it comfortable for extended use. The ultra sharp ceramic blade cuts with precision and accuracy every time maintaining a razor-sharp edge for many years. These knives are made of an advanced, high-tech ceramic, second in hardness only to diamond, it was originally developed for industrial applications where metal components failed.
Chef Notes: What a great gift idea! Limited time offer, then they are gone! Each one of our Revolution knives comes in a beautiful presentation box. We tested several brands of ceramic knives - Here's the results! Kyocera was the only knife sharp enough to meet our demands, the others were too dull or the blades were too thin and brittle. Only Kyocera scored very high in sharpness, quality, workmanship, material and warranty. These knives are a great choice for Chefs and Gourmet Cooks! Ceramics are perfect for slicing, dicing, chopping and mincing meats, garlic, carrots, onions, celery, fruits and more
Click Here for more amazing KYOCERA Knives & Tools!
---

Product # CDR4222BALLWHISK
Retail $17.99 and up
On Sale $9.99

Our new Ceramic Ball Whisk is made from solid Stainless steel with a small cage containing a ceramic ball agitator for faster beating & mixing!
Chef Notes: This is the perfect whip for hollandaise, Excellent for salad dressing, whipped cream, meringue, sauces & soups. Limited Quantity!
Click Here for More Whips!

Click Here for Colored Rubber Handled Stainless Steel Tongs!
---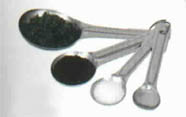 Product # CDMEASURINGSPOONSET004
On Sale $3.99

These are stainless steel measuring spoons. They are made from thick stainless steel and with proper care these will last!
Chef Notes: Chef Jose likes this set since they are inexpensive and they get the job done.


Click Here for Vanilla Beans!
---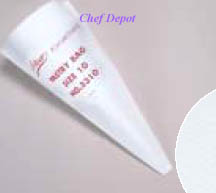 Product # CD3110ATECO-PASTRYBAG10IN
Retail $4.95 and up
Sale Price $2.80

Our 10 in. Plastic Coated Cake Decorators Bag is very high quality. Made from a tight woven fabric and then plastic coated, this pastry bag is good for hundreds of uses!
Chef Notes: Good Stuff! Click Here for more Pastry Bags, Tips & Supplies!
Vanilla Paste, Extract & Beans! The best at the lowest prices!
John Boos Blocks & Tables are Made in USA!

Call our kitchen designers for your best deal. phone 630 739 5200

---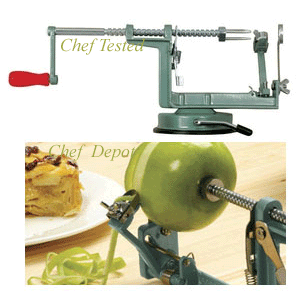 Product # CDA2117-APPLE-PEELER-MACHINE
Retail $70.00 and up
Sale Price $28.50

This is the newest design of the fastest Apple Peeler. This is a great peeler! It's very easy to use. The peeler works right or left handed for fast peeling! Features a durable suction base. No clamp is needed, however, you can use one if you like. Features a stainles steel shaft and steel base with green/red enamel coating. Also ideal for Potatoes and pears. Peels, it can also slice and core. 2 Year Mfr. Warranty. Colors may vary.
Chef Notes: Homemade Apple Pie! This peeler will quickly peel apples! A great choice for bakers and canning.
Click Here for USA made Knife Sharpeners!
Click Here for USA Made Cutting Boards!
---
Product # CDMUNMA01-3.25-MARKS-PARING-KNIFE
Retail $14.95
Promo Sale $3.25 to $3.50
Our New Exclusive Soft Grip Paring Knife features a comfortable ergo grip rubber handle. The small 3.5 in. knife has the perfect shape, balance and weight for a lifetime of use. High carbon alloy steel. Features antimicrobial safety, NSF certified. These knives are beautiful, functional and easy to clean.
Click Here for more High Quality Mundial Knives! This knife comes with a Lifetime Warranty! This is a good starter knife for any Cook, Pro Chef or travelling gourmet!
Soft Grip Paring Knife $3.50


Three Soft Grip Paring Knives $3.25 each Click Here for High Quality NSF Certified Maple Cutting Boards!

---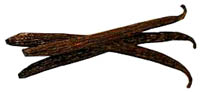 Our Madagascar Vanilla Beans ours are very high quality. They are prized by the Pastry Chefs who use them for their wonderful flavor and freshness. Used extensively by Pastry Chefs and Gourmet Cooks around the world. Congratulations to Team USA, finishing 1st Place in the 2002 World Pastry Chef Championship using our vanilla beans! These Madagascar Bourbon Vanilla Beans (the best variety) are prized for their fragrant strong flavor. Our vanilla beans are very large ( 6 in. - 9 in. long), soft, plump and fresh. Our very Large Gourmet Madagascar Vanilla Beans, paste, extract and powder (click here) are 100% Completely Organic Grown and PAREVE ~ Kosher certified!

Diamond coated cookware is easier to clean ~ Click here

---



Product # CDF130-14WOODENSPOONCHERRY14IN
Retail $12.99 each and up
On Sale $10.75 each

Our solid Cherry Wood Spoon is made in France. It is perfect for stirring spaghetti sauce and soups. This spoon is very comfortable to use and looks beautiful! It measures 14 inches long with a three ounce spoon indention on the end.
Chefs Note: I love this spoon for mixing potato salads! It has a large thick handle! Worth every penny.
Do you need new Kitchen Cutlery? On Sale Now!
---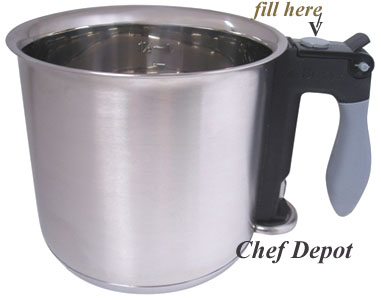 Product # CD34371600-FRENCH-BAINE-MARIE
Retail $80.00 and up
On Sale $48.95

Our French Bain Marie is the perfect size for making chocolates and homemade candies. The 18/10 stainless steel bain marie cooker consists of a hollow shell in which water is heated. It enables you to easily heat at lukewarm temperatures or higher for melting chocolate or keeping sauces warm. It has an ergo handle, which makes it very easy to use! Works on any heat source. High Quality, since 1830.
Order your Swiss chocolate above! Holds 1.5 L, aprox. 2 pound capacity!

Chefs Favorite Chocolate - Swiss Blocks & Coins, click here
---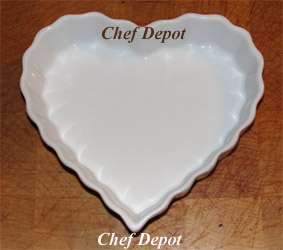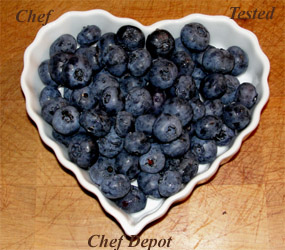 Product #CD-HEART-DISH-HIC98019
Retail $12.00 each and up
On Sale $8.15
These high quality Heart Shaped Dishes Dishes are triple fired with heavy glaze. They are oven safe and fired to be the toughest dessert and brulee dishes we have found. Thermal and shock resistant. Can be used in the broiler, oven, microwave, freezer and dishwasher! These dishes make a beautiful presentation for many desserts! 4 3/4 in. x 4 3/4 in. x 3/4 in. deep, holds aprox. 8 oz. The minimum order is 6 pieces.
Chefs Note: We use Vanilla Beans in our cheesecake and creme brulees, smooth and amazing flavor. Click Here for the best Vanilla that you can buy! Chefs favorite brulee torch, Click Here
Click here for the free Creme Brulee / Souffle Recipes!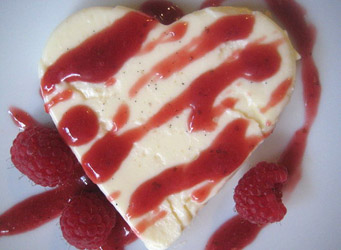 Click here for Extracts & Vanilla Beans and Gourmet gifts! We sell only high quality at low prices!
---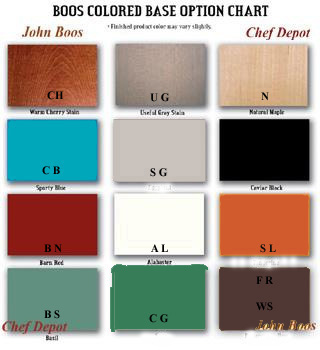 This is the new "John Boos Walnut Calais Island" solid American Walnut kitchen island. In the tradition of Classic French Vintage Furnishings the new John Boos Calais Island is one admirable piece of furniture. It stands 36 in. high and the top is 7 in. thick American Walnut End Grain. The table is 42 in. x 24 in. x 7 in. thick and has 4 in. square solid turned legs with beautiful hand-finished wooden skirting. The top is finished with maintenance free food safe clear varnish. This table weighs in at 286 lbs! The lower shelf is perfect for blender, food processor or heavy pots and pans. Exclusively at Chef Depot ~ All colors pictured above are now available for the base!
This table can be used as an ultra-premium Butcher Block Island or as an exquisite piece of furniture. This table will look great in the center of your kitchen, against the wall, in your dining room or other area. Pictured in black above and below in maple with Barn Red stained finish. All colors are available for the base. Simple add to the comment section at checkout, or call or email us.
Call us for hot monthly sale prices. We can ship your new table fast!

Free Shipping is available in most areas of the continental USA! This item only ships to USA / Canada.
Email us your color choice, or call us!


Sale Price $2995.95 with Free Shipping & Great Customer Service
Call us for hot monthly sale prices!
Walnut Calais Table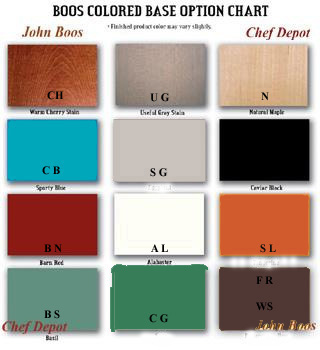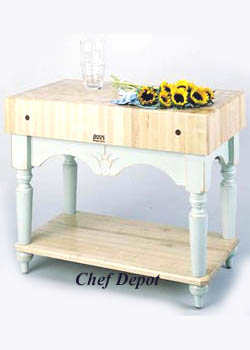 Phone Orders (630) 739-5200
We love our Boos Tables and Blocks, you will too! More are here...

---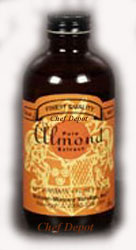 Product # CD83004-MASSEY-ALMOND-EXTRACT
Retail Price $14.99 and up
On Sale $8.50

Pure Almond Extract blends well with a host of foods and flavors, including vanilla, chocolate, caramel, apples, coconut, cherries, cream, strawberries, raisins and more. Use Pure Almond Extract to add the warm, mellow, nutty flavor of almonds to baked good favorites such as pies and pastries. Add it to confections, frostings and fillings for a fabulous finishing touch. Click Here for more extracts!
Video review is below.
Chefs Note: Amazing in cakes, pies and cookies! Choose Massey Extracts.

Pure Almond Extract
Click here for Bulk Vanilla Beans and more!
---
Featured Video ...
Chef is reviewing our favorite extracts. These are all in stock for fast shipping. Click Here for more extracts!
Click Here for Professional Chef Knives!
Get your knives razor sharp with our sharpening stones! Get a fast edge and maintain your sharp knives with our sharpening steels! Chef is using one of his Favorite NSF Stainless Steel Tables.

---


Product # CDHIGHHEATPOLYSPOONBLUE12IN
Retail $10.00 each and up
On Sale $4.29 each

Our new Poly Spoons will replace many wooden spoons and add a touch of color to your kitchen. Perfect for stirring spaghetti sauce and soups. It will not melt (up to 700 degree's F.) or discolor and is made to last. This spoon measures 12 inches long with a two ounce spoon end. Choose your color below!
Chefs Note: A great spoon for stir fried vegetables! It really brightens up the kitchen!

Blue Poly Spoon


Green Poly Spoon
Red Poly Spoon
Black Poly Spoon
Click the page links below and green arrow on the right to view more Kitchen Supplies!



Smallwares:
Page1 |
Page2 |
Page3 |
Page4 |
Page5 |
Page6 |
Page7 |
Page8 |
Page9 |
Page10 |
Page11 |
---

Copyright 1999 - 2017 Chef Depot Inc.
All Rights Reserved.
Legal Notice and Copyright
Customer Service - E-mail us or phone:(630) 739-5200



Customer Feedback