This is the best grain mill that we have seen. Made out of high quality cast-iron construction for a lifetime of use. Large, heavy-duty, crank handle turns effortlessly. Extra large, 5.5 inch diameter hopper. Clamp on style easily attaches to any countertop (up to 1 1/2 in.). Rubber base protector keeps mill from scratching the work surface. Adjustable burrs for coarse to fine grind control. Fully disassembles for quick & easy clean-up. One year limited warranty!
Chefs Note; Easily grind your own oats, process your own flour, soybeans, grind corn into cornmeal, nuts into spreads and create new and healthy recipes.
A Chef reviews the new black blade Kyocera Ceramic Chef Knife. Notice, the knife is very sharp and cuts very easily. A sharp knife is required by every Chef and Gourmet cook. These cuts will take you practice to master. And black blade Kyocera Ceramic Chef Knives with riveted handles are here. Chef is using one of his NSF Maple Cutting Boards!
---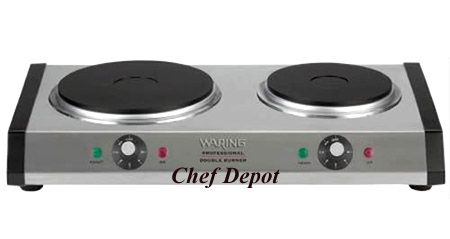 Product # CDWARING-DB60-PORTABLE-ELECTRIC-STOVE-2BR
Sold Out

Our new portable electric stoves feature heavy duty stainless steel commercial grade burners (up to 1800 watts) . No Special Cookware Required, UL listed, Operates on 120 Volts. Cooks like gas burners, but safer, no open flames or fumes, the cord and plug are included. Perfect for catering events, boats, camping, patio parties, holiday events or balconies! Lowest Price Guarantee! Brushed stainless steel housing, lots of power for quick heat-up and heat retention. Heavy-duty cast iron plates. Adjustable thermostat with ON and READY indicator lights. Non-slip rubber feet. Limited One Year Warranty. Chefs Note: simple to use, preheats, light pops on and the frying pan hit the burner. We like it!

More Portable Burners & Stoves!
---
Product # CD301PORSCHEP18CHEF
Retail $135.00 and up
On Sale $145.95
Spring Promo Sale, only $117.95 each
This is the new 8 in. Chef knife, Chroma Type 301 designed by F.A. Porsche. These knives have the perfect shape, balance and weight for a lifetime of use. These knives are beautiful, functional and easy to clean. We guarantee it will fit your hand perfectly and you will love the balance of this award winning knife. We gift box each piece of this fine cutlery. Each one comes with a Lifetime Warranty! The Porsche knives are easy to use and hold an edge longer than most other knives. Great gift idea! Buy 2 or more and save $
Click here to read some of our Chefs Comments!
8 in. Chef knife, Chroma Type 301

TWO 8 in. Chef knife, Chroma Type 301 $105.95
Click here for more PORSCHE Type 301 Knives!
---
Product # CDROCKY-BTG1-SS-PORTABLE-GRILL
Retail $1800.00 and up
On Sale $1359.95 (FREE Shipping to most areas of cont. USA)
These heavy duty grills are made from heavy gauge thick stainless steel, here in the USA. Affordable & Portable Ideal for serious BBQ folks, caterers and tailgaters. Fold and Go design. 5ft. x 2ft. or set up to 3 ft. x 2 ft., it folds into a two wheel dolly for easy transportation. Stainless Steel Construction ~ Two Cooking sizes in one unit. Unique Vent/Ash pan burns hotter with less fuel. Makes Cleaning it out quick and easy. Charcoal or hardwood (we use both). Easy Adjust Height Controls. Easy to move, simple one man operation. Made in the USA ! We will give you Free Freight in Cont. USA (48 States only). We guarantee the best prices.
Works great for burgers, steaks, ribs, chicken breasts and more!
Chefs Note: I moved it and set it up in 2 minutes. Hot fire with hardwood and charcoal 20 minutes later. It was a great BBQ. Great for catering, tailgating and BBQ, we love them all!
More Grilling Tools are here!
Bistro & Bar Tables made in USA!
---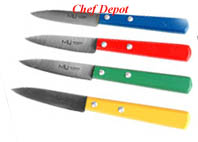 Product # CD90006PARINGSET-GRYB-4PC
List Price $25.99 and up
Clearance Sale Price $14.50
Our French style paring knives are perfect for all your small cutting tasks. The knives features 3-1/4 in. stainless blades and comes with vibrant colored wood handles in yellow, blue, red and green. Set of 4 pieces! Mfr. Lifetime warranty. Imported.

Click Here for Diamond Knife Sharpening Stones!
---



Product # CDEMMETS-ELIXIR-OIL
List Price $16.95 and up
Sale Price $13.95
Emmet's Elixir is the perfect compliment to your wood cutting board. It is a century old combination of food grade mineral oil and natural beeswax. It is completely food safe. This easy to use cream provides wood with soft protective luster which adds life to your butcher block cutting boards. 100% natural, Made from mineral oil and bees wax. 16 oz. It's like body lotion for your cuttingboards! We recommend oiling your tops & blocks every 4 weeks or more, depending on your climate. This food-safe oil finish keeps your blocks looking new.

Click Here for Diamond Knife Sharpening Stones!
---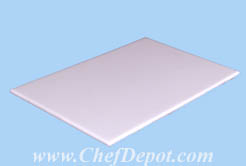 This 18 in. x 12 in. x 1/2 in. thick Poly Cutting Board weighs over 4 lbs!
This is the cutting board of choice for all the Chefs here at Chef Depot and many other famous Chefs!
It is used by Emeril and other Chefs on TV and in professional kitchens across the USA!
These Poly Cutting Boards are restaurant quality and will last for over 10 years (if used every day).
We use these boards for meats, poultry and fish, they reduce odor transfer. Dishwasher safe. Many sizes are available. We guarantee the Lowest Prices!
This cutting board can not be shipped outside the USA.
List Price $21.99 and up
On Sale $12.75
Product # CD18x12x1/2WHITEPOLYBOARD

More Pure White Poly Cutting Boards On Sale Now! Click Here!
---



Product # CDE3686-4MESSERCHEF4IN
Retail $90.00 and up
Sale Price $65.95
This is the new 4 inch blade Messermeister Elite Chef Knife! The knife is forged from the highest quality German alloy steel in Solingen Germany. Lifetime Warranty.
Chef Notes: This is a great little knife for fruit and vegetables, the small blade combined with the medium sized handle make a very comfortable knife. We include a Lifetime Warranty certificate with every Messermeister knife!

Messermeister knives are the choice of many Chefs (Click Here)!
Click the green arrow on the right for more Maple Cutting Boards!
We have great Prices!


John Boos:
Page1 |
Page2 |
Page3 |
Page4 |
Page5 |
Page6 |
Page7 |
Page8 |
Page9 |
Page10 |
Page11 |
Page12 |
Page13 |
Page14 |
Page15 |
Page16 |
---

Copyright 1999 - 2017 Chef Depot Inc.
All Rights Reserved.
Legal Notice and Copyright
Customer Service - E-mail us or phone:(630) 739-5200



Customer Feedback