Our new Leftovers Mixing Bowls includes three nested bowls (2 qt, 3 qt, and 4 qt). Bowls are wide for comfortable mixing with an easy grip handle that aids pouring. Size: 2 quart, 3 quart, and 4 quart. Colors: Apple Green, Berry Blue, and Ripe Tomato. Features: Wide bowl for comfortable mixing, Easy grip handle aids pouring, Made with 100% recycled food safe plastic, Dishwasher safe, Made in USA!
Chefs Note: very thick and durable, the colors are vivid and you will enjoy using these bowls!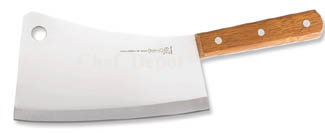 Product # CD4661M-MUNDIALCLEAVER
Retail Price $40.00 and up
On Sale $18.50

Our Curved Mundial Butcher Cleaver - high quality for less! This cleaver is 12 1/2 in. long overall. The heavy wide blade is high carbon steel and it's 7 in. long and 3 1/2 in. wide (it has a nice curve to 5 in. wide at the end).
The handle is riveted with a slight curve, this cleaver has a full tang (extremely strong) and it weighs 17 oz., imported.
This cleaver is a good one for cutting beef, lamb, pork, bones, fish and poultry.


Click Here for Meat Grinders!
Click here for diamond sharpening stones!
---

Product # CD9492CHEEESE-SPATULA
Retail $25.00 and up
On Sale $9.90
This is a Giesser cheese spatula plane or cheese slicing knife. The knives are made from the highest quality German alloy steel.
This knife is excellent for cutting and slicing brick, blocks or wheels of cheese.
This traditional style cheese knife is prefered by many and it will last!
It is made from the highest quality German Alloy Steel and it will stay sharp for a long time!

Click Here for Rock Maple Lifetime Cheese Boards!
---
Product # CDFK110WH+CP09-KYOCERA-SET
Retail $69.95 and up
Temporary Sale Price Reduction $26.95
This is the new 4.5 in. Kyocera Revolution Ceramic Utility Knife & Ceramic Peeler Gift Set. These hold an edge for years, without sharpening. The Revolution series feature an extra hefty black handle and a perfect balance. This is a great ceramic knife, it's very comfortable and easy to use. The weight is about half of steel knives making it comfortable for extended use. The ultra sharp ceramic blade cuts with precision and accuracy every time maintaining a razor-sharp edge for many years. These knives are made of an advanced, high-tech ceramic, second in hardness only to diamond, it was originally developed for industrial applications where metal components failed.
Chef Notes: What a great gift idea! Limited time offer, then they are gone! Each one of our Revolution knives comes in a beautiful presentation box. We tested several brands of ceramic knives - Here's the results! Kyocera was the only knife sharp enough to meet our demands, the others were too dull or the blades were too thin and brittle. Only Kyocera scored very high in sharpness, quality, workmanship, material and warranty. These knives are a great choice for Chefs and Gourmet Cooks! Ceramics are perfect for slicing, dicing, chopping and mincing meats, garlic, carrots, onions, celery, fruits and more
Click Here for more Ceramic Knives!
---
Product # CDDMTAKFCALIGNERSET
Retail $64.95 and up
On Sale $39.95

This is the DMT Aligner Diamond Sharpener! It is the best Guided Sharpening System made. The guide helps to stroke the exact edge bevel giving a consistent angle to produce the fastest, most accurate knife sharpening. Seven different angle settings, this system accepts any DMT 4 in. diamond whetstone. The kit includes the knife clamp and aligner sharpener as pictured withe two diamond stones, fine and coarse along with a heavy duty fabric storage pouch.
Chefs Note: This sharpening system recently won an award for the best new design in sharpeners!
Makes a perfect gift!

Click Here for Butcher Blocks!
---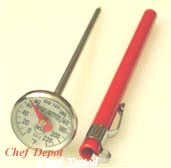 Product # CD3512-0220REDTAYLORTHERM
Retail $11.99 and up
On Sale $4.99 to $5.99

This is the new Taylor instant read bi metal thermometer!
This Pocket Thermometer reads 0-220 F., adjustable, accurate within 1 degree.
We give you a free 1 year Warranty on this thermometer! Large quantity discounts are available.
How to Calibrate a Food Thermometer - Click Here!

0-220 Thermometer


Six 0-220 Thermometers $4.99 ea
Click Here for Chef Tables!

---

Product # CD9490MESSERPOCKETMATE
Retail $15.00 and up
Sale Price $6.75

This is the new Messermeister Pocket Mate Knife! It is perfect for traveling and picnics! We like to use keep these in our vehicles for cutting fruit and anything else that crosses our path. The blade is aprox. 4 in. long and razor sharp. It comes with a durable hard molded case with a durable metal belt clip riveted to it. On sale for a limited time.
Logo Maple Cutting Boards! Lowest Prices!
---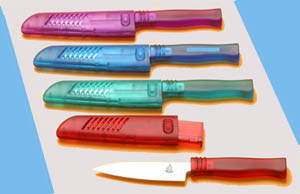 Product # CD510213MESSERPICNICKNIFE
Retail $9.50 and up
Sale Price $4.85

A colorful mini santoku "picnic knife"! Perfect for a picnic or wine and cheese party in the park. The durable plastic case locks the blade in place, with the push of a button it releases. This mini santoku style knife is sure to be a hit! Makes a great gift too. Colors vary (purple, blue, green, red). Order 4 to get one of each color!
Picnic Knife


Set of Picnic Knives (all 4 colors) $19.40 Diamond Sharpeners are on sale (Click Here)

---
Product # CD5018-12KMESSERSLICER12IN
Retail Price $48.95 and up
Clearance Sale $34.95
Our Messermeister 12 in. Granton Edge Meat Slicer makes slicing roasts and turkeys a snap! This knife comes with a Lifetime Guarantee! The 12 in. granton edge blade is medium flexible and has the razor edge that Chefs and Butchers love to use every day! Our Chefs have tested this knife against all of the leading brands. The results, this is the best carving and slicing knives you can buy.
Place your order today, limited time offer!
Lifetime Warranty! This knife makes a perfect gift!
We guarantee you will like this knife! Another Chef Depot Exclusive item!

Click Here for More Messermeister!
---

Product # CDMUND5150-6RIVETEDCLEAVER
Retail $46.00 and up
On Sale $29.75

This is the 6 in. (blade Length) Cleaver. Perfect for cutting though chicken wings, fish and other chopping work. Mundial fully forged knives with black poly riveted handles! Mundial knives are forged from special German High Carbon Chrome Moly Alloy Steel, which holds a very sharp cutting edge for a long time. These forged knives are shaped & sharpened by hand - the whole process takes over 125 individual steps. These knives that will stand the test of time, comes with a Lifetime Warranty.
Click Here for Vanilla Beans!
Click Here for Magnetic Knife Holders!
---

Product # CDMUND6109-7ELEGANCESANTOKU
Retail $49.99 and up
On Sale $29.49

This is the new Elegance Santoku knife, it has a 7 in. forged German steel blade. Order this knife today and we will package it in a beautiful gift box! Lifetime Warranty. Limited Quantities! Chefs Note: This is a great Santoku knife for cutting, chopping, slicing and dicing! The blade is nice and thin and it is perfectly balanced. This knife will become a favorite! This knife is an outstanding value!
Elegance Santoku knife
Click here for Butcher Block Carts!
---

Product # CDMUND05303SHFTPARING
Retail $12.95 and up
On Sale $4.99

This paring knife has a 3 inch long blade, it is used for cutting smaller fruits and vegetables as well as garnishing work. This paring knife has a nice thin blade that is slightly flexible, excellent for garnishing. The handle is comfortable and it has a 3 inch long German alloy steel blade. NSF certified for safety and sanitation. A 4 inch version is also available.

3 in. Sheep Foot Paring Knife

4 in. Spear Point Paring Knife $5.89 Click Here for riveted paring knives!!

---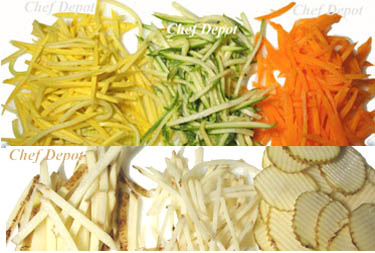 Product # CD90799000SSMANDOLINE-WITH-KNOB
List Price $199.00 and up
Clearance Sale $98.50
FREE SHIPPING @ $99.00 CONT. USA ONLY...(Add FREE Promo Offer below)

This is the New "Pro Stainless Steel Mandoline", Our new design makes it easy to change thickness of the cuts & blades - just turn the knob. This precise control took many years to develop, the knob easily sets the exact size of the cuts 1/8, 1/4, 3/8 thickness and more. Made of heavy-gauge 18/10 stainless steel with sturdy rubber coated legs for stability. The safety shield has a large, easy grip handle. Cutlery grade blades included julienne, french fry, slicing and for cutting plus adjustable slicing and waffle blades. The blades will easily achieve different cuts and textures for a wonderful presentation. Dishwasher safe for easy cleaning. Measures: aprox. 14 in. L x 4 1/2 in. W. See a few cuts pictured below. A nice machine for making sweet potato chips.
Chef Notes: Every professional Chef we know uses a cut proof Butcher Glove (click here) to quickly and safely cut vegetables on the mandoline.

Click Here For Kitchen Islands & Butcher Blocks!
---
Recieve a Free Mundial Paring Knife with any stainless steel mandoline purchase from Chef Depot. Place your order today, limited time offer! Colors and styles may vary. Free shipping too (cont. USA only)! Click the button below to add the Free Mundial Paring Knife to your shopping cart!

Free Mundial Paring Knife
---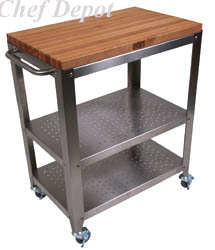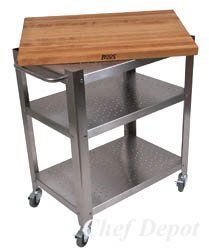 Product # CDCU-CULART30-06KITCHENCART
On Sale $589.00
Free Shipping & Mystery Oil & Great Customer Service!

Our new Cucina Culinary Cart measures 30 in. x 20 in. and features 1 1/2 in. Thick Hard Maple Top (Edge Grain). The tops is removable and reversible! There are 3 ways to use this cart! Use it as a kitchen cart for cutting and chopping meals. Use it as a serving tray to present what you prepare and easily move the top to a counter or table for dining! Use it as on the patio for BBQ and it's ideal for bar service! Measures 35" high overall. This table has a FDA approved food safe natural finish. The butcher block top requires rubbing with Mystery Oil or Wood Cream, every few months to keep it looking new. This table has a Food service grade stainless base and shelves and it is equipped with four locking 3" commercial grade caster wheels. There is a towel bar and a bar to hang utensils. This table combines style with function, it is simply amazing! We can ship your new table in aprox. 2 - 3 weeks! Ships to USA only.


USA Sale - Call Us or Email Us !


Add 3 pack of Boos Board Cream (3 pc. 5 oz. tubes)
Sale Price $29.95

Add 12 pack of Boos Board Cream (12 pc. 5 oz. tubes)
Sale Price $109.95

John Boos Carts & Tables combine function and design!
Click hyperlinks below to view more Carts & Tables!

---
Product # CD03BA1112-440BOKER6PCBLOCKSET
On Sale $96.95
The new Boker 440 Chef Set features 440 Stainless Steel Alloy blades and riveted black poly handles made to last a lifetime. The sharp 440 high carbon stain resistant steel blades hold the edge. The cutlery is well balanced with comfortable handles. The Rockwell hardness is an ideal 56. The 6 piece Starter Block Set includes includes a 8 in. Chef knife, a 7 in. Multi Purpose Kitchen knife, a 5 in. Serrated Utility knife, a 4 inch Paring knife, a 10 in. Sharpening Steel and a small hardwood storage block. Lifetime Guarantee.
Chef Notes: These knives make a great starter set or nice set for limited counter space. The block is very compact!
More Chef Tested Knife Sets! Click Here!
---

Product # CDUP-CT12P-FORGED-BLACK-CARVING-FORK
Retail $38.00 and up
On Sale $14.95

This forged carving fork is perfect for the BBQ grill or carving a turkey or any roast meat. The carving fork is 12 in. long overall and features a triple riveted poly handle. Pass it down to generations, it has a lifetime warranty. Very comfortable and easy to use. Perfectly balanced and a great deal! NSF approved.

Click here for Carving Boards!
---
Product # CDE3000-3SMESSER3PCSET
Retail $231.50 and up
Sale Price $145.95
This is the new 3 piece Messermeister Elite Chef Set!
The knives are forged from the highest quality German alloy steel in Solingen Germany.
The set contains a Elite 8 in. Chef knife, 6 in. Utility knife and 3 1/2 in. Paring knife. Lifetime Warranty. Chef Notes: This is a great starter set for any Chef or home gourmet cook! It has just what you need for cutting, chopping, slicing and dicing! Limited time sale. Our Chefs have used every German knife made - we conclude these are the best you can buy.
Click here for more Messermeister German Cutlery!
---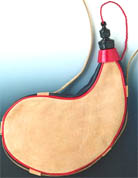 Our High Quality Bota (Boda) Bag is latex lined to prevent bacterial growth. Made in Spain from real leather! It is ideal for Backpackers, Hunters, Skiers, Outdoor Events and more. Large Quantity discounts are available! Makes a perfect gift!
Retail $16.99 and up
On Sale $9.50

Click Here for Rock Maple Butcher Blocks!
---


Product # CDMUND5604-07GESANTOKU-BLACK
Retail $29.00 and up
On Sale $21.95

This is the new 7 inch Santoku knife, it is used for most cutting and chopping work. The handle features a built-in microbial defense and is comfortable, alloy steel blade. NSF certified for safety and sanitation. A very good quality knife for food preparation. Choose from black or white below! NSF certified! Lifetime Warranty!

Santoku Knife, Black Handle

Santoku Knife, White Handle

---
Product # CDOVALDMNDSTEEL12
Retail $39.95 and up
On Sale $29.95
This is a 12 inch diamond oval sharpening steel that is the choice of more butchers! It has a 12 inch long oval steel that allows for quickly returning the edge to any knife blade. This diamond steel will quickly produce an edge on any good knife with six to ten strokes. Chefs Note: The sanitary black plastic handle is non slip. The metal ring is nice for hanging nearby the knife block.

Click Here for Butcher Block Tables!
---
Product # CDBOOS2005MAPLEBARTABLE
Retail Price $559.95 and up
On Sale $479.95

Free Shipping & Live Customer Service!
John Boos & Chef Depot have created the new Maple Bar Table. It measures 36 in. w. x 25 in. d. x 36 in. tall. Perfect for a breakfast bar island, food prep, holiday parties or casual dining. This table is constructed from 1 1/2 in. thick first grade solid rock maple with a natural finish. The tubular stainless steel legs are joined by a metal I Bar for optimum stability. The swivel stools below are a perfect match for this table. Four 24 in. stools will easily store underneath when not in use (pictured with 24 in stools, not included, available below). The lower bar also makes a great foot rest! 70 lbs. Commercial grade locking caster wheels are available!
We can ship your new table in aprox. 3 weeks!
Chefs Note: We love this table! Made in the USA.
Free Shipping & Great Customer Service! Free Shipping is available in most areas of the continental USA!

36 in. Wide x 25 in. Deep x 36 in. Height Maple Bar Table

Add Locking Caster Wheels $99.95 Every item we sell is tested by Certified Chefs for quality!

---
Product # CDHD03-HAIKUSMALLCHEF-DAMASCUS
Retail $120.95 and up
On Sale $79.95
This Haiku Damascus 5 3/4 in. blade Chef knife is very high quality. The knife has 35 layers of steel with a pure high carbon steel razor sharp blade. Handmade in Japan, it is used by more Sushi Chefs in Japan and Europe than any other! It is handcrafted in the Japanese tradition from alloy layered steel and iron. The knives are so strong that they come with a lifetime warranty with free replacement! Each piece comes in a beautiful gift box. It makes an amazing gift! Chefs Note: This knife is small and lightweight and easy to use. The overall size is 10 in. and it has a nice feel with slightly flexible blade. Great for small to medium sized hands, used for chopping, slicing and dicing foods. The blade is sharp and with a few light strokes on a whetstone, it is easily resharpened. You will love this knife! Lifetime Warranty. This is the real deal. Click here for more Handmade Haiku Knives!

More Great Products! Click Here...
Click the page links and green arrows below to view more products!



---
Clearance Deals:
Page1 |
Page2 |
Page3 |
Page4 |
Page5 |
Page6 |
Page7 |
Page8 |
Page9 |
Page10 |
Page11 |
Page12 |
Page13 |
Page14 |
Page15 |
Page16 |
---

Copyright 1999 - 2017 Chef Depot Inc.
All Rights Reserved.
Legal Notice and Copyright
Customer Service - E-mail us or phone:(630) 739-5200



Customer Feedback