---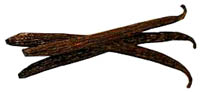 Product # CDVANILLABEANS3
Retail $15.95 and up
On Sale $8.75
Our Madagascar Vanilla Beans are the highest quality available. They are highly prized by the Pastry Chefs who use them for their wonderful flavor and freshness. They are used extensively by Pastry Chefs and Gourmet Cooks around the world. Congratulations to Team USA, finishing 1st Place in the 2002 World Pastry Chef Championship using our vanilla beans! These Madagascar Bourbon Vanilla Beans (the best variety) are prized for their fragrant strong flavor. Our vanilla beans are very large ( 6 in. - 9 in. long), soft, plump and fresh. Our very Large Gourmet Vanilla Beans
are 100% Completely Organic Grown and PAREVE ~ Kosher certified!
These large soft beans are the best you will ever use and taste. When properly stored, they stay fresh for up to 1 year.
Our beans are the largest and most fragrant select Madagascar beans available, you always get the best at Chef Depot!
Our Pastry Chefs rate them #1! Order yours today!
Here are some Vanilla Bean facts and pictures and recipes!

3 Vanilla Beans
Click here for more Vanilla Beans!
---

Product # CDFT988T-BLUE-MINI-CHEF-TORCH
Retail $38.95 and up
On Sale $24.50
One of the best "Mini Chef Torches" made! Precision flame for detailed application or use. Adjustable flame control knob for ease in switching between different applications. Safety Child proof safety lock system. Features up to 200 minute burn time. Easy and safe operation. Self-igniting piezo ignition. Safety adjustable flame, Works at any angle, Removable safety stand.
Chef Notes: This torch is very comfortable to hold and easy to use. This torch is perfect for Creme Brulee (recipe is above), Baked Alaska, Meringue Pies, Melting Cheese and browning many foods. We use it on Triple Vanilla Creme Brulee, sprinkle on top, then sugar, brown with your torch! Click Here for the best Vanilla!
It also has many other uses, crafts, electronics, soldering, plumbers, etc. Operating temperature up to 2800 degrees F.
Uses a standard butane canister (not included, order below). The jumbo butane cartridge will last for many refills. Our butane burns hotter than any other made.

Blue Mini Chef Torch
Chef Torch Butane Refills (ships to Cont. USA only)
Creme Brulee Dishes from France are Below!

---
Featured Video ... Torch Demo ...

A Chef is reviewing a Cooking Torch. We use this torch for creme brulee and baked Alaska. It can be used to brown gratin soups and carmelize desserts. Great for the pipe, cigars, candles and lighting the grill too! The Chef is working on one of his Maple Butcher Blocks! Click Here to learn more about Knives & Knife Sharpening!


---

Product # CDW5601-3.25PARINGWHITE
Retail $10.00 and up
On Sale $4.79
This is the new 3 1/4 in. Paring Knife! This knife has an unbreakable poly handle. Choose your color below!
Chefs Note: A great little paring knife that is perfect for most small cutting and peeling tasks. We like the large tapered handle. Lifetime Warranty! NSF certified.
Lowest prices guaranteed!
White Paring Knife

Red Paring Knife Blue Paring KnifeClick Here for portable Kitchen Islands! Lowest Prices!

---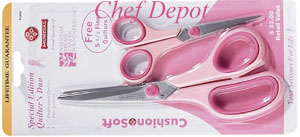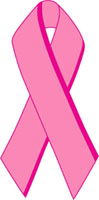 Product # CDMUNDIALSCISSORS-P1852-2
Retail $35.00 and up
On Sale $11.49


Our new exclusive two piece Quilt Duo set cushion soft scissors will be a big hit! Purschase of these Mundial scissors benefit the National Breast Cancer Foundation! They are quite comfortable to use.
One pair of 8 1/2 in. Quilters Shears and one pair of 5 1/2 in. Fine Quilting/Utility scissors. These scissors are both ambidextrous. Made to last for years of daily use! They come with a Lifetime Warranty! Only a few sets left.
Our scissor sharpeners are easy to use!
Click here for Spices, Wild Mushrooms, Saffron, Peppercorns, Truffles, Vanilla Beans and Gourmet gifts!
---
Product # CD9517L-LASERTHERM
Retail $159.00 and up
On Sale $84.95
Our new Infrared Laser Digital thermometer gives you the correct temperature instantly. Perfect for checking temperatures of any food or object without touching it. This eliminates the chance of any cross contamination. It works from one inch to one hundred feet away from the item. Auto shut off and large easy to read display. The bright red laser aiming beam and auto 6 second temp. hold makes it easy to check foods during recieving and while walking. This small unit measures 4.5 in. x 3/4 in. thick. Includes a vinyl belt loop case and lanyard cord, uses 2 AAA batteries (included). This unit has a shock resistent and solvent proof housing with recessed optics. Accurate to one degee farenheit (or Celsius).
This thermometer is the choice of the health inspectors across the country. We guarantee the lowest prices!
Click Here for more Laser Thermometers!
Click Here for Kitchen Islands & Butcher Blocks!
These Tables Match The Stools!!
---
Product # CDFK25WHWHKYOCERA-PARING-BLACK
Retail $40.00 and up
Promo Sale Price $19.95
Our 3 in. Kyocera Ceramic Paring Knife holds an edge without sharpening. This is a great ceramic knife, it's very comfortable and easy to use. The ultra sharp ceramic blade cuts with precision and accuracy every time maintaining a razor-sharp edge for many years. These knives are made of an advanced, high-tech ceramic, second in hardness only to diamond,
it was originally developed for industrial applications where metal components failed.
Chef Notes: This ceramic paring knife is very comfortable and easy to find in the block or drawer! This knife is a great choice for Chefs and Gourmet Cooks! Ceramics are perfect for slicing, dicing, chopping and mincing meats, garlic, carrots, onions, celery, fruits and more. Click Here for more Ceramic Knives! Chef Knives, Santokus, Colored Handles & More!
Click Here for more Kyocera Ceramic Knives! Simply the best!
---
Product # CDMB393-MAGNUM-ASSISTANT-FOLDER
Retail $21.99 and up
On Sale $7.99 to $9.95
This is a new Magnum Assistant Pocket knife with a drop point 3.75 in. blade, features 440 stainless steel alloy blade with a titanium coating. It is a light weight EDC line locker, only 4 oz. Features a nonslip handle with G-10 scales and sturdy pocket / belt clip plus a lanyard hole. Easily opens fast with your left or right thumb. Measures aprox. 8 in. opened. This is a great Christmas stocking stuffer idea. Buy more and ther price goes down. Limited Quantities.


1 Magnum Assistant Pocket Knife $9.95

6 Magnum Assistant Pocket Knives $7.99 ea.
Click here for diamond sharpening stones!

Click Here for High Heat Spatulas & Spoonulas!

---
Product # CDMUND05807-6-MUNDIGRIP-BONING-KNIFE
Retail Price $24.95 and up
Clearance Sale $7.50
Our New Exclusive Soft Grip curved 6 in. Semi-Flexible Boning Knife features comfortable antimocribal rubber handle. This is a temporary Promotional Sale price, order one now, you will love it, or you can send it back! These knives have the perfect shaped handle, soft comfort, non-slip and optimum control. Great balance and weight for a lifetime of use. These knives are beautiful, functional and easy to clean. Lifetime Warranty. This knife will hold an edge for a long time and easily resharpens. We like it for filleting fish and boning out pieces of pork, beef and lamb. NSF approved for safety. Lifetime Warranty. We guarantee you will like this boning knife! Quantity discounts, see below!

1 Soft Grip curved 6 in. Semi-Flexible Boning Knife

6 Soft Grip curved 6 in. Semi-Flexible Boning Knives $41.95 12 Soft Grip curved 6 in. Semi-Flexible Boning Knives $81.50 Click Here for Butcher Supplies!

---