---
Product # CDFOURPEPPERCORNMEDLEY4OZ
Retail Price $12.75
On Sale $6.99


This is a medley of four different peppercorns! There are red, green, white and black, perfectly dried to make the freshest ground pepper in your peppermill. Perfect for the Holidays, Salads and all Recipes. Four ounces will fill most gourmet pepper mills several times.

4 oz. peppercorns

8 oz. peppercorns $8.99 Click Here for Amazing Battery Powered Electric Peppermills!
---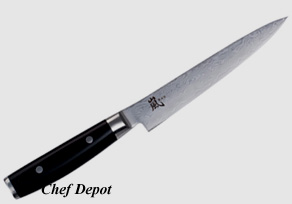 Product # CD67002-9-YAXELL-UTILITY-5IN
Retail $150.95 and up
Sale Price $116.95

This is a new Yaxell Utility Knife, with 5 in. blade, Handmade in Seki City Japan. The VG10 High Carbon 69 layered steel Damascus blade is one of the sharpest and strongest blade made. Crafted by hand in Japan. The unbreakable poly linen micarta handle features 2 perfect rivets. The edge that is holds is hair splitting and remains throughout heavy use. Ideal 60 - 63 Rockwell hardness.
Chefs Note: Yes, another favorite knife. We tried it out cutting, chopping and dicing vegetables, WOW, this is a perfectly balanced knife. You will love the balance and thin blade!
All Yaxell knives are available at low prices, please email us for more info.
Click here for more in this series!

Yaxell Utility
Click Here for Sushi Making Kits!
Click Here - Designer Colored Chef Tables!
---
Product # CDMEDIUMMARBLEMORTAR4INCH
Retail $34.95 and up
On Sale $18.95
This is a solid marble mortar with a smooth marble pestle. It is used to make traditional pesto and aioli sauces. It is also great for grinding nuts and seeds for working with spices. This mortar is very thick and heavy so it won't move around while using it and it is very durable. The mortar is 4 1/4 inches wide x 4 1/4 inches tall. This mortar is unique, it is handcrafted for Chef Depot! This mortar is the nicest shape and finish of all the mortars we have tested! Solid marble is also the strongest mortar and pestle material.
Other mortars are available, please email us!

---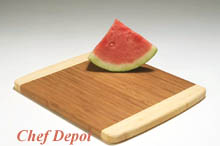 List Price $19.99 and up
On Sale $8.99
Product # CDBAMBOO-9X6X3/4CHOP-N-DICE-BOARD


Our new 2 tone Bamboo Chop & Dice Picnic Board measures over 9 in. x 6 in. x 3/4 in.! Made from a select grade of bamboo, it's a totally sustainable natural resource. After harvesting bamboo it grows back quickly since the root system is so dense. Our bamboo products are handcrafted using small bamboo strips glued and pressed together with approved food grade glue (edible). A heating process makes the natural sugar in the wood turn brown to create beautiful colors.
Chefs Note: We like to use our bamboo boards for parties and special events. These cutting boards simply wash off with soap and water. Oil it every month with Emmets Elixer, to keep it looking new. Bamboo cutting boards make an attractive serving and chopping surface. Another great gift idea!
More great Bamboo Products!
---
Product # CDCC110CHROMECHEFSCHOICE
Retail $119.95 and up
Sale Price $89.95
Our new Chrome Chef's Choice Diamond Hone Knife Sharpener will look great in your retro or modern kitchen. This electric knife sharpener incorporates 100% diamond abrasive disks in stage 1 and 2 revolutionary flexible polymer stropping disks in stage 3 to sharpen and polish straight edge kitchen knives and pocket knives to hair-splitting sharpness in seconds. It is safe for all alloys and never detempers. The user friendly knife sharpening system features a powerful motor, patented 3-stage sharpening, precision angle guides and a built-in abrasive cleaning mechanism.
Made in U.S.A., 120 volts. 2 year limited Warranty.
Chef Notes: We dig it, you will too.
A great choice for kitchen cutlery and pocket knives!
Click Here For Stainless Steel Tables!
---
Product # CDCP20RD-REDPEELER-SWIVEL
Retail $25.00 and up
Sale Price $15.95
This is the new Adjustable Ergo Kyocera Ceramic Peeler, it holds an edge without sharpening. This is a great peeler! It's very comfortable and easy to use. The peeler works at any angle, right or left handed, vertical peeling, 45 degrees or most any angle you turn the locking knob!
The ultra sharp ceramic blade cuts with precision and accuracy every time maintaining a razor-sharp edge for many years.
These tools are made of an advanced, high-tech ceramic, second in hardness only to diamond,
it was originally developed for industrial applications where metal components failed.
Chef Notes: This peeler will quickly peel carrots, apples and any root vegetables. A great choice for Chefs and Gourmet Cooks!

If your knife block is full, click on this picture for storage ideas!
Click Here for more Electric Knife Sharpeners!

---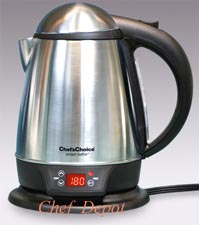 Product # CD688-CHEFSCHOICE-SMART-TEAKETTLE
Retail $119.95 and up
Sale Price $95.95
Boil water more quickly than a microwave for tea, coffee, hot chocolate or instant soup. The Smart Kettle remembers the last temperature setting. Cordless kettle lefts from cordless base for easy filling, pouring and serving. Handsomely crafted, made of high quality brushed stainless steel. Electronic controls provide water precisely at the desired temperature (+ - 2 degrees F. accuracy). Water heats directly to set temperature (no need to wait for full boil and then cool down to desired temperature). Keep Warm feature automatically maintains water at set temperature. The electronic detection of boiling point measures at all altitudes. Features a Low Water Level warning, electronic boil dry safety shutoff protection. The easy read LED displays user friendly controls continuously displays actual water temperature (F or C). Concealed heating element is never in contact with the water, so theres no buildup of mineral deposits. 1500 watts of power boils water faster than a stove or microwave oven. Convenient water gauge, beeper alert when temperature is reached and illuminated on off switch, cool touch bottom. One year limited warranty.
Chefs Note: FREE OFFER above, for a limited time only, add it to your cart! Handsomely constructed of high-quality brushed stainless steel, the kettle ensures years of service. The automatic shut-off, double boil-dry safety shut-off and lid-lock features safe, use UL listed. One year warranty. Measures 9 in. x 7.5 in. x 10 in. High.
Chefs Choice Electric Tea Kettle
Click Here for Portable Chef Tables!
---

On Sale $18.95
Product # CDGINSENGTEABAGSUSA

This is 100% pure American Wisconsin Ginseng Root Tea. It will improve your strength, endurance, reduce stress and fatigue, increase overall vitality help the immune system and stimulate circulation.Some of the Positive Effects of Ginseng: Purifies the blood of toxins, Lowers "Bad" Cholesterol (LDL), Increases "Good" Cholesterol (HDL), Lowers high blood sugar, Prevents cellular damage from oxidation, Improves nerve growth, nerve transmission and mental function, Increases production of red blood cells, Lowers high blood pressure, Normalizes stress conditions caused by heat, cold & abnormal physical exertion, Stimulates digestion, Increases physical stamina, Strengthens the immune system! It will revitalize your energy and give you increased power. Each tea packet contains 100% pure American Ginseng Root.
Each tea bag will brew a cup or more of strong Ginseng tea.
Ginseng Tea was used by the American Indians for several hundred years. It has been used for thousands of years by the people of China. If you would like to try our Ginseng Tea, please order now, the price does fluctuate.

Click Here for Chef Tables!