---

Product # CD90032BAMBOO-BOARD-12x3ROUND
Sold Out

Our pro Chefs prefer to use Rock Maple and Walnut Chop blocks. Click here!

---
Product # CD-JVC-D32009-CERAMIC-KNIFE-SHARPENER
Retail $39.95 and up
Sale Price $25.95

This is our new exclusive Ceramic Knife Sharpener! Made in Japan, it's very comfortable and easy to use. In under 1 minute, you can restore that factory sharp edge on any ceramic blade. Included with the diamond sharpener is a bevel stand that holds the knife at the proper angle, then you simple move the diamond tool horizontally over the blade, turn knife over and repeat. Simple to follow directions are included.
Chef Notes: We quickly put a brand new edge on a heavily used ceramic knife. It now cuts vegetables and fruits with little effort.
More Ceramic Knives are HERE!!!
---
Product # CDJVC-100-130-140-160WBK-VICERA-CERAMIC-KNIFE-SET
Retail $300.00 and up
Sale Price ADD TO CART

This is the new Vicera Ceramic Knife Set, they each hold an edge without sharpening. The set includes 4 pieces, as pictured above. Chef knife, Santoku Knife, Utility Knife and Paring Knife. This is a very nice ceramic knife set, very comfortable and easy to use. The weight is about half of steel knives making it comfortable for extended use. The ultra sharp ceramic blade cuts with precision and accuracy every time maintaining a razor sharp edge for many years. These knives are made of an advanced, high-tech ceramic, second in hardness only to diamond, it was originally developed for industrial applications where metal components failed. Made in Japan.
Chef Notes: The blades are very thin and sharp. These knives are a great choice for Chefs and Gourmet Cooks! Each one comes in a beautiful presentation box. These knives are a great choice for Chefs and Gourmet Cooks! Ceramics are perfect for slicing, dicing, chopping and mincing meats, garlic, carrots, onions, celery, fruits and more
Click Here for Maple Cutting boards! Simply the best!
Click Here for Vanilla Beans and Dried Porcini!
---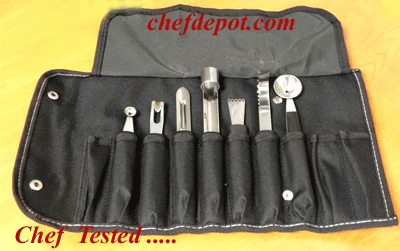 Product # CDMUNGH0221GARNISH-SET-7PC
Retail $69.50 and up
On Sale $36.95

Our new pro "Garde Manger" garnishing set is a great choice for beginners. The kit contains a tiny parisenne scoop, zester, peeler, channel knife, butter curler, corer and a double melon baller. All of the pieces are stored in a black canvas vinyl carry case to protect them. The tools are excellent for carving and sculpting fruit, vegetables, chocolate, sugar and pastries. This set is used by several Teams competing in the World Pastry Chef Championships!
Chefs Note: These tools are all made from German steel and are high quality. They are sharp and will not break. Lifetime warranty. We use ours for watermelon baskets, buffet centerpieces, sculptures and food competitions.

German Garnishing Set
Click Here for Cutting Boards!
Click Here for Titanium Cutlery!

---
Product # CD510213MESSERPICNICKNIFE
SOLD OUT
A colorful mini santoku "picnic knife"! Perfect for a picnic or wine and cheese party in the park. The durable plastic case locks the blade in place, with the push of a button it releases. This mini santoku style knife is sure to be a hit! Makes a great gift too. Colors vary (purple, blue, green, red). Order 4 to get one of each color!
Diamond Sharpeners are on sale (Click Here)

---
Product # CDWOK11-AUTHENTIC-WOK-NON-STICK
Retail $50.00 and up
On Sale $24.95 (best quality0

Our new non stick 11 in. flat bottom carbon steel non stick wok features a heavy duty riveted handle. Perfect for stir frying, medium weight carbon steel produces a fast heat transfer. Features a comfortable long black poly handle with large eyelet ring.
Click Here for Bamboo Cutting Boards!


Click Here for more WOKS...
Prep Tables for your new kitchen! Click Here!
---

Sold Out
Our premium Bamboo Bar Cart is no longer made emmets elixer, to keep your blocks looking new.
Do you need new Chef block?

---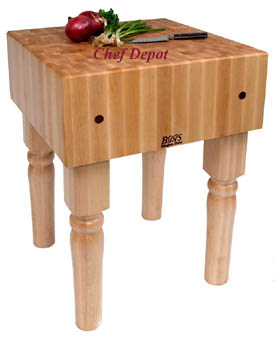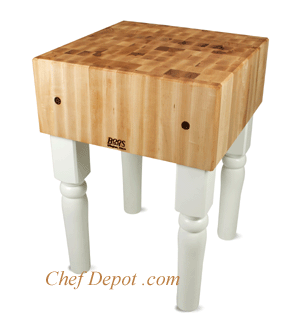 Chef Depot Exclusive Block Colors! Free Shipping & Great Customer Service!

The new AB Butcher Block stands 34 in. tall, made from solid hard rock maple (End Grain). This Butcher Block is made from solid 10 in. thick maple with a natural oil finish. It features massive 4 in. x 4 in. turned maple legs. Made in the USA, this block can handle heavy duty, professional culinary chopping and the light slicing of home cooks. With the penetrating oil finish there are no worries about cutting or damaging the block surface and the end grain construction will not dull knives. Revel in the delight of the AB Block. It is a must have butcher block that will last for generations.
This table has a FDA approved food safe natural finish. The butcher block top requires rubbing with Mystery Oil or Wood Cream, every few months to keep it looking new. Exclusive Colors are now available, select from above, then email us your color choice in the COMMENTS SECTION at checkout. Free Shipping is available in most areas of the continental USA only (115 - 275 lbs.) Choose yours, click link ...... John Boos Blocks & Tables are Made in USA!

Call our kitchen designers for your best deal. phone 630 739 5200