This is the best Clam Knife we have tested. It is easy to hold a clam in a towel any pry it open with this tool. The handle is comfortable and non slip with a German alloy steel blade. NSF certified for safety and sanitation.
Chefs Recipe: 4 oz. butter, 1 clove garlic, minced, 1 tsp. paprika, 4 Tbsp. bread crumbs, 1/2 lemon, salt and white pepper. Melt butter, mix together stuff nito clams and bake until browned.

---
Product # CD-SN-PL600-ESCARGOT-SNAIL-DISHES
Retail Price $13.99 and up
On Sale $5.99 to $7.99 ea.

This is a high quality Escargot plate. Made from 18/8 stainless steel, these are made for years of repeated use. Holds 6 snails or seafood. Add Maitre D' Hotel butter and broil them!
Chefs Recipe: 1 lb. butter, 1 bulb garlic, minced, 1/2 c. parsley, chopped, salt and white pepper. Beat together in mixer, place in parchment paper roll up and freeze until use.

Two Escargot plates $7.99 ea


Six Escargot plates $6.99 ea
Eight Escargot plates $6.49 ea
Twelve Escargot plates $5.99 ea
Click Here for Chefs Chopping Blocks, USA made Quality!

---
Product # CDMUNDBP9106-6-MATRIX-BONING-FILLET-KNIFE
Retail $19.95 and up
Promo Sale $7.99
These knives are in stock, order now for fast delivery

This is our new 6 inch curved boning - fillet knife. It features 3 stainless steel rivets, the blade is made from high carbon stainless steel alloy. Excellent choice for cleaning chicken or fish. We only use a diamond sharpening steel to keep our granton edge knives razor sharp. On Sale for a limited time!


Click Here for Rock Maple Cutting Boards - Lowest Prices Anywhere!

---
---


Product # CDCHYRA01-CHERRYCUTTINGBOARD-12X18X2.25IN
List Price $149.95 and up
On Sale $112.95 ***Bonus 16 oz. Wood Treatment***

Our John Boos Commercial Cherry Cutting Boards are made to last. The edge grain butcher block construction is amazing! Solid American Cherry Wood has a beautiful rich color. Perfect for daily meal preparation and serving cheese & holiday appetizers! A full 2 1/4 in. thick, these will last for years of daily use. Oiling it with the special blend of oil below, will keep it looking new for many years! Available in 3 sizes below! See Free Oil Offer Below.

18 in. x 12 x 2.25 in. Cherry Cutting Board $109.95


20 in. x 15 x 2.25 in. Cherry Cutting Board $174.95
In Stock !
24 in. x 18 x 2.25 in. Cherry Cutting Board $226.95
In Stock...
Click here, Great Knife Sets!

---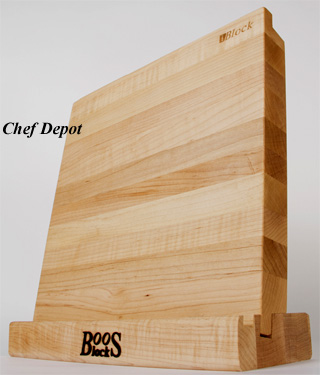 Product # CDBOOS-I-BLOCK12x12x1.5-WITH-STAND
On Sale $109.95

In Stock
If you have ever used your IPad or tablet in the kitchen, you know this is going to be handy. Our new reversible cutting board features a stand that holds your computer at the perfect angle. 12 in. x 12 x 1.5 in. thick with a 12 in x 4 in. x 1.5 in. stand. Perfect for daily meal preparation! Choose from hard maple, cherry or walnut. Weight 8 lbs. Oiling it with mystery oil, will keep it looking new for many years of use!

Maple I Block


Cherry I Block $130.95

Walnut I Block $180.95

Click here for KNIFE SETS!

---
Product # CDFK180BK-KYOCERAREVOLUTION
Retail $99.95 and up

Temporary Sale Price Reduction $67.95
This is the new 7 in. Kyocera Revolution Ceramic Professional Chef Knife, it holds an edge without sharpening. The Revolution series feature an extra hefty black handle and a perfect balance. This is a great ceramic knife, it's very comfortable and easy to use. The weight is about half of steel knives making it comfortable for extended use. The ultra sharp ceramic blade cuts with precision and accuracy every time maintaining a razor-sharp edge for many years. These knives are made of an advanced, high-tech ceramic, second in hardness only to diamond, it was originally developed for industrial applications where metal components failed.
Chef Notes: These knives are a great choice for Chefs and Gourmet Cooks! Each one of our Revolution knives comes in a beautiful presentation box. We tested several brands of ceramic knives - Here's the results - Kyocera was the only knife sharp enough to meet our demands, the others were too dull or the blades were too thin and brittle. Only Kyocera scored very high in sharpness, quality, workmanship, material and warranty. These knives are a great choice for Chefs and Gourmet Cooks! Ceramics are perfect for slicing, dicing, chopping and mincing meats, garlic, carrots, onions, celery, fruits and more
Click Here for more Ceramic Knives!
---


Product # CDBOOS18X12X1.75ENDGRAIN-CHERRY
On Sale $179.95

Our new Solid Cherry End Grain Cutting Board is the perfect choice for everyday use and holiday entertainment. Tested and approved by all the Chefs here at Chef Depot and TV Chefs! Another Chef Depot Exclusive! John Boos custom makes these cutting boards for us from first quality Solid Cherry, 18 inches by 12 inches x 1 3/4 inches thick. End grain has a nice checkerboard look that compliments most kitchens. This reversible board is NSF certified and will not dull your knife! With proper care, this Maple board can last for life! Oiling it with mystery oil, will keep it looking new (available below). This board is a good size for most counter tops. Features cutouts on the sides to make it easy to move and turn over! Click Here for more sizes!

18 inches by 12 inches x 1 3/4


14 inches by 14 inches x 3 in. $184.95 Click here for the Fresh Dried Herbs & Spices!

Click here for Thick White Poly Butcher Table Tops!