Gear driven, #12 grinder, SS housing and pan, 3/16 in. plate, knife and plunger. Produces 6 lbs. per minute on first grind using 3/16 in. plate. Standard color is metallic silver. Other colors available, Volts 115/60/1. Motor 1 HP, 3.0 amp draw, weight 32 lbs. A 6 month carry in warranty applies. Made in USA! Free Shipping is available in most areas of the continental USA only!


Meat Grinder # 12 (1/2 hp.)

Meat Grinder # 22 (1 hp.) $2995.00 Sharpen your knives, easily!

---

Product # CDCRF-12-MESSER-CERAMIC-SHARPENER
Retail $37.00 and up
Sale Price $24.95
This is the new Messer 12 in. Ceramic Sharpener! It is extra fine, aprox. 1500 grit and will help hone your knives very sharp.
Chef Notes: While a standard round metal steel is the most common, this 12 in. super fine ceramic will take your knife from sharp to very sharp. 17 in. long overall, the end features a hole for hanging it up. How to use a Sharpening Steel...
Butcher Block Cutting Boards! Click Here!
---


Product # CDCHYR01-CHERRYCUTTINGBOARD-12X18X1.5IN
List Price $139.95 and up
On Sale , add to cart

Our John Boos Commercial Cherry Cutting Boards are made to last. The edge grain butcher block construction is amazing! Cherry Wood has a beautiful rich color. Perfect for daily meal preparation and serving cheese & holiday appetizers! A full 1 1/2 in. thick, these will last for years of daily use. Oiling it with the special blend of oil below, will keep it looking new for many years! Available in 3 sizes below! These boards are in stock, ready to ship.

18 in. x 12 x 1.5 in. Cherry Cutting Board $91.95


20 in. x 15 x 1.5 in. Cherry Cutting Board
24 in. x 18 x 1.5 in. Cherry Cutting Board ***Bonus Wood Treatment***
Add 3 pack of Boos Board Cream (3 pc. 5 oz. tubes)
Sale Price $29.95

Click here for 400 lb. Butcher Blocks!

---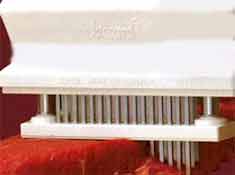 Product # CDJACCARDTENDERIZER48BLADE
Retail $50.00 and up
On Sale $29.95

This meat tenderizer is easy to use and made to last. We supply these to butchers who use them for years! This Triple Action Tenderizer is available with 48 stainless steel saber blades set in 3 parallel rows of 16 or a single row of 16 blades (Rockwell Hardness of 50). The Jaccard Meat Tenderizer makes any boneless cut of venison, pork, veal, fish, lamb, chicken, steak and other meats very tender and easy to eat! Our models feature a safety storage case! Two sizes are available below! We use our Jaccard on the cutting board pictured below!
48 Blade Jaccard Tenderizer


Product # CDJACCARDTENDERIZER16BLADE
Retail $40.00 and up
On Sale $19.50
16 Blade Jaccard Tenderizer
Click Here for Rock Maple Cutting Boards! We use ours everyday!
Click Here for Venison Recipes!
---

Product # CDFK140WH-RD-KYOCERA-EXCLUSIVE-REVOLUTION-RED
Retail $79.95 and up
Sale Price $48.95
This is the new 5.5 in. Kyocera Revolution Ceramic Santoku Knife, with Red Handle, it holds an edge without sharpening. The Revolution series feature an extra hefty black handle and a perfect balance. This is a great ceramic knife, it's very comfortable and easy to use.
The weight is about half of steel knives making it comfortable for extended use.
The ultra sharp ceramic blade cuts with precision and accuracy every time maintaining a razor-sharp edge for many years.
These knives are made of an advanced, high-tech ceramic, second in hardness only to diamond,
it was originally developed for industrial applications where metal components failed.
Chef Notes: These knives are a great choice for Chefs and Gourmet Cooks! Ming Tsai loves these knives. A rainbow of colored handles are now available, exclusively at Chef Depot. Limited Time Offer! What are you waiting for? Click Here, More Colors!
Each one of our Revolution knives comes in a beautiful presentation box.
We tested several brands of ceramic knives - Here's the results!
Kyocera was the only knife sharp enough to meet our demands, the others were too dull or the blades were too thin and brittle. Only Kyocera scored very high in sharpness, quality, workmanship, material and warranty. These knives are a great choice for Chefs and Gourmet Cooks! Ceramics are perfect for slicing, dicing, chopping and mincing meats, garlic, carrots, onions, celery, fruits and more
Click Here for More Colors!
Click Here for John Boos Maple Cutting Boards! Simply the best!
---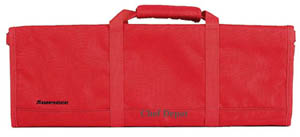 Product # CD10668R-MESSER-RED-CASE
Retail $55.00 and up
Sale Price $33.95
The new Red Messermeister Knife Case is made to hold 8 to 12 + pieces of cutlery and garnishing tools. This case is very attractive with double sewn reinforced edges and handle, extra strong elastic knife supports. It measures 21 in. x 8 in. closed and 18 in. x 20 in. opened. The 12 pc. holds even more!
Chefs Note: This great case has a hot red look and it's made to last! Red Handle Chef Knives! Click Here!
12 pc. Red Case $49.90 Hot Chef Tables! Click Here!

Hot Chef Knife Storage Cases! Click Here!

Learn about Vanilla!
HACCP Safety Information - Click Here!