Click Here for High Heat Silicone Spatulas!
---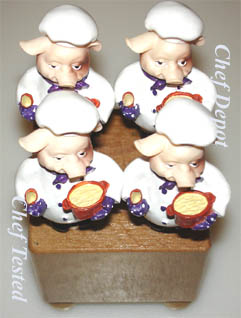 Product # CD55302-PIG-CHEFSPREADERS4-NO-BLOCK
Retail $35.99
On Sale $11.99

Our Exclusive Mini Pig Chef Spreaders in a hardwood Storage Block (made in the USA)! Each piece is carefully hand painted. The blades are made of quality stainless steel and they are dishwasher safe. This set is perfect for cheese platters, pate and spreads. A great conversation set for the holidays. Available with or without block below!
Chefs Note: Enhance your next cheese platter with this set, it is cute and functional! This set makes also perfect gift that will be enjoyed for generations.
Click Here for the nicest Butcher Blocks! Made in the USA!

Pig Spreaders NO Block $11.99


Pig Spreaders with Block $18.99
Click Here for Maple Tables!

---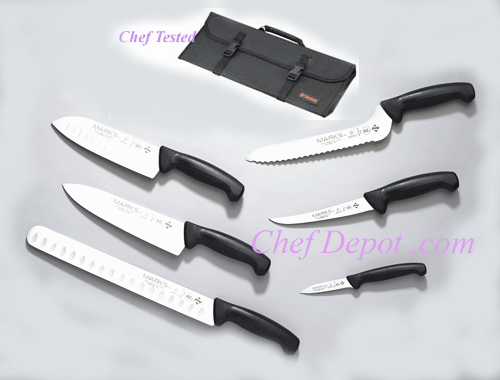 Product # CDMA983-MARKS-MUNDCHEFSET
Retail $195.00 and up
On Sale $90.95

Our new Marks Chef Knife Set is on sale! It includes a 7 in. Santoku, 9 in. Offset Bread Knife, a Chef knife, a 6 in. boning knife, 10 in. Carving Knife, a 3 1/2 inch Paring knife, in a large knife case! These knives have the perfect shape, balance and weight for a lifetime of use. These knives are beautiful, functional and easy to clean. This exclusive set comes with a Lifetime Warranty! This is a good set for all Culinary Arts Students, Chef and traveling gourmet! A knife protector set is also available below (high quality durable plastic knife protectors). Add a Sharpening Stone for $6.00!
A nice knife Set for the price!
Chef Knife Set


Chef Knife Set + Sharpening Stone $96.95
Knife Protectors Set (9 pcs. Knife Protectors, Knife Set Purchase Required) $19.99
Great Chefs use our Butcher Blocks!
---
Product # CD8320-13QT-SUPER-BOWL-STAINLESS-STEEL
Retail $109.95 and up
Sale Price $69.95

The Stainless Steel Super Bowl is perfect for serving chips and snacks or chilling iced down down beer bottles, champagne and wine! Welded pedestal base. 13 Quarts high quality stainless steel. Your guests will love the chilled spirits!
Chefs Note: Sleek way to display your drinks.
Click Here for Colored High Heat Spoonulas! Email us for larger sizes and large quantity discounts.


Click Here for Saffron, Vanilla & Porcini Mushrooms!
---


Product # CDWALR01-WALNUTCUTTINGBOARD-12X18X1.5IN
List Price $199.95 and up
On Sale $136.95 ***Bonus 16 oz. Wood Treatment***

Our John Boos Commercial Walnut Cutting Boards are made to last. The edge grain butcher block construction is amazing! American Walnut Wood has a beautiful rich color. Perfect for daily meal preparation and serving cheese & holiday appetizers! A full 1 1/2 in. thick, these will last for years of daily use. Oiling it with the special blend of oil below, will keep it looking new for many years! Available in 3 sizes below! In Stock for fast shipping.

18 in. x 12 x 1.5 in. Walnut Cutting Board
We stock these for fast shipping !


20 in. x 15 x 1.5 in. Walnut Cutting Board $167.95
We stock these for fast shipping !
24 in. x 18 x 1.5 in. Walnut Cutting Board $232.95
Free Shipping, no tax, free bonus wood treatment !
Click Here for more Lazy Susans!
FAQ: Cutting Board Care & Maintenance

---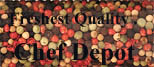 Product # CDPEPPERCORNSBLEND-18OZ
Retail $23.00 and up
On Sale $14.99

This Premium Peppercorn Blend is made from select Black Tellicherry Peppercorns, hot Sarawak White Peppercorns, delicate Madagascar Green Peppercorns and slightly fruity Pink Peppercorns! This jar is airtight an resealable. It is the perfect size to refill a standard peppermill many times (aprox. 2 cups). Click Here for Cinnamon, Nutmeg, Ginger and bulk spices!


Click Here for Peppermills!
Click Here for Bulk Peppercorns!
---
Product # CDHI361-2014-PAELLA-PAN
Retail $75.00 and up
On Sale $49.95

Our new Paella pans are crafted in Spain, the place where real paella was first started. This 14 inch flared pan is designed in traditional Spanish style. The wide, shallow carbon steel cooking surface is designed to easily brown meats, seafood and vegetables prior to adding the rice. Click Here for Safron from Spain!
.
Click Here for big Woks!

China Caps & Chinoise Strainers - Click Here!

Click Here for Sushi Knives!
Prep Tables for your new kitchen! Click Here!
---
Product # CD5100-10BLOCKSET
Retail $367.00 and up
On Sale $238.95
This Mundial knife block set is a great value. It Contains: 8 in. Chef Knife, 8 in. Bread, 8 in. Carving Knife, 2 1/2 in. Tourne knife, Carving Fork, 6 in. Wavy Edge Utility, 3 1/2 in. Paring, 10 in. Sharpening Steel, Kitchen Shears, Hardwood Block. The knives are forged from German alloy steel with black poly riveted handles. Dishwasher Safe (we do not recommend it)and these knives come with a Lifetime Guarantee.
These professional knife block sets are higher quality and a better value than many retail knife sets.
The 12 piece block set adds the new 7 in. Granton Edge Santoku knife and the 8 in. Granton Edge Carving Knife - a great 12 piece Block Set!

10 Piece Block Set

12 Piece Block Set $348.95 Click Here for more Quality Riveted Knives!
Click Here for Maple Kitchen Prep Tables!

---
Product # CDCUGB25-BSGATHERINGBLOCK
Sale Price $1049.00

Free Shipping & Mystery Oil & Great Customer Service!
This is the new Boos American Heritage Gathering Block! Inspired by Holiday tradition this butcher block combines looks with function. We love the new basil colored finish. The lower shelf is perfect for storing a mixer, mixing bowls or serving trays. The maple framed wicker basket is great for towels and utensils. Extra baskets are available below! This block is 24" x 24" x 4" and stands 36" tall overall. The 4 inch thick top is #1 grade select edge grain butcher block, it will provide decades of cooking pleasure. The maple base features a hand rubbed stain. This block has a food safe varnique finish so it requires very little maintenance. Available in many colors, as pictured below!
Free Shipping & Fastest Delivery & Great Customer Service!
Click Here for Large Gathering Blocks! Click Here for Medium Gathering Blocks!
Free Shipping is available in most areas of the continental USA only.
Please click the button below to order this butcher block then email us your color selection.
We can ship your new block in aprox. 1 - 2 weeks (Basil only, other colors take longer)!
Hurry, Sale is over soon!


---

Product # CDPEPPERMILLCHROME203


These Professional Chrome Mills are the highest quality we have seen. They are the same professional-style mills used in elegant restaurants in Europe. The highly polished chrome over brass peppermills have a fully adjustable grinding mechanism. These mills are hand made with hardened steel grinding mechanisms to insure perfect results. These mills adjust from coarse to fine grinding. Choose size below. The salt mill has a corrosion proof nylon grinding mechanism that easily grinds sea salt and slightly different look to identify it.
Lifetime Warranty! Our Atlas mills are Hand Made in Greece. Choose below, or better still, order the set!
Click here for more Peppermills! All IN STOCK for fast shipping.
<
Click here for more Peppermills!


---

Product # CDMEDIUMMARBLEMORTAR4INCH
Retail $34.95 and up
On Sale $19.95

This is a solid marble mortar with a smooth marble pestle. It is used to make traditional pesto and aioli sauces. It is also great for grinding nuts and seeds for working with spices. This mortar is very thick and heavy so it won't move around while using it and it is very durable. The mortar is 4 1/4 inches wide x 4 1/4 inches tall. This mortar is unique, it is handcrafted for Chef Depot! This mortar is the nicest shape and finish of all the mortars we have tested! Solid marble is also the strongest mortar and pestle material.
Other mortars are available, please email us!


---

Retail $50.00 and up
On Sale $39.95


This is pure Cocoa Powder, imported from Europe! Dutch Process (huge 2.2 lb. foil bag)
This is our favorite imported cocoa. It's a by product of chocolate making so it contains the complex taste of the best chocolate you will ever taste. Ours contains only cocoa powder with 24% cocoa butter and vanilla.
Colors range from light tan to red. It has many uses, flourless chocolate cake, genoise sponge cake, low calorie recipes; chocolate milk; ice cream; chocolate flavored coatings; syrups and much more. Cocoa powder has a natural acidity; its treated to neutralize the acidity and then becomes Dutch Process Cocoa (Developed in 1828 by C.J. Van-Heusen of the Netherlands). Our Dutch Process Cocoa Powder is a special reddish brown color, made in Europe from very expensive cocoa beans. We know you will like it!
Also try our Madagascar Bourbon Vanilla beans, Vanilla Paste & Extract!


Click Here for Garnishing Tools!
Click Here for Chocolate from Switzerland!

---

Product # CDMEASURINGSPOONSET004
On Sale $3.99


These are stainless steel measuring spoons. They are made from thick stainless steel and with proper care these will last!
Chef Notes: Chef Jose likes this set since they are inexpensive and they get the job done.



Click Here for Vanilla Beans!

Messermeister knives are preferred by Master Chefs, Chefs and professional Cooks all over the world.
Click Mundial page links and green arrows below to view more mundial products!




---

Copyright 1999 - 2020 Chef Depot Inc.
All Rights Reserved.
Legal Notice and Copyright

Customer Service - E-mail us
Customer Feedback