---
Product # CD67019-7-YAXELL-CHEFS-CLEAVER

This is a new Japanese Chef Knife, click here with 7 in. extra wide blade, Handmade in Seki City Japan. The VG10 High Carbon 69 layered steel Damascus blade is one of the sharpest and strongest blade made. Crafted by hand in Japan. The unbreakable poly linen micarta handle features 2 perfect rivets. The edge that is holds is hair splitting and remains throughout heavy use. Ideal 60 - 63 Rockwell hardness.
Chefs Note: Yes, another favorite knife. We tried it out cutting, chopping and dicing vegetables, WOW, this is a perfectly balanced knife. You will love the balance and thin blade!
All knives are available at low prices, please email us for more info.
Click here for more Japan Sharpening Stones! Click Here for Chefs Blocks!

---
Product # CDDMTDCS2CERAMICSTEEL12
Retail $67.95 and up
On Sale $49.95

This is the new DMT 12 inch Ulte Fine 1500 grit Ceramic sharpening steel. It is perfect for Japanese Sushi knives and honing very fine blades. It has a 12 inch long round ceramic shaft that is unbreakable! It is very light and nonpourous.
Chef Notes: This ceramic sharpener will put a razor edge on any sharp blade with ten strokes. Made in USA. Sanitary black plastic handle is non slip and has a large ring and large hand guard! How to use a Sharpening Steel...


Click Here for Pro Chefs Cutting Boards! Made in USA !
---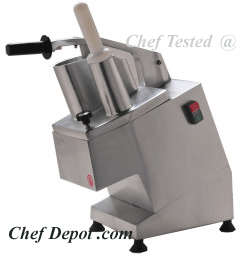 Product # CDUNI-FP-300A-FOOD-PREP-MACHINE
Retail $1799.00 and up
On Sale - add to cart

Our new Exclusive Vegetable and Cheese Food Prep Machine is one of the best machines on the market. Use the included 2mm Slicing Blade or 4mm Slicing Disk to easily produce fast coleslaw, or salad and pasta salad garnishes in large quantity. Use the included 3mm Shredding Disk for fast grated cheese. Other Blades for slicing, dicing, grating and shredding are $135.00 ea and up. This machine has plenty of power: 3/4 HP, 110v/60hz Single phase. Compact Design, Direct Shaft Drive. Complete selection of accessories available. Dimensions: 10 in. W x 16 in. D x 12 in. H. Aprox. shipping weight 54 lbs. For more blades, call us and save $.

Exclusive Vegetable and Cheese Food Prep Machine
New Kitchen Center Islands! Custom sizes are available!
---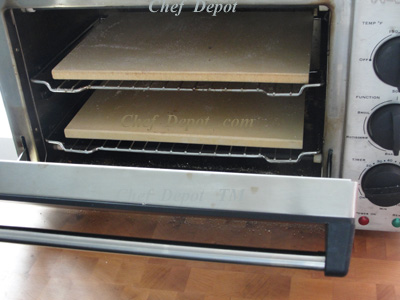 Product # CDWWCO250XX-WARING-COMMERCIAL-CONVECTION-OVEN
Call for best possible prices

This Commercial Convection Oven is just what you need for parties! Imagine a second oven that bakes, broils, roasts, slowcooks, convection bakes and makes crispy pizza, right on the countertop. Constructed of smooth brushed stainless steel, with elegant embossed logos and classic controls, these heavy-duty ovens blend commercial styling into a sophisticated new look for consumer kitchens. Both ovens are big enough to hold roasts, pizzas, pies, bread and large casseroles, and each is engineered with the power and professional performance that is trademarked Waring! Bake, Convection Bake, Roast, Toast & Broil Functions. Three Shelf Positions, aprox. 1700 Watts, Timer - 120 minutes. Includes 2 Wire Racks, Baking Tray, Limited Five Year Motor Warranty. Available in two sizes below! The 2.9 cu. ft. oven (quarter size oven) measures aprox. 24 in. L x 20 in. W x 17 tall, the 4.22 cu. ft. oven (half size oven) is aprox. 27 in. L x 22 in. W x 23 in. tall, please measure before ordering.
Chefs Note: Mrs. Fields uses hers every day and she simply loves it!
Click Here for Maple Tables!

---
Clearance Deals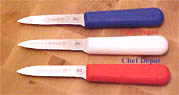 More Clearance Deals
---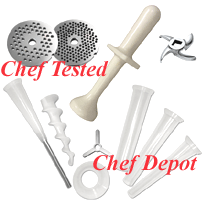 Product # CD08-0801W-SS-MEAT-GRINDER
Retail $699.00 and up
On Sale $200.00 and up

This newly designed Commercial Meat Grinder lets you make sausage and ground meat as fast as needed, with a 5 Year warranty. Extra Large Stainless Steel Hopper, aprox. 15 in. x 10 in. by 2.5 in. with all metal gear construction for optimal grinding performance & a lifetime of use. Equipped with a Circuit Breaker for safe use. ON/Off/Reverse Functions. Sturdy handle for easing moving and non-slip rubber feet for stability. Disassembles for easy clean up. Comes with Stainless steel cutting knife, 4.5mm & 7mm stainless steel grinding plates, 4 various sized funnels with stuffing star for sausage and snack sticks and a heavy duty stomper. Grind your own meat & stuff sausage with ease. 115 Volts, Ship Wt. 40 - 79 lbs. New & Improved! These Commercial grinders now have up to 50 more power and several bonus features, including a built in knife sharpener, exclusive auger grabbing stomper, tray nested accessory storage and tray cover.
Chefs Note: These stainless steel grinders can process several hundred pounds of meat per hour. Includes a One Year Warranty!
Chefs Note: Our favorite recipe is 10 lb. venison mixed with 1 lb. smoked bacon and 1 Tbsp. Cajun Spice Blend great for sausage and burgers.
Beware of others selling used and refurbished Meat Grinders. Ours are all new, factory sealed units.
1/2 HP. #5 Stainless Steel Meat Grinder, up to 6 lbs. min., (Wt. 40 lbs.) FREE SHIPPING, CONT. USA. GRINDERS ARE HERE - Free Shipping & No Tax!

---
Product # CD07-3201-W-A-MEAT-CUBER-ATTACHMENT
Retail $499.00 and up
On Sale
Our "Meat Cuber Tenderizer Attachment" is made to fit the commercial grinders pictured directly above. It may fit other commercial grinders too (not smaller #5 grinders). 31 stainless steel blades tenderize even the toughest cuts of meat. This tool will make fast cube steaks.
Our favorite recipe is 10 lb. venison mixed with 1 lb. smoked bacon and 1 Tbsp. Cajun Spice Blend for sausage and burgers.
Our Big Butcher Blocks are made in the USA! Click Here!
---


Cajun seasoning is used to make Creole "Blackened Foods", it is a special blend of 30 peppers and spices! It is a very simple addition to fresh made sausage or burgers! For blackened chicken cut a few boneless breasts into 1 ounce strips, using melted butter and a brush, butter them on one side and press into a bowl of cajun seasonings, place the strips in a very hot cast iron skillet and turn once, cook until firm. Serve with any good dipping sauce!
Chefs Note: We use it to blacken chicken and salmon. It's also great for marinating meats with wine, sugar and sea salt! You can also use this seasoning mix as a dry rub or marinate with it overnight! Packed in our airtight jar for optimum freshness! Our Spice Blends are made in the USA! Click Here for other popular blends!
Cajun Seasonings Sample (4 oz) $2.75
Cajun Seasonings(16 oz) $9.50
Cajun Seasonings (TWO 16 oz jars) $19.50
Cajun Seasonings FIRE HOT (16 oz) $11.99
Cajun Seasonings (5 lbs) $49.00


Our Spice Blends are made in the USA! Click Here!
This hand held mixer is perfect for pureeing soups, sauces, fruit coulis, meringues, whipped creams, specialty desserts and more!
When we first tested this Dynamic mixer, we were amazed at the high quality construction and engineering. It is very powerful, lightweight and easy to use. All Dynamic hand held blenders scored higher on sanitation tests due to the stainless steel direct shaft drive and titanium blades. This mixer has a 9 in. stainless steel direct shaft drive with variable speed control. Non Removable. 120V, 200 watts max. 9000 rpm and it weighs 4 lbs.(shipping weight).
Chefs Note: Ideal for 7 gallons of soup or sauces, click here for recipes! We love the 10 ft. long cord and high power! The titanium blade will chop & puree anything. The mixers meet all NSF standards for safety and sanitation!