---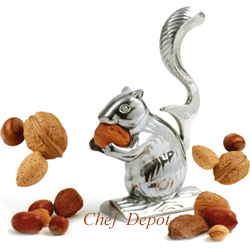 Product # CDNP6529-SQUIRREL-NUT-CRACKER
Retail $29.99 and up
On Sale $14.95
This handy nutcracker makes a great conversation piece. Fun for the whole family! A great gift idea! Easily cracks your favorite nuts, Almonds, Pecans, Walnuts, Hazelnuts, ect. Lift the tail, place nut in mouth and press down on tail to crack your nuts. Solid Metal, 5.5 in. tall. Quantity Discounts.

1 Squirrel Nut Cracker

2 Squirrel Nut Crackers $28.98 4 Squirrel Nut Crackers $57.50
Click Here ~ NSF Approved Rock Maple Cutting Boards!

---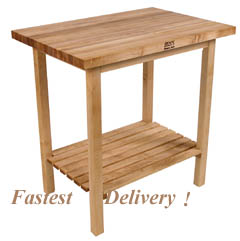 SOLD OUT
Our Townhouse Kitchen Utility Table is beautifully constructed of solid northern hard rock maple. Your kitchen will never look the same, however this table works well in any room! Choose from 10 sizes below! The top is 1-1/2" thick solid maple, the 36" work height is ideal for most cooking tasks. A wonderful slatted lower wooden shelf is standard!
This table has a FDA approved food safe natural finish.
The butcher block top requires rubbing with mystery oil or wood cream, every few months to keep it looking new.
We will send you 3 bottles of mystery oil, no charge.
Locking Caster Wheels, towel rack and 15 in. utensil drawer can be added below!
Free Shipping & Mystery Oil & Great Customer Service!
Discontinued!
These tables and carts will look great in your new kitchen!

---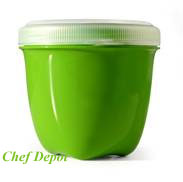 Product # CD51111-LEFTOVERS-APPLE-GREEN-FOOD-CONTAINER
Retail $7.99 and up
Sale Price $4.49
Our new Leftovers Food Containers are perfect for food on the go. Perhaps the thickest and strongest you can buy (I can stand on these). At just 8 oz. the new and cool mini food storage container fits in the palm of your hand and is particularly cute! Shaped and colored like green apples, these round Food Storage Containers are a friendly addition to any refrigerator or lunchbox. Keep your spices fresh longer.
Chefs Notes: We use these for cut up apples, pears and peeled oranges. Picnics, backpacking, lunches, catering, hummus, olives, dip, fruit and more. They have screw top lids that wont pop off in your backpack or briefcase. Eco Friendly, made from high grade food safe recycled plastics, here in the USA!
1 Apple Food Container
New Cutting Board Designs! Used by the Chefs of Hyatt Hotels!
---

Product # CDW565O14CAKESPATULA14IN
Retail $29.99 and up
On Sale $9.99

This is a professional 14 in. blade Cake Spatula.
Perfect for icing and frosting cakes. Many bakers like these for fondants and buttercreams on round layer cakes, wedding cakes and sheet cakes. NSF certified for quality & Safety. These spatulas will last for life!


White Handle Cake Spatula
Click Here Bulk Vanilla Beans.
---
Product # CDW5688-3.5SPREADER3.5IN
Retail $11.00 and up
On Sale $5.55

Our sandwich spreader is the professionals choice! 10 in. blade Cake Spatula.
Chefs Note: Perfect for making sandwiches and spreading cream cheese and butter! NSF certified for quality & Safety.


Click Here for new Kitchen Cutlery Sets!
---

Product # CDFK25WHRDWHKYOCERARED
Retail $40.00 and up
Temporary Sale Price Reduction $17.95
This is the new Red 3 in. Kyocera Ceramic Paring Knife, it holds an edge without sharpening. This is a great ceramic knife, it's very comfortable and easy to use. The ultra sharp ceramic blade cuts with precision and accuracy every time maintaining a razor-sharp edge for many years.
These knives are made of an advanced, high-tech ceramic, second in hardness only to diamond,
it was originally developed for industrial applications where metal components failed.
Chef Notes: This Hot and Cool new Red color is very comfortable and easy to find in the block or drawer! This knife is a great choice for Chefs and Gourmet Cooks! Ceramics are perfect for slicing, dicing, chopping and mincing meats, garlic, carrots, onions, celery, fruits and more.
Click Here for more Kyocera Ceramic Knives! Simply the best!
---
Product # CD5697-BENCHSCRAPER-BLACK-HANDLE
Retail $24.99 and up
On Sale $7.95

This is the Bench Scraper used by Le Cordon Bleu! A perfect choice for scraping off the work table, dough cutting, pizza, bread and chocolate work. Made from high quality German alloy steel, it comes with a Lifetime Guarantee! Color is black or white. NSF certified for quality & Safety.
Bench Scraper, Black Handle

Bench Scraper, White Handle $11.50 Chinese Cleavers!