Demo shows you how to cut and serve the hard cheese. Also featured is one of our USA made rock maple cutting boards!
---
Product # CD44000-LEFTOVERS-COLANDER-MEDIUM-OVAL-RED
Retail $14.99 and up
Sale Price $8.95
Our new Leftovers Medium size Colanders are the thickest and strongest that we have ever seen (2 qt). These are wide and tapered for easy use. Aprox. 9 in. x 6.5 in. x 4.5 in. deep. Features: Wide bowl for comfortable mixing, Easy grip handle aids pouring, Made with 100% recycled food safe plastic, Dishwasher safe, Made in USA!
Chefs Note: very thick and durable, the colors are vivid and you will enjoy using these colanders! Strong enough to stand on. This medium size red oval colander is perfect for washing grapes and other fruits!
Red Colander
New Recycled Colanders and containers! Used by the Chefs!
---


Product # CDWALB12R-12IN-ROUND-WITH-BUN-FEET
List Price $109.95 and up
On Sale $89.95

Our new John Boos Round Walnut Block features 4 bun style legs, 9 in. or 12 in. x 1.5 in. inches thick! Perfect for picnics, preparation or serving cheese & holiday appetizers! Oiling it with mystery oil, will keep it looking new for many years of use! What a great gift idea! Order 2 or more and get free shipping (only in cont. USA). Click here for Square Walnut Boards!

Round Walnut Block with bun style legs, 9 in. x 1.5 in. $64.95


Round Walnut Block with bun style legs, 12 in. x 1.5 in. $89.95
Stainless Steel Pub Tables - Click Here!

---
Product # CDCC325CHEFSCHOICE


Chef's Choice Pro Diamond Hone Knife Sharpener. This professional electric knife sharpener incorporates 100% diamond abrasive disks in stage 1 and revolutionary flexible polymer stropping disks in stage 2 to sharpen and polish straight edge and serrated kitchen knives to hair-splitting sharpness in seconds. It is safe for all alloys and never detempers. The user friendly knife sharpening system features a powerful motor, patented 2-stage sharpening, precision angle guides and a built-in abrasive cleaning mechanism. Recommended for smaller commercial kitchens.
Color is Gray. Made in U.S.A., 120 volts.
Chef Notes: Perfect for the professional kitchen, household or commercial.
This sharpener has a unique stropping and polishing stage for extra sharpness. If you want a very high power compact electric sharpener, get this one. With proper care it will last a lifetime.
Order this sharpener and receive FREE SHIPPING and a free fillet knife with a lifetime warranty! Click links below .... Click Here For Solid Maple Butcher Block Islands!

---
Product # CD80002-KASUMI-WHETSTONE-3000/8000GRIT
Retail $149.00 and up
On Sale $114.95

Our Fine Japanese Whetstone is made in Seki City Japan. It will take a fine sharp japanese knife and produce a razor edge quickly.
This stone features a 3000 and 8000 grit extrafine surfaces plus a durable base. The base and box protect the stone while not in use. It also includes a cleaning block (small harder stone for removing metal accumulations and keeps the stone flat). There is also a 240/1000 available below!
Chefs Note: The base is very stable so it does not move around while in use. This is the same type used to mirror finish handmade Samurai Swords. Detailed Instructions are included. The stone with base measures aprox. 7 in. x 2 1/2 in. You will love this stone!


Kasumi Japanese Whetstone 3000/8000 GRIT

Kasumi Japanese Whetstone 240/1000 GRIT $69.95
Click here for more Sharpening Stones!

Click here for Portable Butcher Blocks!
---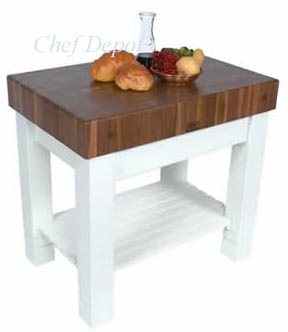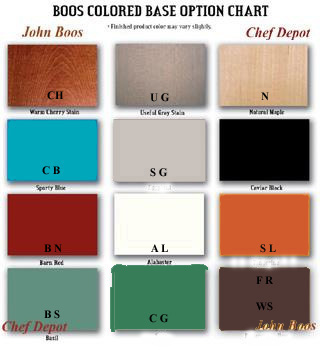 Product # CDWAL-HMST36245-WALNUT-HOMESTEADBLOCK

Free Shipping & Great Customer Service!
This is the new Walnut Homestead Block by John Boos, it measures 36" x 24" x 5" and stands 34" overall. The top is edge grain walnut butcher block. This block has a FDA approved food safe natural finish. The butcher block top requires rubbing with Mystery Oil or Wood Cream, every few months to keep it looking new. It features a large storage drawer and will last for generations!
36" x 24" x 5" Solid American Walnut Top, Lower Slatted Shelf, Weight is 270 lbs.
Please pick your color selection then call us to order 630 739 5200
We can ship your new Block in aprox. 3 - 4 weeks! Call us for sale prices.
Free Shipping is available - continental USA only.
Call for Sale Prices!
More USA made Butcher Blocks are HERE!
Click Here for Maple Cutting Boards!


---

Product # CDCMG-250-NEW-KYOCERA-GRATER
Retail $25.00 and up
Sale Price $19.95

This is the new Kyocera Ceramic Grater, it holds an edge without sharpening. This is a great little tool! For ease of use, non-slip silicone base underneath holds the grater in place. Perfect for grated cheeses, ginger root, fresh grated horseradish, fine carrots and many other applications. These tools are made of an advanced, high-tech ceramic, second in hardness only to diamond, it was originally developed for industrial applications where metal components failed.
Chef Notes: This grater will quickly grate any hard cheese, elephant garlic, ginger, spices or most any vegetables. A great choice for Chefs and Gourmet Cooks!



Type 301 Cutlery
F.A. Porsche!
Email Us for more Cheese Knives!


Cheese Knives:
Page1 |
Page2 |
Page3 |
Page4 |
Page5 |
Page6 |

---

Copyright 1999 - 2021 Chef Depot Inc.
All Rights Reserved.
Legal Notice and Copyright

Customer Service - E-mail us or phone:(630) 739-5200

Customer Feedback