This is the new 4.5 in. Kyocera Revolution Mini Santoku Knife, it holds an edge without sharpening. A multi use knife with a deeper blade for slicing, dicing and mincing. Perfect for the home cook, this knife will be used daily, quickly becoming a favorite in the kitchen. Ideal for fruits, vegetables and boneless meats. The Revolution series feature an extra hefty black handle and a perfect balance. This is a great ceramic knife, it's very comfortable and easy to use. The weight is about half of steel knives making it comfortable for extended use. The ultra sharp ceramic blade cuts with precision and accuracy every time maintaining a razor-sharp edge for many years. These knives are made of an advanced, high-tech ceramic, second in hardness only to diamond, it was originally developed for industrial applications where metal components failed.
Chef Notes: These knives are a great choice for Chefs and Gourmet Cooks! We tested several brands of ceramic knives - Here's the results! Kyocera was the only knife sharp enough to meet our demands, the others were too dull or the blades were too thin and brittle. Only Kyocera scored very high in sharpness, quality, workmanship, material and warranty.
A Chef shows you how to make a pear bird. Click Here for the featured ceramic knife! Notice, the knife is very sharp and cuts very easily. A sharp knife is required by every Chef and Gourmet cook. Chef is using one of his NSF Maple Cutting Boards!
---


Product # CDBOOS-WAL1812175-SSF-WALNUT-CUTTINGBOARD
List Price $349.95 and up

HOT Summer Sale $259.95
New from John Boos, this 18 x 12 in. x 1 3/4 in. End-Grain Walnut Cutting Board with Stainless Steel Feet! It can be used for chopping, dicing, carving and serving! The juice groove is handy for carving meats and turkey, reserving juices for serving the natural aujus! Walnut is very hard and durable! John Boos premier cutting boards are all made in USA. Call us for sales.
Walnut Cuttingboard with SS Feet


Add 3 pack of Boos Board Cream (3 pc. 5 oz. tubes)
Sale Price $29.95
New Kitchen Center Islands! Custom sizes are available!

---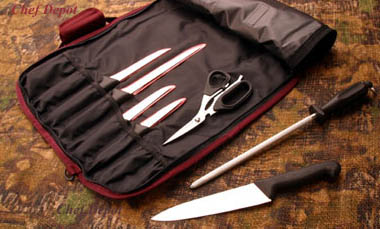 Product # CD1066-8BK-MESSERBUTCHERSET
Retail $295.00 and up
Sale Price $169.95

This is our exclusive Messermeister German Butcher Knife Set! The knives are made from a special German alloy steel! Lifetime Warranty. The set features a 4 in. Spear Point Paring Knife (bird boning knife), a 6 in. Utility Knife, a 6 in. Boning Knife, a 8 in. Flexible Fillet Knife, a 8 in. Carving Knife, Poultry/Fish Shears, 10 in. Sharpening Steel and a durable canvas case with velcro closures (it holds a lot more)!
Chef Notes: A great set for butchering up the camp deer or cooking lunch while camping in the wilderness. An amazing deal!
Limited Time Sale! We have the best prices!
How to properly butcher a deer! Click here!

600 lb. - Maple Butcher Blocks!
---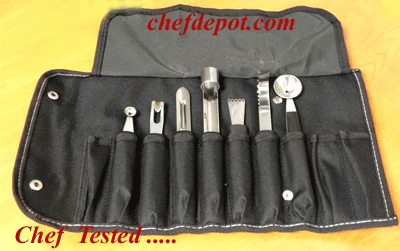 Product # CDMUNGH0221GARNISH-SET-7PC
Retail $69.50 and up
On Sale $49.95

Our new pro "Garde Manger" garnishing set is a great choice for beginners. The kit contains a tiny parisenne scoop, zester, peeler, channel knife, butter curler, corer and a double melon baller. All of the pieces are stored in a black canvas vinyl carry case to protect them. The tools are excellent for carving and sculpting fruit, vegetables, chocolate, sugar and pastries. This set is used by several Teams competing in the World Pastry Chef Championships!
Chefs Note: These tools are all made from German steel and are high quality. They are sharp and will not break. Lifetime warranty. We use ours for watermelon baskets, buffet centerpieces, sculptures and food competitions.

German Garnishing Set
Click Here for Cutting Boards!
More Garnishing Tools! Click Here...

---
Product # CDMANDOLINE1
List Price $309.00 and up
On Sale $143.50
In Stock with Free Shipping in the Cont. USA! (Add FREE Bonus Offer to cart below)
This is the Original Heavy Duty "Bron Mandoline" with stainless steel pusher, it is made in France from heavy duty solid stainless steel and has mounted julienne and french fry blades (including the krinkle cut blade). This mandoline features the new redesigned optional safety hand guard. It has smooth and wavy cutting surfaces with adjustable thickness settings that produces extremely high quality cuts. This mandoline will easily produce perfect julienne, matchstick, french fry and krinkle cuts on any vegetable. Excellent for cold vegetable trays, potato preparations, stir fried vegetables and more! See a few cuts pictured below.
This is the Mandoline (or Mandolin) used by many professional Chefs!
We have used our Original Heavy Duty Bron Mandoline for over 20 years and it keeps on going! This model includes non slip rubber feet! All of the parts are replaceable! A nice machine for making potato chips. Our mandolines are new factory sealed units imported directly from Bron in France.
Beware of others selling different models with less options and fewer blades!
In stock, for very fast shipping! Easy to use, watch our video below!
Chef Notes: Every professional Chef we know uses a cut proof Butcher Glove (click here) to quickly and safely cut vegetables on the mandoline.

Click Here For Kitchen Islands Replacement Tops!
Click Here For Chef Handmade Japanese Knives!
---
This is a hot chicken dish served cold for display. It was prepared with aspic for product demo at a large food show.

Click Here for Silicone Oven Mitts!

---

This is a Tiny Melon Scoop or Baller. It is 10 mm in size. It makes a scoop the size of a large pea.
This tool is made from the highest quality German alloy steel.
It is used for carving & decorating fruit & vegetables as well as garnishing work.
We love this tool, you will too!

Product # CD8253-10MMTINYSCOOP
Retail $16.00 and up
On Sale $12.99

Click here for more Garnishing Tools!
We have the best prices!
---
This is a simple sushi roll appetizer, sliced and garnished with wasabi and pickled ginger. Check out our Sushi Making Kit and Amazing Sushi Knives!

Click Here for Handmade Sushi Knives

---
Product # CD301PORSCHEP38-SASHIMI-KNIFE
Retail $199.00 and up
Sale Price, only $115.95 to $119.95 each
This is the new 10 in.(24cm) Sashimi knife, Chroma Type 301 designed by F.A. Porsche. It is 15 in. long overall and has a thin beveled blade. Great for slicing thin sashimi and sushi rolls, or general fish preparation! These knives have the perfect shape, balance and weight for a lifetime of use. These knives are beautiful, functional and easy to clean. We guarantee it will fit your hand perfectly and you will love the balance of this award winning knife. We gift box each piece of this fine cutlery. Each one comes with a Lifetime Warranty! The Chroma Type 301 Porsche knives are easy to use and hold an edge longer than most other knives.
Click here to read some of our Chefs Comments!
10 in.(24cm) Sashimi knife


Two 10 in.(24cm) Sashimi knives $115.95 each
Click here for Chef Tables!
---
This is Tuna Carpaccio. You might try one of the new F.A. Porsche Designed Knives . At Chef Depot (TM) We can teach you how to enjoy your cooking.
click here for assorted Japanese whetstones ~ many grits and sizes!

---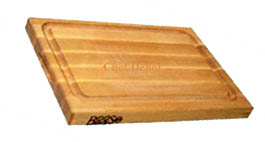 Product # CD18x12BOOSAUJUSMINI
List Price $79.95 and up, On Sale $64.95 ... In Stock!
Great for BBQ Turkey, Roasts and is reversible, free shipping over $99.00 in Cont. USA

Our new mini Aujus Cutting board is perfect for the backyard BBQ or carving a small roast. This is the cutting board of choice for all the Chefs here at Chef Depot and many other famous Chefs! John Boos custom makes these exclusive cutting boards for us from first quality Solid Rock Maple, 18 inches by 12 inches and over 1 1/2 inches thick. This reversible board is NSF certified and will not dull your knife! With proper care, this Maple board can last for life! Oiling it with Board Cream will keep it looking new (available below). This board is the perfect size for smaller counter tops. Did you know that maple cutting boards naturally kill bacteria? New Custom sizes are available here!


Add 3 pack of Boos Board Cream (3 pc. 5 oz. tubes)
Sale Price $29.95
New Kitchen Center Islands! Custom sizes are available!

---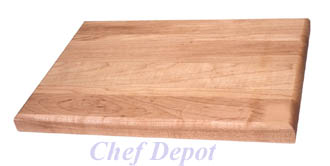 List Price $69.99 and up
On Sale $48.95
Product # CD20x15CUTTINGBOARDW/LOGO


This Solid Maple Cutting Board is made from select #1 grade Rock Maple. Our exclusive logo cuttingboard is the finest maple cuttingboard you can buy at the lowest price!
We guarantee these cuttingboards will provide you with years of cutting and chopping pleasure!
America's Heritage custom makes these cutting boards for us from first quality Solid Rock Maple! This cuttingboard measures 20 inches by 15 inches and over 1 3/4 inches thick. Maple cutting boards will not dull your knife! Oil it every month with mystery oil, to keep it looking new. With proper care, this Maple board can last for life! This board is the ideal size for most counter tops (it will not slide while cutting).
Did you know that maple cutting boards naturally kill bacteria?
These cutttingboards can not be shipped outside the USA. These boards meet all NSF standards.
Free shipping to most areas of the USA.

Click the green arrow on the right for more Chefs in action!


---

Copyright 1999 - 2017 Chef Depot Inc.
All Rights Reserved.
Legal Notice and Copyright
Customer Service - E-mail us or phone:(630) 739-5200



Customer Feedback