---


Product # CDBOOS-WAL1812175-SSF-WALNUT-CUTTINGBOARD
List Price $599.95 and up
HOT Sale add to cart - Plus ***Bonus Wood Treatment***

New from John Boos, this 18 x 12 in. x 1 3/4 in. End-Grain Walnut Cutting Board with Stainless Steel Feet! It can be used for chopping, dicing, carving and serving! The juice groove is handy for carving meats and turkey, reserving juices for serving the natural aujus! Walnut is very hard and durable! John Boos premier cutting boards are all made in USA. Call us for sales.
Walnut Cuttingboard with SS Feet


Add 3 pack of Boos Board Cream (3 pc. 5 oz. tubes)
Sale Price $38.95
New Kitchen Center Islands! Custom sizes are available!
New Kitchen Solid Wood Countertops ! #MadeinUSA ! Custom sizes are available!

---


Product # CDCHYR01-CHERRYCUTTINGBOARD-12X18X1.5IN
List Price $139.95 and up
On Sale, add to cart

Our John Boos Commercial Cherry Cutting Boards are made to last. The edge grain butcher block construction is amazing! Cherry Wood has a beautiful rich color. Perfect for daily meal preparation and serving cheese & holiday appetizers! A full 1 1/2 in. thick, these will last for years of daily use. Oiling it with the special blend of oil below, will keep it looking new for many years! Available in 3 sizes below! These boards are in stock, ready to ship.

18 in. x 12 x 1.5 in. Cherry Cutting Board
Click here for the SALE on these CHERRY MODEL Butcher Blocks!

---
Product # CDHI3211PRO-MIX-MEASURE-CUP-SET-OF-TWELVE
Retail $79.95 and up
On Sale $58.95

This is a set of 12 heavy duty mini measure glass measuring cups! The small cup measures are great. Extra thick glass reduces tipping. Measures teaspoon, tablespoons, ounces, milliliters. Dishwasher safe, permanent markings. Sold as a set of 12 only. Ideal for Home, Garden, Kitchen, Lawn, Pool, ect. With care, these will last for life! Choose color below!
Chef Notes: Makes a great gift idea or wedding favor & sweet stocking stuffer! Chef Lisa likes this set for the bar and pool. Measures consistently great Rum Punch Drinks! Shot glasses for scientists? Exact style may vary.

12 Red Marked Mini Measures

12 Blue Marked Mini Measures 12 Black Marked Mini Measures 12 Green Marked Mini Measures 12 White Marked Mini Measures
Click Here for handmade Japanese Sushi Knives!

---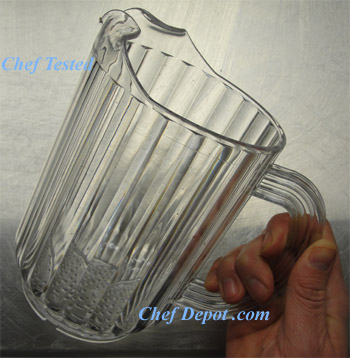 Product # CDPOLYSODAPITCHER60OZ
Retail $15.95 and up
On Sale $8.00 (best quality - lowest prices)

This is a 60 oz. poly soda pitcher. Used by restaurants, taverns and foodservice operations for serving pitchers of water, soda and beer. This pitcher is virtually unbreakable. It is made to last for years of daily use.
Chefs Note: We only sell the best quality available. Price goes down with large quantity below.

1 poly pitcher
Click Here for Maple Kitchen Carts!!!
---
Product # CDNP6529-SQUIRREL-NUT-CRACKER
Retail $29.99 and up
On Sale $ (best Quality for $)

This handy nutcracker makes a great conversation piece. Fun for the whole family! A great gift idea! Easily cracks your favorite nuts, Almonds, Pecans, Walnuts, Hazelnuts, ect. Lift the tail, place nut in mouth and press down on tail to crack your nuts. Solid Metal, 5.5 in. tall. Quantity Discounts.

1 Squirrel Nut Cracker
Click Here ~ NSF Approved Rock Maple Cutting Boards!
---
Product # CD7030BLUEOPENER
Retail $4.95 and up
On Sale $2.99
This is our blue anodized aluminum bottle opener. It has a heavy duty key ring and will easily open any bottle! Quantity Discounts are available!

Click Here for Talking Beer Openers!
---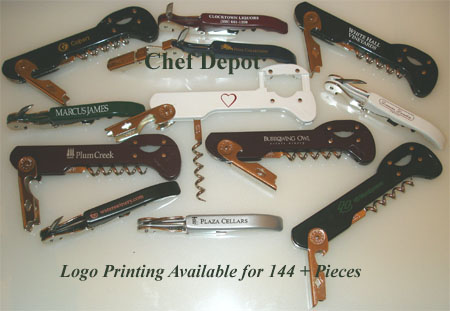 These are our Logo Printed Wine Openers. Made in Italy! 144 or more pieces, we can print your company, names, winery, restaurant, wedding or website on these! Large Quantity Discounts are available! Email or Call us today: 630-739-5200

Click Here for Talking Beer Openers!

---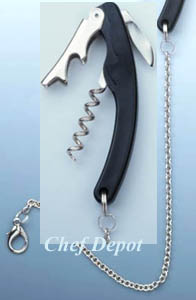 Product # CD10203810CRESCENTWINEOPENER
Retail $28.99 and up
On Sale $

The Black Crescent opener features a 1/4 inch hole in the end for easy attachment of a chain or key ring. The nickel plated serrated knife blade is razor sharp. The screw and lever work great and make this opener easy to use. It is 4 3/4" long and comes in black. Add a chain below! Quantity discounts!
Crescent Wine Opener

Wine Opener Chain ( purchase of the wine key above is required) Our Chef Knives & Cutting Boards are rated # 1

---

Product # CDWARING-PC100-WINE-CHILLER-BLACK

Sold Out & Discontinued
Our new Wine Chillers will get your bottle to the ideal temperature fast. Works on Red or White Wine! It will bring the temp. up or down to the ideal temp. in a short time. Streamlined body, Thermo electric Blue backlit display, CPU control for constant temperature. Library of 33 preset wine temperatures for cooling (micro processor internal database of red, white and champagne wines). Suitable for wine bottles with diameter up to 3.5 inches. Limited Five Year Motor Warranty. Choose from the Black electric model or the Chrome Cordless Rechargable model below!
More Great Kitchen Products! Click Here!


---

Product # CD2049WINGGRAPEDESIGN
Retail $49.00 and up
On Sale $


This Chrome wing wine opener features grape vines and barrels! It is the simplest opener for removing corks easily. It features a teflon coated open spiral worm (for easy cork removal) and a soft flange bottle base. This opener is 7 1/2 in. long overall. Other wing openers are available. Quantity discounts!


Grape Design Wing Opener


Food Network Chefs Cutting Boards!


---

Product # CD2041CHROMEWINGOPENER
Retail $29.00 and up
On Sale $


This is the Chrome Wing style wine opener. It is made in Italy and features a high quality auger worm screw and triple chrome plating. This opener is 8 1/2 in. long overall. Quantity discounts!


Click Here for Butcher Blocks!!


---

Product # CD7815-CRUMB-SCRAPERS
Retail $7.99 and up
On Sale $4.89

High quality crumb scrapers, made from anodized aluminum with pocket clip. Don't let your waiters on the dining room floor without them. I know a few waiters who are good at scraping every breadcrumb off the table with these, however the busboys usually do a better job.
Chefs Note: We always make our waitstaff carry Wine Keys to quickly and easily open the bottles and to upsell the wine selection! Make your guests smile. Sold by the dozen only.


12 Crumb Scrapers

Solid Maple Butcher Tables - Free Delivery & No Tax!


---

Product # CD2042BRASSWINGOPENER
Retail $29.99 and up
On Sale $


This is our Brass Wing opener. It is made in Italy and features a stainless screw and triple brass plating. This opener is 6 1/2 in. long overall. Quantity discounts!


The Freshest Spices!


---

Product # CD5022-7MESSERCLEAVER7IN
Retail $86.95 and up
Sale Price $ ADD TO CART


This is the new 7 inch blade Messermeister Heavy Cleaver! The cleaver is made from the highest quality German alloy steel in Solingen Germany. Weight is 1.25 lbs. Lifetime Warranty. This cleaver features a comfortable black rubber handle. If you want high quality and a cleaver to pass through generations, you found it.
Chef Notes: This German made cleaver is perfect for splitting bones and cutting through chickens. Perfectly balanced and made to last! It is the strongest sharp edge we have ever found in any cleaver.


Click the green arrow on the right for more cutlery!




More Wine Openers:
Page1 |
Page2 |
Page3 |
Page4 |
Page5 |
Page6 |
Page7 |
Page8 |
Page9 |
Page10 |

---

Copyright 1999 - 2023 Chef Depot Inc.
All Rights Reserved.
Legal Notice and Copyright

Customer Service - E-mail us or phone:(630) 739-5200

Customer Feedback #Wine #Keys #Openers #Reviews #Ratings #Best #Quality wine openers have been thoroughly tested by professional Waiters and Sommeliers. Our heavy-duty wine bottle openers, very high quality - made in Italy, France, Germany and the USA!