Orders Phone:(630)739-5200
Mon. - Fri: 9:00am - 5:00pm CST
Mundial Olivier Knives...Clearance Sale = Lowest Prices.
When we first tested the forged Olivier Hardwood and Mundial Future and Elegance Cutlery we were amazed at the balance of these knives. Fully forged knives are the working tools of great Chefs and Gourmet Cooks! Traditional Black 5100 Riveted Cutlery at a great price! Chef Sets and Cutlery Storage. Cool Red & White Handle Cutlery looks great in black and white kitchens! Sushi Knives and stamped Chef Knives for less. Mundial knives are consistently judged the finest in the world by professional Chefs.
Comparison testing by Chef Depot, The New York Times, Good Housekeeping and Cooks Magazine gave Mundial cutlery the highest possible rating in every category - scoring higher than more expensive brands! Mundial Scissors are razor sharp and hold an edge through years of use - Lifetime Warranty!
We have wholesale prices on all Mundial products, we stock all of them, please call us! Phone 630-739-5200
How to Select Kitchen Knives| How to Sharpen Knives| USA made Cutting Boards| Cutting Board Care & Maintenance
---
Cutlery Cases| Knife Blocks| Cleavers| Sharpening Steels| Electric Sharpeners| Cutlery| Butcher Blocks| Chopping Blocks
Hot Chef Tables are on sale, click here!
---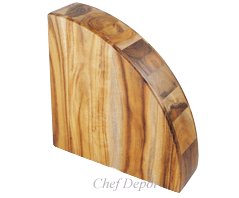 Product # CDMKB-10-AC-MAGNETICBLOCK-ACACIA
Retail $200.00 and up
On Sale $112.95

Our new solid Acacia Hardwood Magnetic Knife Block Holder is amazing. The very powerful magnets are built into the inside of the block. It is made with totally sealed solid magnets and hardwood! The block suggests to place 5 knives on each side, however you might fit more. When you get within an inch, the powerful magnets pull the knife firmly to the block. It weighs over 8 lbs. and measures 10 in. x 10 in. x 3 in.
Chefs Note: The block looks so good it reminds many of a sculpture. It has non slip rubber feet. Made to our exact specifications. Gift boxed!
FREE SHIPPING on ORDERS OVER $99.00 (cont. USA). Video Below!

Click here - big maple and walnut kitchen blocks!
---
Featured Video ...
Demo shows the magnetic block storing steak knives (pictured above). Order now, these sell out fast.
Also featured is our sweet solid stainless steel table! A Perfect choice for your new kitchen island or an outdoor kitchen. The quality steak knives are here!
---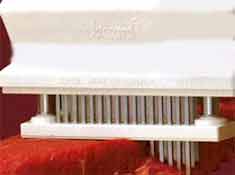 Product # CDJACCARDTENDERIZER48BLADE
Retail $50.00 and up
On Sale $26.95

This meat tenderizer is easy to use and made to last. We supply these to butchers who use them for years! This Triple Action Tenderizer is available with 48 stainless steel saber blades set in 3 parallel rows of 16 or a single row of 16 blades (Rockwell Hardness of 50). The Jaccard Meat Tenderizer makes any boneless cut of venison, pork, veal, fish, lamb, chicken, steak and other meats very tender and easy to eat! Our models feature a safety storage case! Two sizes are available below! We use our Jaccard on the cutting board pictured below!
48 Blade Jaccard Tenderizer


Product # CDJACCARDTENDERIZER16BLADE
Retail $40.00 and up
On Sale $14.50
16 Blade Jaccard Tenderizer
Click Here for Rock Maple Cutting Boards! We use ours everyday!
Click Here for Venison Recipes!
---

Product # CD2827-10EOLIVIER10INBREAD
SOLD OUT
The new Olivier Bread knife has a 10 in. razor sharp wavy blade and rounded tip. It is forged from German alloy steel with a solid Walnut Wood handles. A great knife for easily cutting soft or crusty bread and pasteries. Lifetime Guarantee.
Chefs Note: A great bread knife! We tested it on crusty French bread and cutting up a few Panini Sandwiches into points! While moving it back and forth it slices with ease through most anything! The handle is comfortable even after extensive use. It has a more natural rounded ergo shape and feel than most riveted handle knives. The blade has a nice thin edge and the walnut handle is superb!

Click Here for Diamond Sharpeners!


---

Product # CDG76-GLOBAL-HERB-CHOPPER
Retail $159.00 and up
Sale Price $114.95


This is the new Global Herb Chopper! It is forged from super high quality Japanese alloy steel. It is very sharp. Lifetime Warranty.
Chefs Note: Sweet handle, perfectly balanced and amazing CROMOVA steel blade. If you want a high quality chopper to pass through generations, you found it. Global knives are made from the finest high carbon stainless steel available for producing professional quality kitchen knives. Yoshikin uses its own proprietary stainless steel which it calls CROMOVA 18 Stainless Steel. This steel is hard enough for Global knives to keep their edge for a long time, but soft enough so that it is not too difficult to sharpen the knives. Herb Bowls, Click Here! The MO and VA in CROMOVA 18 stand for molybdenum and vanadium. These two elements give a knife good edge retention.

More Global Japanese knives, Click Here!


---

Product # Olivier Santuko with Granton Edge (air pockets)SOLD OUT

The new Olivier Santoku knife has a 7 in. blade. It is forged from German alloy steel with a solid Walnut Wood handles. Lifetime Guarantee.
This Santoku knife has a great feel and the wood handle is unique.
A high quality knife! Now available with a granton edge (air pockets) choose below!
Chefs Note: A great knife for everyday use cutting & chopping! The blade has a nice thin edge and the walnut handle is superb! The air pockets help cut through anything with less resistance.


Click Here for Maple Kitchen Prep Tables!


---

Product # CWAL-CUCLA24T-WALNUT-LAFORZA-BLOCK
Free Shipping & Great Customer Service!


Our new Walnut Laforza Block measures 24 in. x 24 in. x 6 in. . The base is 24 x 24 x 29 in tall, it features fully welded joints and a lower shelf. The two pieces are available as a set or seperately below. Thick select blended American Walnut Top (Edge Grain) with a usable beeswax and mineral oil finish. The block on the base stands 36 in. tall.
Click Here for more walnut blocks!
We can ship your new table in aprox. 15 days!

Free Shipping is available in most areas of the continental USA only.

Walnut Laforza Block (block only) $958.95 Monthly Special Sale - Call Us or Email Us for the Lowest Price!


Laforza Base (base only) $538.95 Monthly Special Sale - Call Us or Email Us for the Lowest Price!
Click Here for this table with a cherry or stainless steel top


---

Product # CDMET-WWC1000-WALNUT-WIRE-PANTRY-CART
Free Shipping & Great Customer Service!


Our new Walnut Pantry Cart measures 27 in. x 21 in. and features a 1 1/2 in. Thick select blended American Walnut Top (Edge Grain) with a tough varnique finish. There are 3 ways to use this cart! Use it as a kitchen cart for cutting and chopping meals. Use it as a serving tray to present what you prepare and easily move the top to a counter or table for dining! Use it in the kitchen pantry for storing bakeware and it's ideal for bar service! Also avail. with Cherry or Maple wood tops. Measures 36 in. high overall. This table is equipped with four locking 3 in. commercial-grade caster wheels.
We can ship your new table in aprox. 15 days!

Free Shipping is available in most areas of the continental USA only.

Walnut Pantry Cart (left) $699.00 Made in the USA Sale - Call us or email us! Call to order or email questions!


Maple Pantry Cart (right) $519.00 Made in the USA Sale - Call us or email us! Call to order or email questions!
Cherry Pantry Cart (below) $524.00 Made in the USA Sale - Call us or email us! Call to order or email questions!

more Carts & Tables combine function and design!
Questions, Call us, phone: 630-739-5200


---

Product # CD2810-10OLIVIER10INCHEF
Sold Out

The new Olivier Chef knife has a 10 in. blade. It is forged from German alloy steel with a solid Walnut Wood handles. Lifetime Guarantee.
This professional Chef knife is comfortable to hold and use.
Chefs Note: The prefect everyday Chef knife! I like it for cutting & chopping! The handle is comfortable after extensive use. It has a more natural rounded shape and feel than any riveted handle knife. The blade has a nice thin edge and the walnut handle is superb! Click the right green arrow on bottom of page for more Olivier Chef Knives!


Click Here for Maple Butcher Blocks!


---



On Sale $29.50
Product # CD46600PREMIUMCHINESECLEAVER

This is our Premium Chinese cleaver, it is prefered by many of our Chefs! It is made by a famous knife manufacturer in south China. The wide blade is finely polished high carbon steel and it is 8 in. long and 3 1/2 in. wide at the heel (it tapers slightly toward the front). The handle is solid hardwood with a nice stained laquer finish and brass bolster. This cleaver is excellent for quickly chopping, cutting and slicing vegetables. It is a good choice for cutting meats, fish, poultry and vegetables! Click here for more cleavers!



Click Here for Stainless Steel Butcher Gloves!


---

Product # CD2811-3.5OLIVIERPARING
Sold Out
The new Olivier Paring knife has a 3 1/2 in. blade. It is forged from German alloy steel with a solid Walnut Wood handles. Mfr. Lifetime Guarantee. This professional paring knife is comfortable to hold and use.
Chefs Note: The prefect everyday knife! A nice knife for cutting & chopping apples, pears and oranges! The handle is comfortable after extensive use. It has a more natural rounded shape and feel than any riveted handle knife. The blade has a nice thin edge and the walnut handle is superb!


Click Here for Electric Diamond Sharpeners.


---

Product # CD2811-4OLIVIERPARING4IN
Sold Out

The new Olivier Paring knife has a 4 in. blade. It is forged from German alloy steel with a solid Walnut Wood handles. Lifetime Guarantee.
This professional paring knife is comfortable to hold and use.
Chefs Note: The prefect everyday knife! A nice knife for cutting & chopping apples, pears and oranges! The handle is comfortable after extensive use. It has a more natural rounded shape and feel than any riveted handle knife. The blade has a nice thin edge and the walnut handle is superb!


Click Here for Morel Mushrooms!


---

Product # CDCHEFS-DO-IT-WITH-SPICE-APRON
On Sale $9.95


Our premium professional Chef aprons are lots of fun! One size fits all! Chefs do it with Spice! apron is a heavy cotton poly blend for maximum comfort and durability. Made in the USA! One size fits all!


Chefs do it with Spice! Apron


Great Chefs Kitchen Islands!


---

Product # CDNP84200SSFOODCHOPPER
Retail $35.00 and up
On Sale $18.95


Our Stainless Steel food chopper features sanitary stainless steel. Made from 18/10 stainless steel, this chopper allows the mechanism to automatically rotate the blades to easily chop food into small pieces! Made to our exact specifications this is the best one made!
Chefs Note: Perfect for chopping nuts, garlic, onions, celery, tomatoes, hard boiled eggs, herbs and more!


Chef Knife Sets are on sale!

Click Here for more food storage ideas!


---

Product # CDMUNGH0221GARNISH-SET-7PC
Retail $69.50 and up
On Sale $49.95


Our new pro "Garde Manger" garnishing set is a great choice for beginners. The kit contains a tiny parisenne scoop, zester, peeler, channel knife, butter curler, corer and a double melon baller. All of the pieces are stored in a black canvas vinyl carry case to protect them. The tools are excellent for carving and sculpting fruit, vegetables, chocolate, sugar and pastries. This set is used by several Teams competing in the World Pastry Chef Championships!
Chefs Note: These tools are all made from German steel and are high quality. They are sharp and will not break. Lifetime warranty. We use ours for watermelon baskets, buffet centerpieces, sculptures and food competitions.


German Garnishing Set
Click Here for Cutting Boards!
Click Here for Titanium Cutlery!


---



Product # CDHI-44200-FRUIT-DECO-TOOL
Retail $11.99 and up
On Sale $5.89


This quality Decorating Tools features solid stainless steel, each end has a honeycomb fruit baller and the other end is a medium size V cut tool. Handle is solid hardwood with ergonomic tapered design. Easily works on Watermelons, Honeydew, Cantaloupe, Musk Melons, Papaya, Strawberries and more. Add a little flash to your next carved melon basket!


Butcher Blocks used by Chefs & Butchers! Made in USA !

---

Product # CDMUND2800-2OLIVIER
Retail $149.00 and up
On Sale $98.95


This is the two piece gift set of forged Olivier Cutlery. The set now contains a 10 in. serrated Carving Knife with round tip and a Cooks Fork in attractive gift boxes. It is perfect to present at holiday gatherings, for carving a roast or turkey and it makes a great gift. Mundial knives are forged from a special German High Carbon Chrome Moly Alloy Steel, it holds a very sharp cutting edge longer than most other blades. They are guaranteed for life!
Chefs Note: A great set for the holiday gourmet, makes a great gift! Food & Wine Magazine and our Chefs gave this set a thumbs up!



Click Here for More Mundial Olivier Knives!
Click Here for Maple Cutting Boards!

---



Product # CDSPATULASCRAPERYELLOW-WOODEN-HANDLE
Retail $12.00 and up
On Sale $6.95 each


Our Medium Heat Resistant Rubber Spatulas are the best. They are 12 inches long and are heat resistant to 800 degree's Farenheit! You can order them individually below! Video review below.
Chefs Note: The solid hard maple handle makes this spatula very comfortable to use. We have used a set several hundred times and they still look new. These are perfect for scraping the bowl while mixing & baking, chocolates, saute' and pan fried foods, cooking omelettes and more!
Chefs Note: This set will last forever with proper care. Video is below. Made in the USA.

Heat Resistant Yellow Spatula $6.95


Click Here for Butcher Block Tables!


---

Product # CDFK200WH-BKYO-KYOCERA-CHEF-KNIFE-8IN
Retail $100.00 and up
Sale Price $79.95
Temporary Sale Price Reduction $79.95 with FREE Bonus Cutting Board ! ! !

This is our new Exclusive Kyocera 8 inch blade Chef knife. This knife has the same ergo style and feel as the other Revolution Knives. The sleek and thin blade is extra wide, weight is only 3.9 oz. making it ideal for anyone who wants a light weight Chef knife. These hold an edge without sharpening. The Revolution series feature an extra hefty black handle and a perfect balance. This is a great ceramic knife set, very comfortable and easy to use. The ultra sharp ceramic blades cuts with precision and accuracy every time maintaining a razor-sharp edge for many years. These knives are made of an advanced, high-tech ceramic, second in hardness only to diamond, it was originally developed for industrial applications where metal components failed. Click Here for more Sizes and colors!
Chef Notes: The sleek and thin blade is extra wide, weight is only 3.9 oz. making it ideal for anyone who wants a light weight Chef knife. We tested several brands of ceramic knives - Here's the results! Kyocera was the only knife sharp enough to meet our demands, the others were too dull or the blades were too thin and brittle. Only Kyocera scored very high in sharpness, quality, workmanship, material and warranty. These knives are a great choice for Chefs and Gourmet Cooks! Ceramics are perfect for slicing, dicing, chopping and mincing meats, garlic, carrots, onions, celery, fruits and more. Limited time FREE BONUS Item!
Ceramics are totally non reactive with food!


Click Here for Pure Whit Poly Cutting Boards! Simply the best!


---

Product # CDMUND2830-4EOLIVIERSTEAKSET4
Sold Out


This is the new forged Olivier Steak knife set. The set contains 4 pointed tip steak knives with 4 in. blades. These come in an attractive box. Mundial knives are forged from special German High Carbon Chrome Moly Alloy Steel, which holds a very sharp cutting edge longer than most other blades. You can use these knives thousands of times before sharpening.
They are guaranteed for life!
Chefs Note: A great steak set for the gourmet, makes a great gift! Love the handles! The holidays are coming!


4 pc. Olivier 4 in. Steak set


Click Here - Mini Chef Cheese Knives!

---

Product # CDE3683-44SMESSERSTEAKSET
Retail $280.00 and up
Sale Price $178.50


This is the new 4 1/2 inch blade Messermeister Steak Knife Set! Choose from serrated blades or smooth blades below! These knives are forged from the highest quality German alloy steel in Solingen Germany. Lifetime Warranty.
Chef Notes: This is the nicest steak knife set we have seen! Messermeister goes through many extra steps to insure the finished product is perfect. These knives will cut any steak like soft butter! These will last for generations!

Serrated Blade Elite Steak Knife Set


Smooth Blade Elite Steak Knife Set Click Here for 300 lb. Butcher Blocks! The best chopping surface!


---

Custom Engraving is available on these Messermeister Steak Knife Sets! Personalize a set for your favorite Cook, Chef or Wedding Couple. Call for a price quote, phone 630-739-5200 *** Another Chef Depot Exclusive ***


---

Product # CDE3683-4KS-MESSER-STEAK-SET-GRANTON-4PC
Sold Out


This is the new 4 1/2 inch blade Messermeister Steak Knife Set with kullenschliff granton blades! Choose from 2 sets below! These knives are forged from the highest quality German alloy steel in Solingen Germany. Lifetime Warranty.
Chef Notes: This is the nicest steak knife set we have seen! Messermeister goes through many extra steps to insure the finished product is perfect. These knives will cut any steak like soft butter! These will last for generations!

Four Piece Elite Steak Knife Set (in gift box)


Click Here for Chef Tables! Made in the USA!


---


Click Here for Black Knife Guards....

---

Product # CDMUND2830-5EOLIVIERSTEAKSET4
Sold Out


This is the new forged Olivier Steak knife set. The set contains 4 round tip steak knives with 5 in. blades. These come in an attractive box. Mundial knives are forged from special German High Carbon Chrome Moly Alloy Steel, which holds a very sharp cutting edge longer than most other blades. You can use these knives thousands of times before sharpening! Gift Boxed set. They are guaranteed for life!
Chefs Note: A great steak set for the gourmet, makes a great gift! Love the wide blades & round tips! These will be gone fast, as the holidays are coming!

4 pc. Olivier 5 in. Steak Knives


Click the green arrow on the right for more cutlery!




Mundial Oliver:
Page1 |
Page2 |
Page3 |
Page4 |

---

Copyright 1999 - 2018 Chef Depot Inc.
All Rights Reserved.
Legal Notice and Copyright

Customer Service - E-mail us or phone:(630) 739-5200

Customer Feedback