Our Stainless Steel food chopper features sanitary stainless steel. Made from 18/10 stainless steel, this chopper allows the mechanism to automatically rotate the blades to easily chop food into small pieces! Made to our exact specifications this is the best one made!
Chefs Note: Perfect for chopping nuts, garlic, onions, celery, tomatoes, hard boiled eggs, herbs and more!

---



Product # CDHI-44200-FRUIT-DECO-TOOL
Retail $11.99 and up
On Sale $5.89

This quality Decorating Tools features solid stainless steel, each end has a honeycomb fruit baller and the other end is a medium size V cut tool. Handle is solid hardwood with ergonomic tapered design. Easily works on Watermelons, Honeydew, Cantaloupe, Musk Melons, Papaya, Strawberries and more. Add a little flash to your next carved melon basket!

Butcher Blocks used by Chefs & Butchers! Made in USA !
---

Product # CDMUND2800-2OLIVIER
Retail $149.00 and up
On Sale $98.95

This is the two piece gift set of forged Olivier Cutlery. The set now contains a 10 in. serrated Carving Knife with round tip and a Cooks Fork in attractive gift boxes. It is perfect to present at holiday gatherings, for carving a roast or turkey and it makes a great gift. Mundial knives are forged from a special German High Carbon Chrome Moly Alloy Steel, it holds a very sharp cutting edge longer than most other blades. They are guaranteed for life!
Chefs Note: A great set for the holiday gourmet, makes a great gift! Food & Wine Magazine and our Chefs gave this set a thumbs up!
Click Here for More Mundial Olivier Knives!
Click Here for Maple Cutting Boards!
---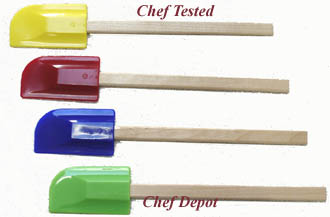 Our Medium Heat Resistant Rubber Spatulas are the best. They are 12 inches long and are heat resistant to 800 degree's Farenheit! The set contains a yellow, red, blue and green spatula. You can also order them individually below!
Chefs Note: The solid hard maple handle makes this spatula very comfortable to use. We have used a set several hundred times and they still look new. These are perfect for scraping the bowl while mixing & baking, chocolates, saute' and pan fried foods, cooking omelettes and more!
Chefs Note: This set will last forever with proper care. Free imprinting is available for 120 or more pieces (call us). Another exclusive item, made in the USA.

Product # CDSPATULASCRAPERSET-WOODEN-HANDLES
Retail $52.00 and up
On Sale $27.75

Heat Resistant Spatula Set
Heat Resistant Yellow Spatula $6.95
Heat Resistant Red Spatula $6.95
Heat Resistant Blue Spatula $6.95
Heat Resistant Green Spatula $6.95

Click Here for Butcher Block Tables!
---
Product # CDFK200WH-BKYO-KYOCERA-CHEF-KNIFE-8IN
Retail $100.00 and up
Sale Price $79.95
Temporary Sale Price Reduction $79.95 with FREE Bonus Cutting Board ! ! !
This is our new Exclusive Kyocera 8 inch blade Chef knife. This knife has the same ergo style and feel as the other Revolution Knives. The sleek and thin blade is extra wide, weight is only 3.9 oz. making it ideal for anyone who wants a light weight Chef knife. These hold an edge without sharpening. The Revolution series feature an extra hefty black handle and a perfect balance. This is a great ceramic knife set, very comfortable and easy to use. The ultra sharp ceramic blades cuts with precision and accuracy every time maintaining a razor-sharp edge for many years. These knives are made of an advanced, high-tech ceramic, second in hardness only to diamond, it was originally developed for industrial applications where metal components failed. Click Here for more Sizes and colors!
Chef Notes: The sleek and thin blade is extra wide, weight is only 3.9 oz. making it ideal for anyone who wants a light weight Chef knife. We tested several brands of ceramic knives - Here's the results! Kyocera was the only knife sharp enough to meet our demands, the others were too dull or the blades were too thin and brittle. Only Kyocera scored very high in sharpness, quality, workmanship, material and warranty. These knives are a great choice for Chefs and Gourmet Cooks! Ceramics are perfect for slicing, dicing, chopping and mincing meats, garlic, carrots, onions, celery, fruits and more. Limited time FREE BONUS Item!
Ceramics are totally non reactive with food!
Click Here for Pure Whit Poly Cutting Boards! Simply the best!
---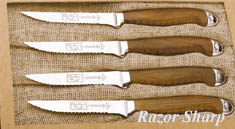 Product # CDMUND2830-4EOLIVIERSTEAKSET4
Sold Out