Orders M - F : (630)739-5200
9:00am - 5:00pm CST

Fully forged knives are the working tools of great Chefs and Gourmet Cooks! Traditional Black 5100 Riveted Cutlery at a great price! More Forged Knives! Chef Knife Sets , Cutlery Storage. Cool Red & White Handle Cutlery looks great in black and white kitchens! Sushi Knives and stamped Chef Knives for less. Mundial knives are consistently judged the finest in the world by professional Chefs. Comparison testing by Chef Depot, The New York Times, Good Housekeeping and Cooks Magazine gave Mundial cutlery the highest possible rating in every category - scoring higher than more expensive brands! Chefs Cutting Boards ; Made in USA. Mundial Scissors are razor sharp and hold an edge through years of use - Lifetime Warranty!
We have wholesale prices on all Mundial products, we stock all of them, please call us! Phone 630-739-5200
How to Select Kitchen Knives| How to Sharpen Knives| USA made Cutting Boards| Cutting Board Care & Maintenance
---
Cutlery Cases| Knife Blocks| Cleavers| Sharpening Steels| Electric Sharpeners| Cutlery| Butcher Blocks| Chopping Blocks
---
Product # CDGARNISHSET8PC
Retail $99.50 and up
On Sale $69.50

This is a professional "Garde Manger" garnishing kit.
The kit contains a peeler, zester, channel knife, citrus knife, butter curler, corer and a double melon baller. All of the pieces are stored in a black canvas vinyl carry case to protect them.
The tools are excellent for carving and sculpting fruit, vegetables, chocolate, sugar and pasteries.
This set is used by several Teams competing in the World Pastry Chef Championships!
Chefs Note: The tools are all made in Solingen, Germany and are the highest quality available. They are sharp and there are heavy welds so these will not break. We use ours for watermelon baskets, buffet centerpieces, sculptures and food competitions.

German Garnishing Set
Click Here for Titanium Cutlery!
---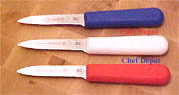 Product # CDRWBPARINGKNIFESETOF3
Retail $33.00 and up
Our Price $17.99

Show your patriotism with Red, White and Blue Paring Knives this Fourth of July! These knives have 3 1/4 inch long, no stain high carbon alloy steel blades. The bright color handles represent our stars and stripes.
These knives come with a Lifetime Warranty!
When we first tested these paring knives, we were amazed at the balance and the comfortable handle.
They are easy to use and perfect for appetizers at parties. NSF approved.
Click Here for more Garnishing Tools!
---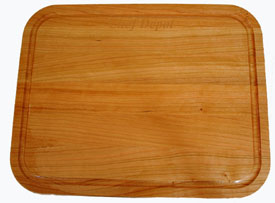 List Price $49.99 and up
On Sale $14.95
Product # CD11x14x.75-CHERRY-CUTTING-BOARD-USA

This reversible Cherry Hardwood cutting board is ideal for prep work, carving and presentation. Use the smooth side for chopping, slicing, dicing & mincing. The reverse side for carving meats, it features a grooved perimeter that collects the juices from poultry and meats. Take this board from the grill to the table. The board is hand made of cherry wood, which will darken over time. Hand washing and a few drops of mineral oil from time to time will keep it in top condition. 14 x 11 x 3/4 inch. Made in the USA. Another Chef Depot exclusive!
Click here for Extra Thick Maple Cutting Boards!
---

Product # CDW565O10CAKESPATULA10IN
Retail $21.99 and up
On Sale $14.99

This is a professional 10 in. blade Cake Spatula.
Perfect for icing and frosting cakes. Many bakers like these for fondants and buttercreams on round layer cakes, wedding cakes and sheet cakes. NSF certified for quality & Safety. These spatulas will last for life! Click here for more Spatulas!

White Handle Cake Spatula
Click Here for the Freshest Bulk Spices!
---

Product # CDBOKER01BO010-CREDIT-CARD-NECK-KNIFE
Retail $59.95 and up
On Sale $27.95
The new Credit Card Knife also comes with a special feature allowing it to be a compact neck knife.The compact dimensions, slim profile, and removable pocket clip offer a variety of carry options. Fits perfectly in the credit card compartment of your wallet, can be carried via clip in the pocket of your shirt, or on a ball chain (included) around your neck. This extremely lightweight knife also features a reliable and sturdy frame lock mechanism, titanium liner and high performance 440C stainless steel blade. The finger coils and handle end are made of G-10 and provide a surprisingly ergonomical and comfortable grip. Closed length: 2 3/4 in. Blade length: 2 1/4 in. Overall length: 5 in. Weight: 1.1 oz.
Chefs Note: These sell out fast. The perfect everyday companion!
Click here for more pocket knives!
---
Featured Video ...
Reviewing the Credit Card Knife. It also works as a compact hidden neck knife. A sharp knife is a safe knife. Easily sharpen all of your knives with these high quality sharpening stones! USA made Maple Butcher Block Counter Top was featured in the video.
---


More German Folders. Click here...

Click here Kitchen Cutlery!
Click Here for John Boos Maple Cutting Boards! Simply the best!

---
Product # CDCHEFS-DO-IT-WITH-SPICE-APRON
On Sale $9.95

Our premium professional Chef aprons are lots of fun! One size fits all! Chefs do it with Spice! apron is a heavy cotton poly blend for maximum comfort and durability. Made in the USA! One size fits all!

Chefs do it with Spice! Apron
Great Chefs Kitchen Islands!
---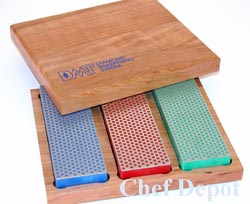 Product # CD-DMTDSS-THREE-STONE-SET
Retail $165.00 and up
On Sale $89.95
This is our exclusive DMT diamond sharpening set! It is precision manufactured to our exact specifications, right here in the USA. Each set features a Coarse 325 grit diamond stone (Blue), a Fine 600 grit diamond stone (Red) and a Extra Fine 1200 grit diamond stone (Green) each one is aprox. 6 in. x 2 in. in a hardwood box. The Monocrystalline diamonds will not break apart during use. These diamond sharpeners outlast all the competition!
Chef Notes: A perfect gift for someone who has almost everything. This diamond sharpening set will quickly produce a fine razor sharp edge on any good knife, garnishing tools and chisels with four six to six strokes. Why not buy the best?


Portable Chef Tables! Click Here!
Click Here for Meat Tenderizers!
Click Here for Sea Salt & Peppercorns in all colors!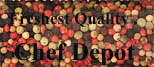 Click Here for Maple Kitchen Carts!
---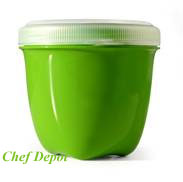 Product # CD51111-LEFTOVERS-APPLE-GREEN-FOOD-CONTAINER
Retail $7.99 and up
Sale Price $4.49
Our new Leftovers Food Containers are perfect for food on the go. Perhaps the thickest and strongest you can buy (I can stand on these). At just 8 oz. the new and cool mini food storage container fits in the palm of your hand and is particularly cute! Shaped and colored like green apples, these round Food Storage Containers are a friendly addition to any refrigerator or lunchbox. Keep your spices fresh longer.
Chefs Notes: We use these for cut up apples, pears and peeled oranges. Picnics, backpacking, lunches, catering, hummus, olives, dip, fruit and more. They have screw top lids that wont pop off in your backpack or briefcase. Eco Friendly, made from high grade food safe recycled plastics, here in the USA!
1 Apple Food Container

6 Apple Food Containers $26.25 New Cutting Board Designs! Used by the Chefs of Hyatt Hotels!
Click Here for USA made Diamond Sharpeners!

---
Product # CDW5697-BENCHSCRAPER
Retail $24.99 and up
On Sale $11.50

This is the Bench Scraper used by Le Cordon Bleu! A perfect choice for scraping off the work table & cutting boards, dough cutting, pizza, bread and chocolate work. Made from high quality alloy steel, it comes with a Lifetime Warranty! Excellent quality and a nice sharp edge.
White Bench Scraper
Chinese Cleavers!

Click Here for Butcher Block Tables...
---
Product # CD073801W-RED-MANUAL-JERKY-SLICER
List Price $199.95 and up
Sale Price $99.95
Tenderize and prepare jerky or stir fry meat from wild game or domestic meat with the simple turn of a crank handle. This heavy duty machine will make tasty jerky out of the toughest meat! Flattens, tenderizes and cuts meat into strips. Cast aluminum construction with durable red food-grade coating for super-fast cleaning. Disassembles for easy clean up. Easily mounts on a counter, workbench or tabletop. Throat opening is aprox 5-1/4 in. long by 1-3/8 in. wide, Dimensions aprox: 13-3/4 in. x 13.5 in. x 6-3/4 in. This machine allows you to make jerky in the oven, dehydrator or smoker (marinated is best). Our Marinated Jerky is pictured here! Nothing better on a hunting or camping trip! Free Game Recipes and Marinates are here!
Ship Wt. aprox. 25 lbs. Detail operating instructions and diagrams included.
Our Tenderizers & Cubers & Jerky Slicers are all new, factory sealed units! Free Shipping in Cont. USA!
Red Manual Jerky Slicer (cuts meat into jerky strips) $99.95 In Stock, We love Jerky...

Butcher Blocks will make your processing easier! On sale, click here!
Quality Flexible & Stiff Blade Butcher knivers are on sale! Click Here!
---



Product # CDHI-44200-FRUIT-DECO-TOOL
Retail $11.99 and up
On Sale $5.89


This quality Decorating Tools features solid stainless steel, each end has a honeycomb fruit baller and the other end is a medium size V cut tool. Handle is solid hardwood with ergonomical tapered design. Easily works on Watermelons, Honeydew, Cantaloupe, Musk Melons, Papaya, Strawberries and more. Add a little flash to your next carved melon basket!

Butcher Blocks used by Chefs & Butchers! Made in USA !
---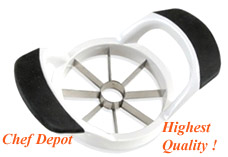 Product # CD2009-5108-APPLE-CUTTER
Retail $12.99 and up
Promo Sale $4.99


This is a high quality Apple Cutter. The sharp stainless steel blades will easily cut and core most any size apples or pears! Easy and safer to use. Durable and comfortable design. Now made in white with raised ergo comfort rubber handles. Measures 4 in. Diameter and 7 in. across the handles. Chefs Note: Works great on apples and crisp pears.

Butcher Blocks used by Chefs & Butchers! Made in USA!
---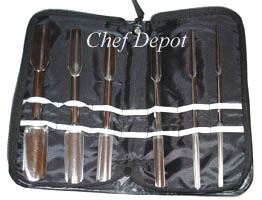 Product # CD6PC-CHINESE-FRUIT-CARVING-SET
Retail $40.00 and up
On Sale $24.99


This is the new 6 pc. Garnishing Fruit & Vegetable Carving Set! It is a good set for fast carving. Easy to use! Now you can add exciting garnishes to baskets, platters and salads. Six tools, each measuring 7.5 in. long with 12 different sharp carving tips. The case protects the tools and zips closed.
Chef Notes: This set is used by many Chefs and Cooks for Fruit and Vegetable Carvings! Watch video below.

Butcher Blocks used by Chefs & Butchers! Made in USA...

Chefs Cutting Boards!
Global Knife Sale!
Almond, Lemon and Vanilla Extracts!
---
Product # CD3516DIGITALTHERM-SALE
Retail $29.99 and up
Sale Price $17.50

This Taylor digital thermometer is on sale! It has a temperature range of -40 to 302 degrees F. It comes with 2 extra long life batteries and a pocket sleeve. The large easy to read digital numbers make it easy to use. On sale for a limited time!
Features a 1 year warranty!

A New Look - Maple Butcher Block Carts - Click Here!
---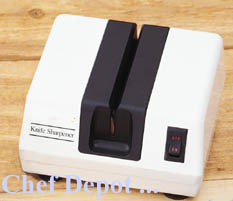 Product # CD1902PLCERAMICSHARPENERWHITE
Retail Price $99.99 and up
On Sale $59.95

This is our new Diamond Ceramic electric knife sharpener. It has a very powerful motor that spins the ceramic and diamond sharpening stones to quickly produce a factory new edge on any knife. It is easy to use, fast, safe, sleek and compact. It weighs only 2 lbs, has large rubber non slip feet and is very quiet. UL Approved, Meets NSF Standards, 120V, MADE IN USA! 1 Year Warranty included.
Chefs Note: When I first tested this sharpener, I used 6 very dull knives (several brands) and every knife was easily sharpened in less than 15 seconds. Each blade was razor sharp, capable of cutting paper into thin ribbons. Hundreds of knives later, it works like new - an amazing sharpening machine!

White Electric Diamond Ceramic Sharpener


Black Electric Diamond Ceramic Sharpener Click Here for Porcini Mushrooms & Wild Morels!

---
Product # CD5PCMUNDCHEFSET
Retail $198.00 and up
On Sale $120.90
Product # CD6PCMUNDCHEFSET(with a 10 in. Chef Knife)
Retail $248.00 and up
On Sale $135.90

This is a "5 Piece Chef Starter Set" It is perfect for the beginning professional Chef or Cook.
The set contains a 8 in. Chef Knife, 6 in. Boning Knife, 3 in. Paring Knife, 10 in. Sharpening Steel and
a large heavy duty Cordura Chef Knife Case (The case lists for 69.00 and up, it holds a lot more)!
Add a 10 inch Chef knife to the above set for only $15.00 more (CD6PCMUNDCHEFSET)!
This is also a great set for the traveling gourmet!
Click Mundial page links below to view more mundial products!


Click the green arrow on the left for more Le Cordon Bleu cutlery!


Mundial:
Page1 |
Page2 |
Page3 |
Page4 |
Page5 |
Page6 |
Page7 |
Page8 |
Page9 |
Page10 |
---

Copyright 1999 - 2016 Chef Depot Inc.
All Rights Reserved.
Legal Notice and Copyright
Customer Service - E-mail us or phone:(630) 739-5200



Customer Feedback