---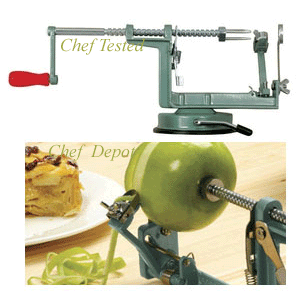 Product # CDA2117-APPLE-PEELER-MACHINE
Retail $70.00 and up
Sale Price $28.50
This is the newest design of the fastest Apple Peeler. This is a great peeler! It's very easy to use. The peeler works right or left handed for fast peeling! Features a durable suction base. No clamp is needed, however, you can use one if you like. Features a stainles steel shaft and steel base with green/red enamel coating. Also ideal for Potatoes and pears. Peels, it can also slice and core. 2 Year Mfr. Warranty.
Chef Notes: Homemade Apple Pie! This peeler will quickly peel apples! A great choice for bakers and canning.
Click Here for USA made Knife Sharpeners!
Click Here for more Peelers!
---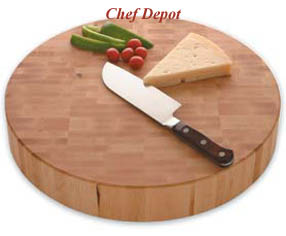 End Grain Chunk Boards are highly prized for their durability and handsome wood patterns. Ours are 2 1/2 inches thick and ready to work for a lifetime. This board was designed to be left on the counter so a chopping surface is continuously ready. Hard rock sugar maple. These cutting boards add a little more beauty to your kitchen and your food! There are three sizes listed below!
Round End Grain Block (18" x 3") $199.95


End Grain Block (12" x 12" x 2 1/2") $79.95

End Grain Block (16" x 16" X 2 1/2") $124.95

---
Product # CDCC130-WHITE-CHEFSCHOICE
Retail $169.95 and up
Sale Price $149.95
Chef's Choice newest breakthrough in sharpening technology, the Model 130, presents all your sharpening options in one compact appliance. It professionally sharpens, steels or strops all brands and types of knives; straight edge or serrated, kitchen, Asian style, sports and pocket knives in seconds. Three stages make it possible to obtain a "better than factory" edge quickly and effortlessly. Stage 1, using 100 percent diamond abrasives, sharpens the edge. Stage 2 is a super-hardened miniature steel that develops a shaving sharp edge with ultra-sharp microscopic teeth, providing a superior edge "bite". In stage 3, a revolutionary flexible stropping disk polishes the edge to hair-splitting sharpness. Using these stages in different combinations produces custom edges, suited to a particular cutting task. Built-in, high precision, user friendly elastomeric angle guides guarantee fool-proof sharpening. Assembled in the U.S.A. Limited 3 year warranty. UL approved.
Chef Notes: Perfect for kitchen, household or commercial knives. Santoku knives are easily resharpened with this machine.
This sharpener has a very easy to use sharpening steel built into it for perfect finishing hone (providing extra sharpness). Choose from White or Platinum below! Cooks Illustrated rates this as a great unit! With proper care it will last a lifetime, 120 volts.
Order this sharpener and receive FREE SHIPPING and a free fillet knife with a lifetime warranty!
Model 130 White

Model 130 Platinum $159.95 Give your kitchen a Fresh New Look! Click Here!

---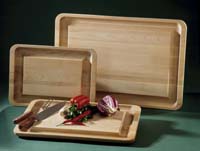 These are solid Maple BBQ and carving Boards.
We use these boards for the BBQ as well as carving roasts and turkey, you will too! They are made from 1 inch thick select hard maple. One side of each board has a deep moat that catches the natural juices, the other side is smooth. Excellent next to the BBQ grill, oven or stove.

Product # CDJKBBQ-2014 (20 x 14)
Retail $89.99 and up
On Sale $60.95


20 x 14 inch BBQ Board

24 x 16 inch BBQ Board $81.95
16 x 12 inch BBQ Board $47.95 36 x 24 inch BBQ Board $224.95

Maple Butcher Blocks are preferred by more Chefs!

Click Here for the best Chrome & Maple Kitchen Swivel Bar Stools!

---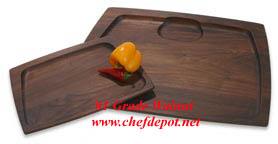 SOLD OUT
Colonial Trenchers - A piece of history, these serving boards were popular when Ethan Allen and his Green Mountain Boys protected the New England hills. Made from the highest quality black walnut, just as they were in colonial times, accurately reproduced an heirlooms with the weight, feel and balance of the originals. The subtle contours of the magnum trencher include a sloped cutting surface with a deep juice well and perfectly sized handgrips inset on each side. The small trencher is a perfect dinner platter or small carver. Add a touch of history to your next holiday!

20 x 14 x 1 in.
Click Here for the best Chrome & Maple Kitchen Swivel Bar Stools!
---

Product # CDMUND5604-07GESANTOKU-BLACK
Retail $29.00 and up
On Sale $21.95