Customer Service, M - F : (630)739-5200
9:00am - 5:00pm CST

HOME| PRODUCTS| PRODUCTS II| COOKING TIPS| RECIPES| SPORTSMANS CORNER| SEASONS HARVEST| LINKS
These cake pans ane molds are high quality aluminum with a lot of detail. Imported for us and made to our exact standards, each cake mold will produce a cake that is easy to decorate!
Pastry Tools, Bags & Fondant| How to Select Kitchen Knives| How to Sharpen Knives| USA made Cutting Boards| Cutting Board Care & Maintenance
---
Cutlery Cases| Knife Blocks| Cleavers| Sharpening Steels| Electric Sharpeners| Cutlery| Butcher Blocks| Chopping Blocks
---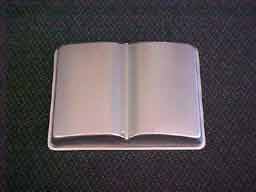 Product # CDSTORYBOOKCAKEPAN
Retail $22.00 and up
On Sale $14.95
This is our Story Book Cake pan! Measures 12 x 16 x 3 in. deep. Easy to use, it holds aprox. 2 instant boxed cake mixes. Easy to decorate too! Every book tells a story, this one can be tasted too.
This cake pan will make your next party a snap. Great for Congratulations, Graduation or just telling a Birthday Story.
Click Here for Amazing Cinnamon & Chef Tested Spices!
---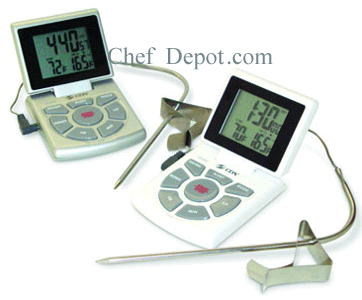 Product # CD-DTTC-S-CDN-PROBE-TIMER-CLOCK-THERMOMETER
Retail $49.95 and up
On Sale $23.95

Our new Digital Probe Thermometer Timer Clock is fun to use. Features: Instrument Range: 14 to 392 F/-10 to +200 C; 24 hours by hr/min 5.5 (14.0 cm) probe/3 ft. long (91.4 cm) sensor cable (heat resistant up to 600 F/316 C) For Candy/Roast/Oven Test Triple function Upper & lower limits Dual progress display Counts up & down Big digit Clock Alert Stop and restart Last count recall ABS plastic Stainless steel, F. or C., guide 2 way mounting: magnet/stand Adjustable stainless steel clip, 1.5V AAA batterincluded.
Chefs Note: Our Chefs rated this as the best cool new probe style digital thermometer for the price.
More Kitchen Tools, click here...

Digital Probe Thermometer Timer Clock, Silver
More Great Thermometers!
Heavy Duty Restaurant Stock Pots will last!
---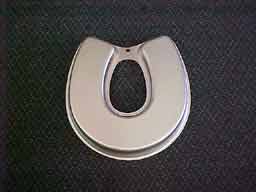 Product # CDHORSESHOECAKEPAN
Retail $29.99 and up
On Sale $14.99

This is our Horseshoe Cake pan! Easy to use, it holds aprox. one instant boxed cake mix. Easy to decorate too! The kids will love it!
This cake pan will make your next party a snap!
Thermometers, Sharpeners, Cuttingboards & more!
---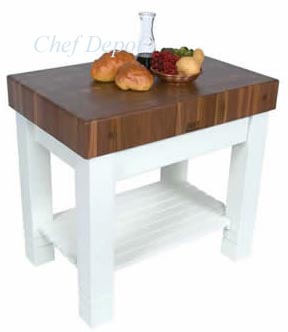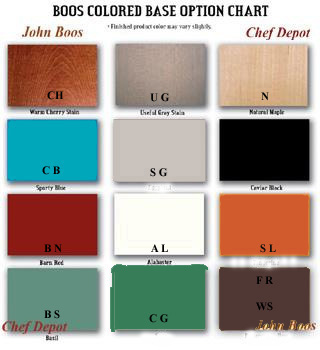 Product # CDWAL-HMST36245-WALNUT-HOMESTEADBLOCK

Free Shipping & Great Customer Service!
This is the new Walnut Homestead Block by John Boos, it measures 36" x 24" x 5" and stands 34" overall. The top is edge grain walnut butcher block. This block has a FDA approved food safe natural finish. The butcher block top requires rubbing with Mystery Oil or Wood Cream, every few months to keep it looking new.
We will send you 3 bottles of mystery oil, no charge.
It features a large storage drawer and will last for generations!
36" x 24" x 5" Solid American Walnut Top, Lower Slatted Shelf, Weight is 270 lbs.
Please click the button below to order, then email us your color selection.
We can ship your new Block in aprox. 3 - 4 weeks! Call us for sale prices.
Free Shipping is available - continental USA only.
Call for Sale Prices!

Walnut Homestead Block $1988.95
Monthly Special Sale - Call Us or Email Us for the Lowest Price!
Every item we sell is tested for quality and value!
---
Product # CDCP10-BK-KYOCERAPEELER
Retail $15.00 and up
Sale Price $8.95
This is the new Kyocera Ceramic Peeler, it holds an edge without sharpening. This is a great peeler! It's very comfortable and easy to use.
The ultra sharp ceramic blade cuts with precision and accuracy every time maintaining a razor-sharp edge for many years.
Choose from Red or Black below!
These tools are made of an advanced, high-tech ceramic, second in hardness only to diamond,
it was originally developed for industrial applications where metal components failed.
Chef Notes: This peeler will quickly peel carrots, apples and any root vegetables. A great choice for Chefs and Gourmet Cooks!
Black Peeler

Red Peeler Click Here for Handmade Maple Furniture!

---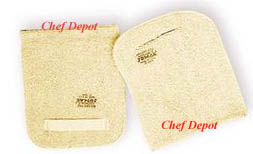 Product # CD803PG-PROBAKERSPANGRABBER
Retail Price $12.00
On Sale $6.95

These are professional bakers "Pan Grabbers".
They are made from thick quilted terry cloth with a vapor proof layer to help protect against steam and liquids. They are tested to stop heat up to 375 degree's F.
Measures 8.5 x 11 in. with a elastic wrist strap. These are used by Bakers and Chefs everywhere. Save your hands!
Chef Notes: We like to keep a few of these in the bake shop for daily bread making and holiday cookies. Every kitchen should have a few. These last for years! Avoid the heat and burns! We guarantee these are the best pan grabbers available!

One Pan Grabber
Click Here for Rock Maple Kitchen Carts!

Chef Mario Peppermills ~ Click Here!
---
Product # CD49430-NONSTICK-ROLLING-PIN
List Price $49.95 Sale Price $38.95

Chef Mario Batali; One of the keys to homemade pasta and dough is a thin, even surface. Using a roller with a non stick surface will make the job easier. Non-stick roller surface will not stick to dough. Contoured wooden handles for a comfortable grip Counter balanced, Non stick surface is easy to clean, wipe off or hand wash!
Chefs Note: almost nothing sticks to this beauty, its a nice weight.
Tables Designed for Bakers! Add one to your kitchen today!

Chefs Knives, we sell only the best!
---



Product # CDGRP-3MAPLEROLLINGPIN12IN
Retail $39.99 and up
On Sale $19.79



These are our new Solid Maple Rolling Pins. These are the best ones we have tested, featuring solid maple with a hardened steel shaft and sealed nylon bearings. Made for a lifetime of rolling use. Made in the USA. Lifetime warranty. Choose from 2 sizes below!
Chefs Note: This is my favorite rolling pin for pie crust, I prefer the larger pin! Click Here for more rolling pins!


15 x 2 3/4 in. Maple Rolling Pin $19.95

12 x 2 3/4 in. Maple Rolling Pin $19.79 Click Here for Rock Maple Kitchen Carts!
To get your Coke Wall Mounted Bottle Openers, click here!


Click Here for Electric Diamond Knife Sharpeners!

---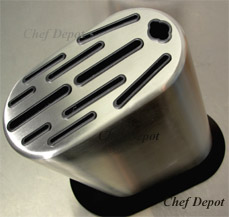 Product # CDG-835/BD-GLOBAL-KNIFE-BLOCK-DIMPLES
Retail $210.00 and up
Sale Price $164.95
This is the new Global Stainless Steel knife block. It featues dimples and 11 slots.
Chefs Note: Sweet Knife Block. Extremely sanitary design. If you want a high quality knife set to pass through generations, you found it. This stainless Steel block will last forever.
Chef Notes: We like the cutting edge modern look of this Global block and of course, the most sanitary design!
More Knives Storage Blocks and Knife Storage!
Butcher Block Tables! click here!
---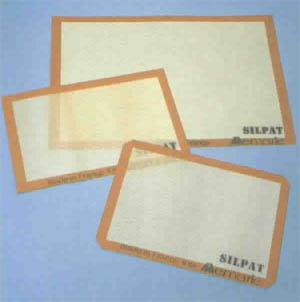 Product # CD2386HALFSHEETSILPATMAT
List Price $29.00 and up
On Sale $14.95
Product # CD2387FULLSHEETSILPATMAT
List Price $49.00 and up
On Sale $39.95

These are the professional "Silpat Silicone Baking Mats" that are preferred by more Pastry Chefs!
The rubber like non stick baking mat can go from the freezer to the oven (-40 degree's F to 600 F ). This mat can be rolled for easy storage. These will help you save time with clean up!
Chefs Note: These sheets are the perfect choice for lining cookie sheets and cake pans, baking cake rolls, delicate sponge cakes, tuiles, chocolate work, sugar, candies and more!
Two Sizes are available, half sheet pan size (11 5/8 in. x 16 1/2 in. for standard ovens) and full sheet pan size (18 in. x 26 in. for commercial ovens)

Half Sheet Silpat Baking Mat (11 5/8 in. x 16 1/2 in.)

Full Sheet Silpat Baking Mat (18 in. x 26 in.)
Click the green arrow on the right for more Cake Molds



Cake Molds:
Page1 |
Page2 |
Page3 |
Page4 |
Page5 |
Page6 |
Page7 |
Page8 |
Page9 |
Page10 |
Page11 |
Page12 |
Page13 |
Page14 |
Page15 |
Page16
---

Copyright 1999 - 2013 Chef Depot Inc.
All Rights Reserved.
Legal Notice and Copyright
Customer Service - E-mail us or phone:(630) 739-5200



Customer Feedback